WordPress Themes
Thousands of WordPress themes
eCommerce Templates
Beautiful website templates
Site Templates
HTML and website templates
Products Template
Beautiful products templates
Timber is a photography WordPress theme that goes out to the edge to enable a fresh, adventurous experience. You get a carefully chosen cutting edge set of tools to propel your photography showcase to new heights. A theme that matches your passion and artistic aspirations.
You may be into shooting landscapes, people, food, weddings or videos, looking to keep a journal of your visual endeavors, or just tell the world about yourself and what you can do for them – Timber is here for the ride!
You know that your photos are not static. They are alive, filled with stories and mysteries. Timber understands and complements this with lively, spirited transitions, unexpected at times yet perfectly natural.
This is what TIMBER is all about: offering the right tool, in the right place, right when you need it!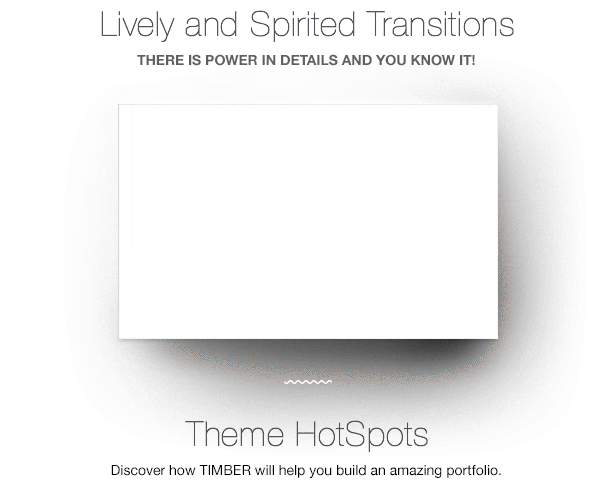 Smart Galleries For Mixed Types of Content

Your camera doesn't tell you what to shoot. Neither does Timber tell you what to showcase about your work. Feel free to mix landscape or portrait photography, videos, text, whatever you feel gets your message across. Timber will gracefully oblige.

Different Views For a Full Experience

You can offer your audience the complete experience. Immerse them into a front row view with the horizontal filmstrip layout, allow them to step back with the thumbnails overview or get up close and personal with the Zoom & Pan full-screen view. With Timber the story never ends!

Surprising Design To Make You Stand Out From The Crowd

Determined to provide a captivating visual experience, we took the time to consider those seemingly minute things, finely detailing every element and interaction. There is power in details and you know it!

 

Make Money with Timber

Integrated with WooCommerce and compatible with the Printful service so you can automatically print and sell your posters, shirts and more, without lifting a finger.

Check out the shop »

 

Video Support

Sometimes you feel the need to complement your stills with videos, further enriching the experience. Timber makes this effortlessly by supporting a variety of video sources (YouTube, Vimeo, Instagram, self-hosted and many others).

Auto EXIF Data

So you want to get down to the nitty-gritty of your photography and share it with the world. Timber cares for everything in your photos, even the EXIF meta-data, thus automatically displaying details like camera, exposure, aperture, focal length and ISO.

Overlay Menu

Timber maximizes the screen space available for your work by making clever use of a flexible widgetized overlay area, fit for just about anything, maybe even your about page.

Frontpage Flexibility

Timber allows you to own your frontpage and decide whether to present a slider of featured projects, your entire portfolio archive or even a fullscreen gallery. The choice is yours!

Bulk Images Upload

Feeling baffled by the sheer amount of photos you would like to add to your portfolio? You need not worry because you can just select all the images of a project and upload them in one go.

Customize With Live Feedback

Personalize your site appearance and functionality without any coding skills or developer needed.

You can easily change the fonts, colors or layout sizes and everything will be reflected back to you, allowing for better and faster decisions.

 

Full Social Integration for Those That Share

Sharing should be easy! Streamline your pages across more than 300 social networks thanks to the premium support for the AddThis service. Facebook, Twitter, Pinterest or Tumblr, just to name a few, are all at your finger tips.

Mobile-Ready and Responsive for All Devices

Timber knows how much you love your photos and how critical it is to showcase them beautifully to all of your users, no matter the device they happen to use.

You can be sure that Timber will keep your content completely mobile-ready and responsive.

Good SEO Practices You Can Trust

Timber provide a solid foundation for all your specific SEO needs, so your content can shine among the rest by getting on the good side of search engines.

You get semantic markup filled with all the right schema.org data to make sure that your content gets easily discovered by search engines.

 

Only Clean Code Will Do You Good

Writing clean, structured, consistent, smart code means that it can be easily extended by you or any developer you hire.

Improper and deprecated code can break layouts, corrupt data, or worse. With Timber, nothing but the latest WordPress features and standards are used.

 

Your Site In Your Own Language

Timber is ready to be translated into whatever language you choose. We provide the .po file so you can get translating right away with PoEdit. If you are a WPML fan you can rest assured that Timber is fully compatible.

 

Shortcodes

Timber comes with our powerful visual shortcodes PixCodes plugin integrated right in your WordPress editor. Quickly add columns, rows, slider, icons, buttons and much more.

Shortcodes made easy!

 

+600 Google Fonts

Take control of your theme's typography with custom fonts controlled through the Live Customizer. Access the massive Google Fonts library and create your unique style.

 

One Click Demo Install

REALLY!! Just one click and we set up everything: projects, content pages, blog articles, menus, widgets.
Check out the Installation and Setup video »

Note: Images from the demo are replaced with placeholder images.

 

Showcase

Check out a growing collection of beautiful websites built with our striking Listable theme.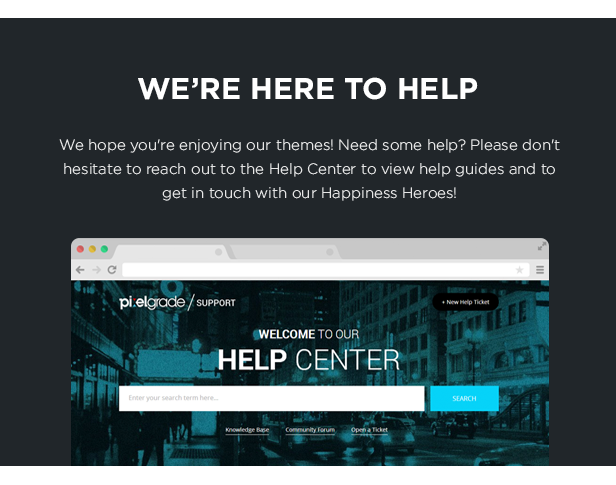 Credits
All images viewed in the live preview are for demo purposes only and are not included with your purchase. These images are courtesy of Laurent Nivalle – All Rights Reserved.