WordPress Themes
Thousands of WordPress themes
eCommerce Templates
Beautiful website templates
Site Templates
HTML and website templates
Products Template
Beautiful products templates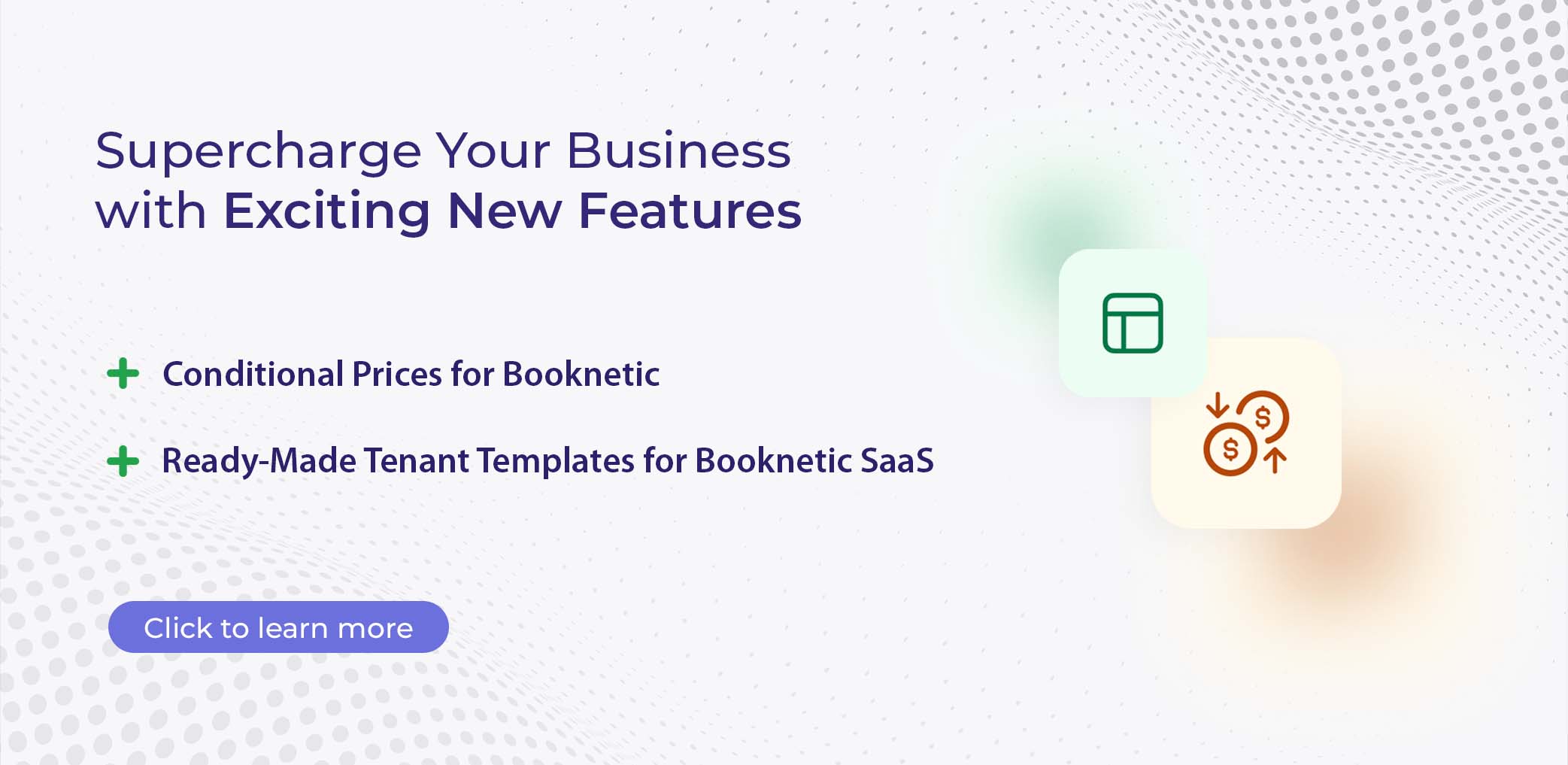 Booknetic is the appointment booking plugin for WordPress. It's designed to help businesses schedule appointments with clients online, without ever saying a word to them.
What Booknetic is about?
As the leading appointment booking plugin for WordPress, we take care of your bookings from start to finish. Our fully automated solutions handle everything from bookings and payments to notifications and website sales, so you can focus on running your business.
Booknetic is a powerful appointment booking software that helps you:
Automate your booking process
Add multiple business locations
Configure business hours, holidays, and break times
Allow employees to self-schedule
Track your business performance with the built-in dashboard
Optimize for mobile
Create unlimited employee and customer profiles *
Build custom forms *
Our intuitive interface makes it easy to configure and build an appointment booking system that fits your business. Enhanced customization features, such as form builders and templates, help your staff prepare for appointments.
Your customers can also schedule appointments online or on their mobile devices securely and conveniently.
A comprehensive list of features allows you to meet the needs of any client base or business operation. Our powerful admin dashboard gives you complete control over your business.
We are constantly improving our product to provide the solutions our customers need. Every update we make is aimed at increasing customer satisfaction and your bottom line.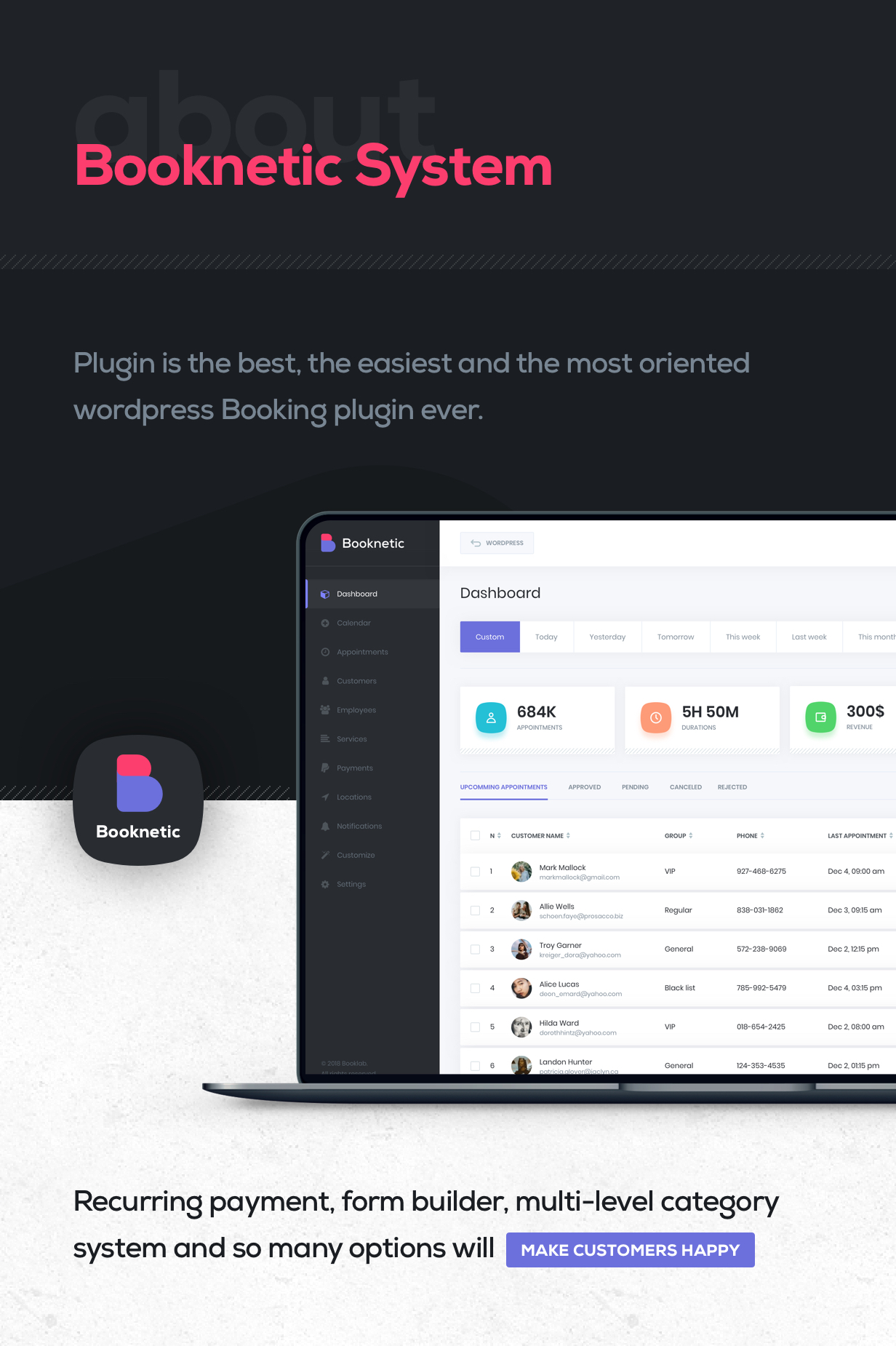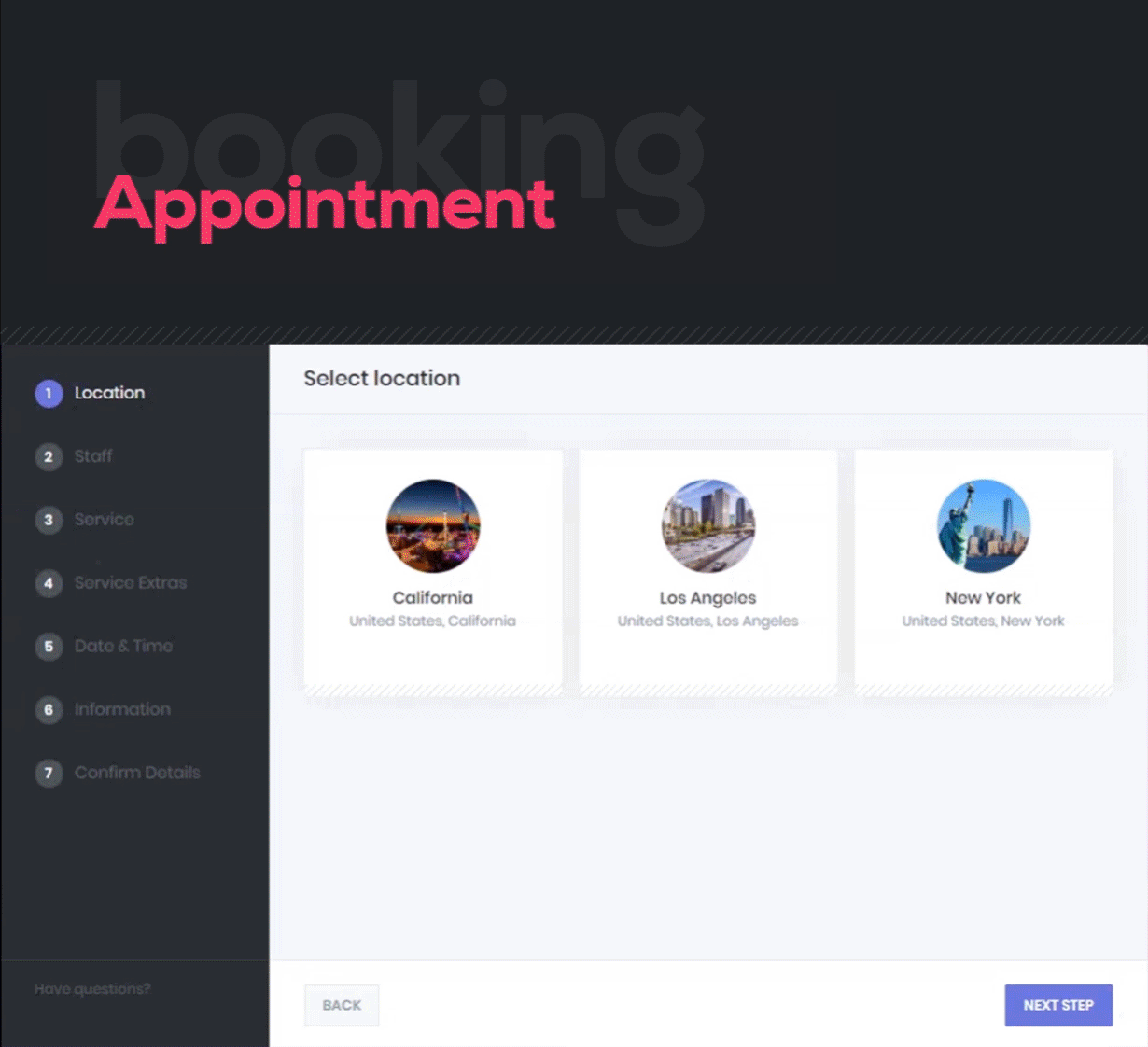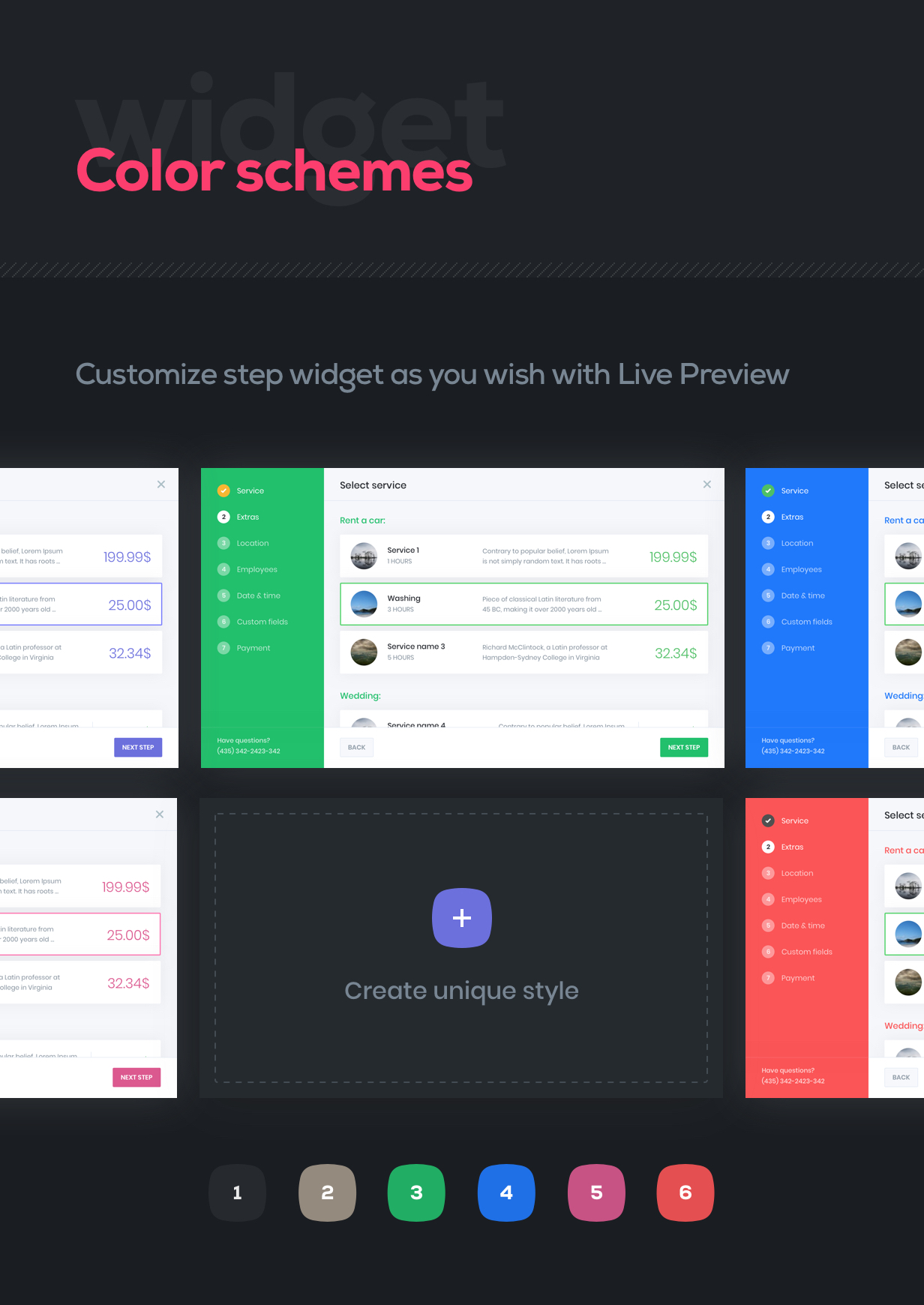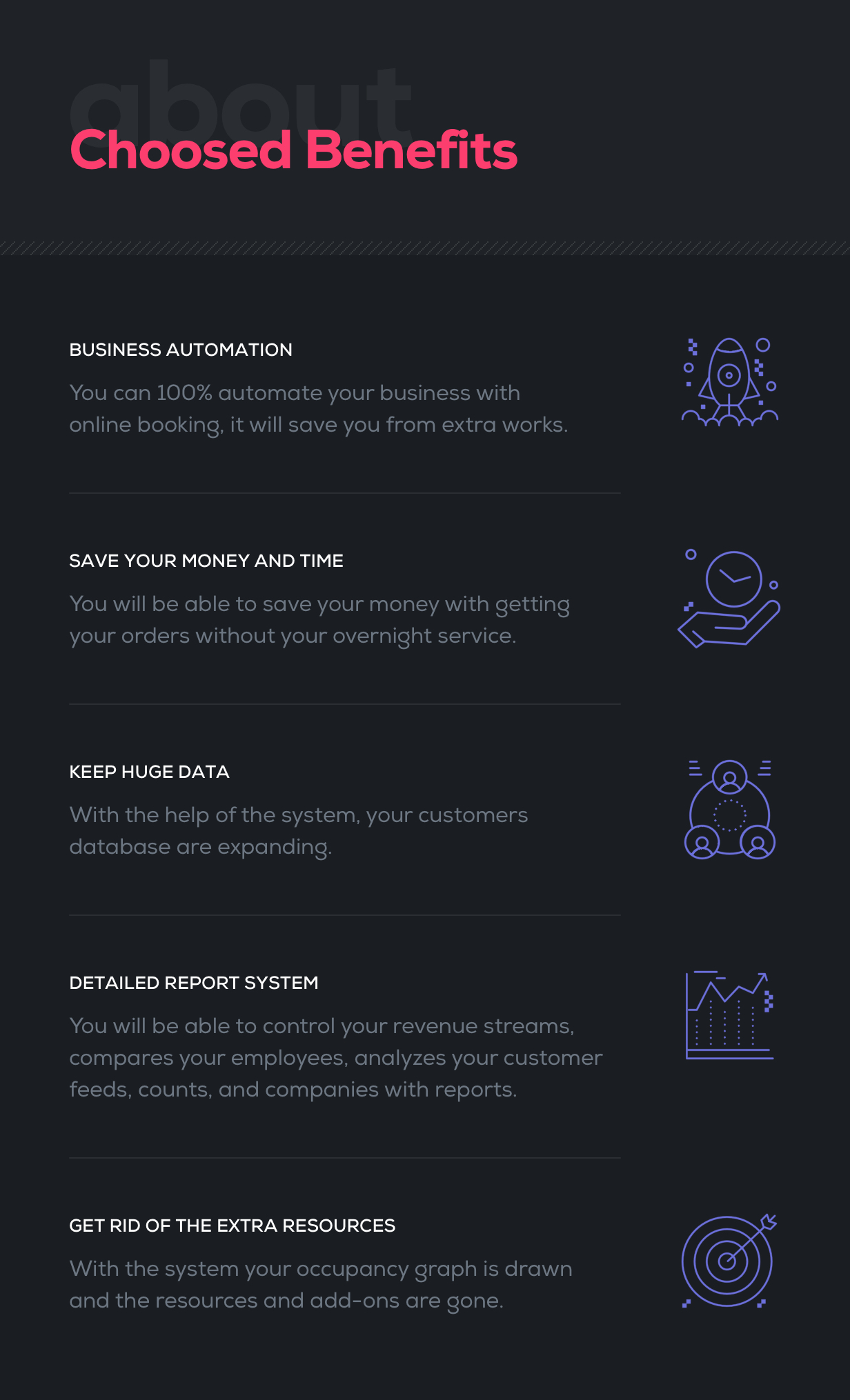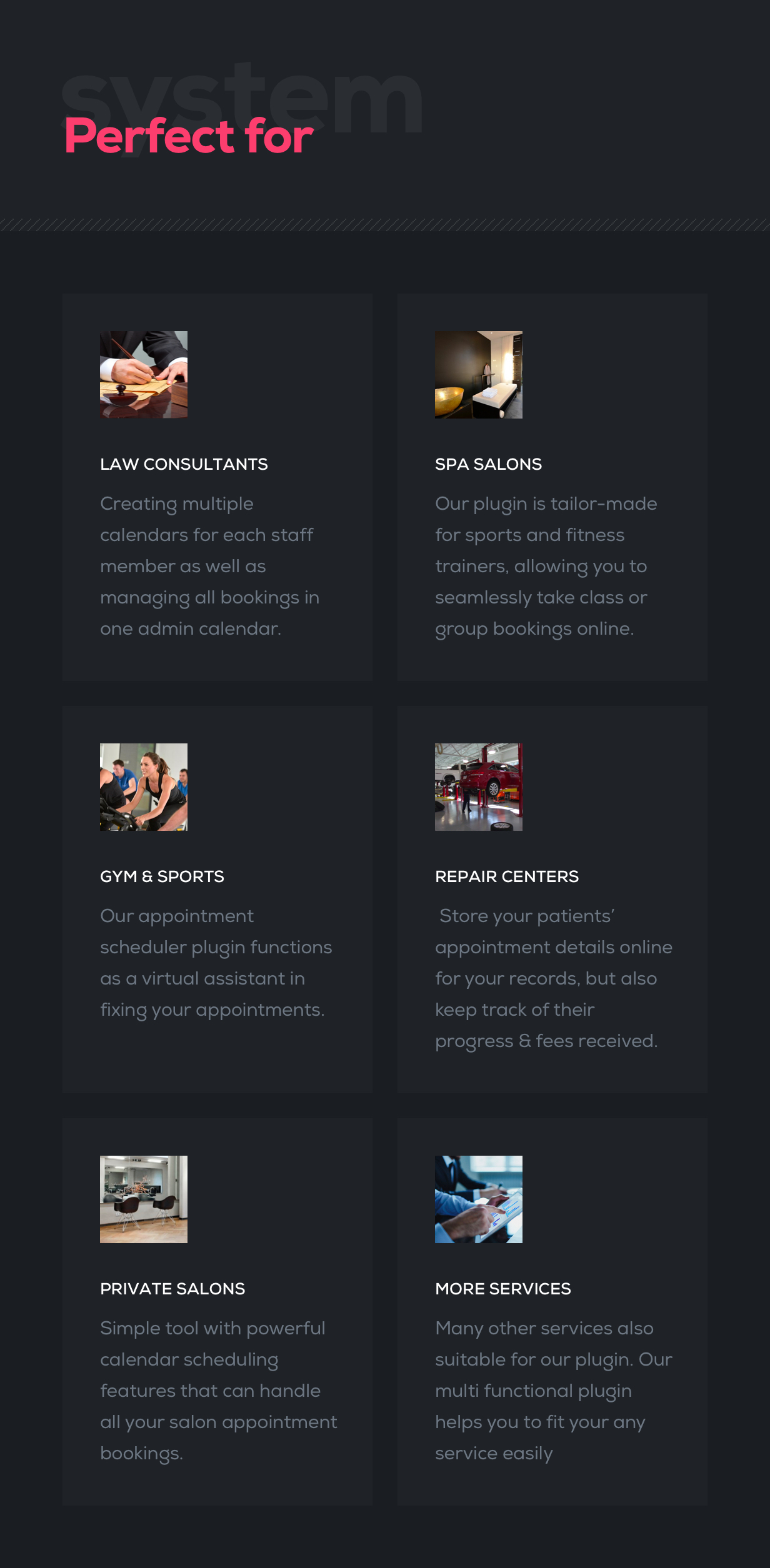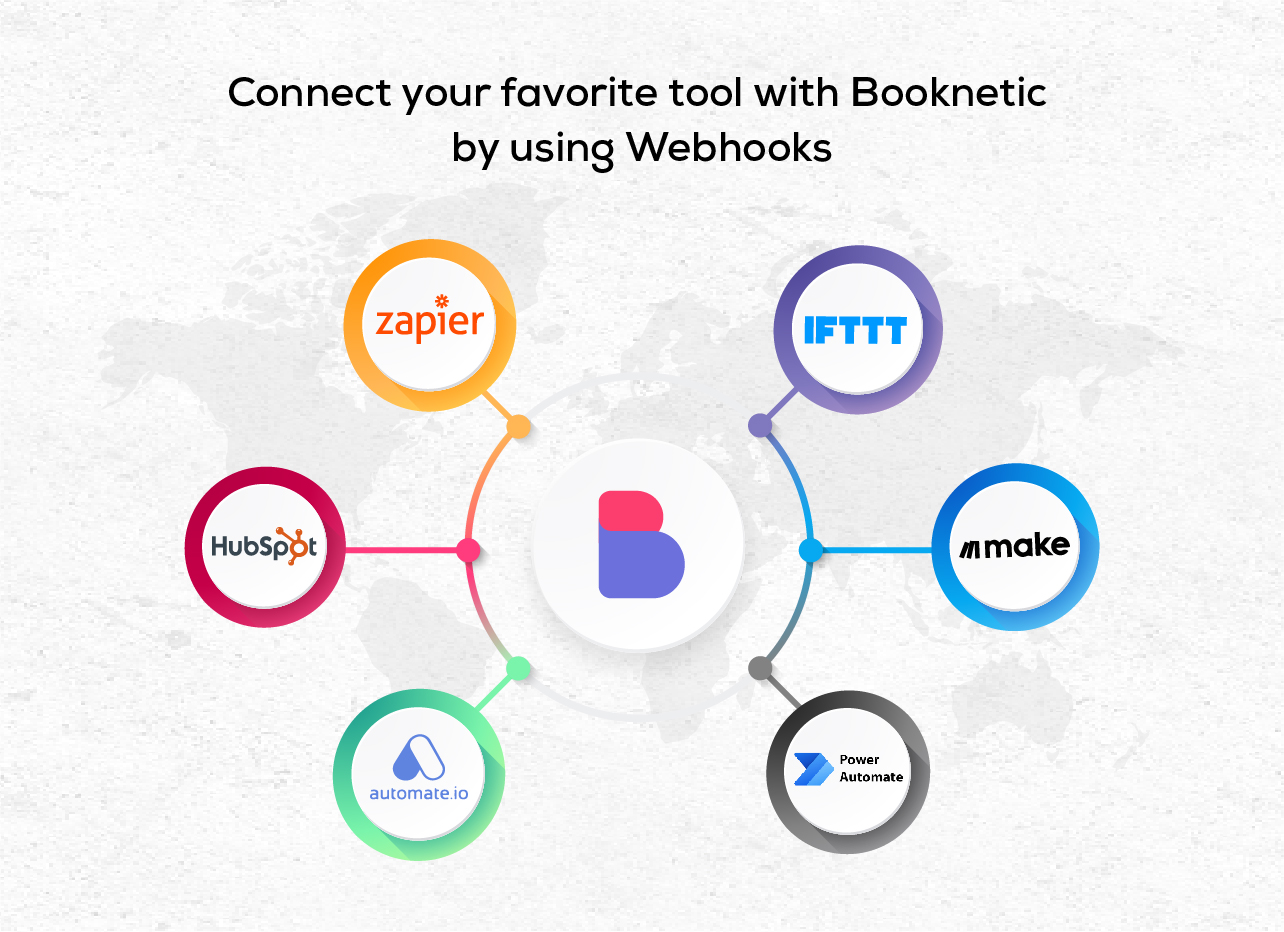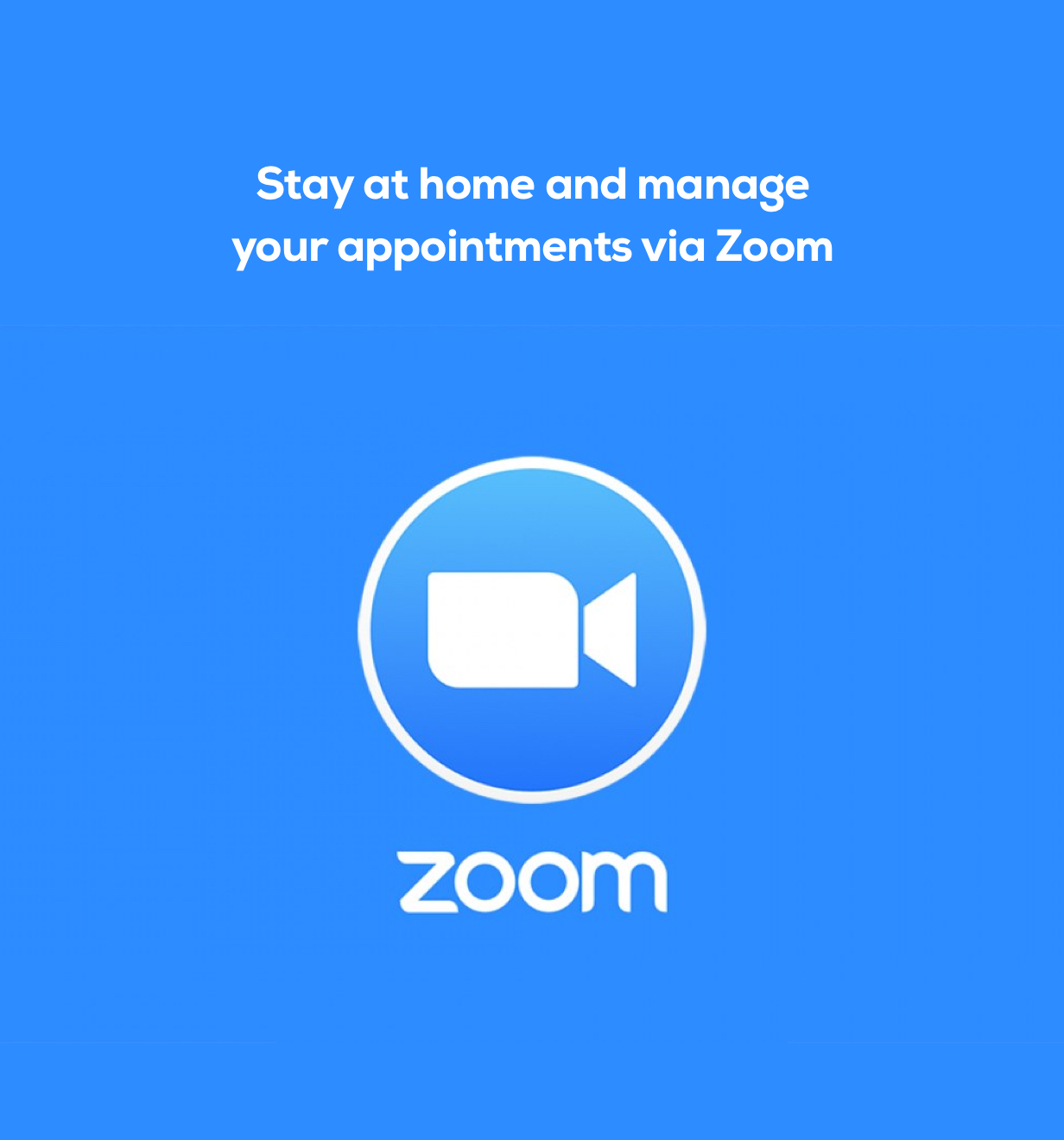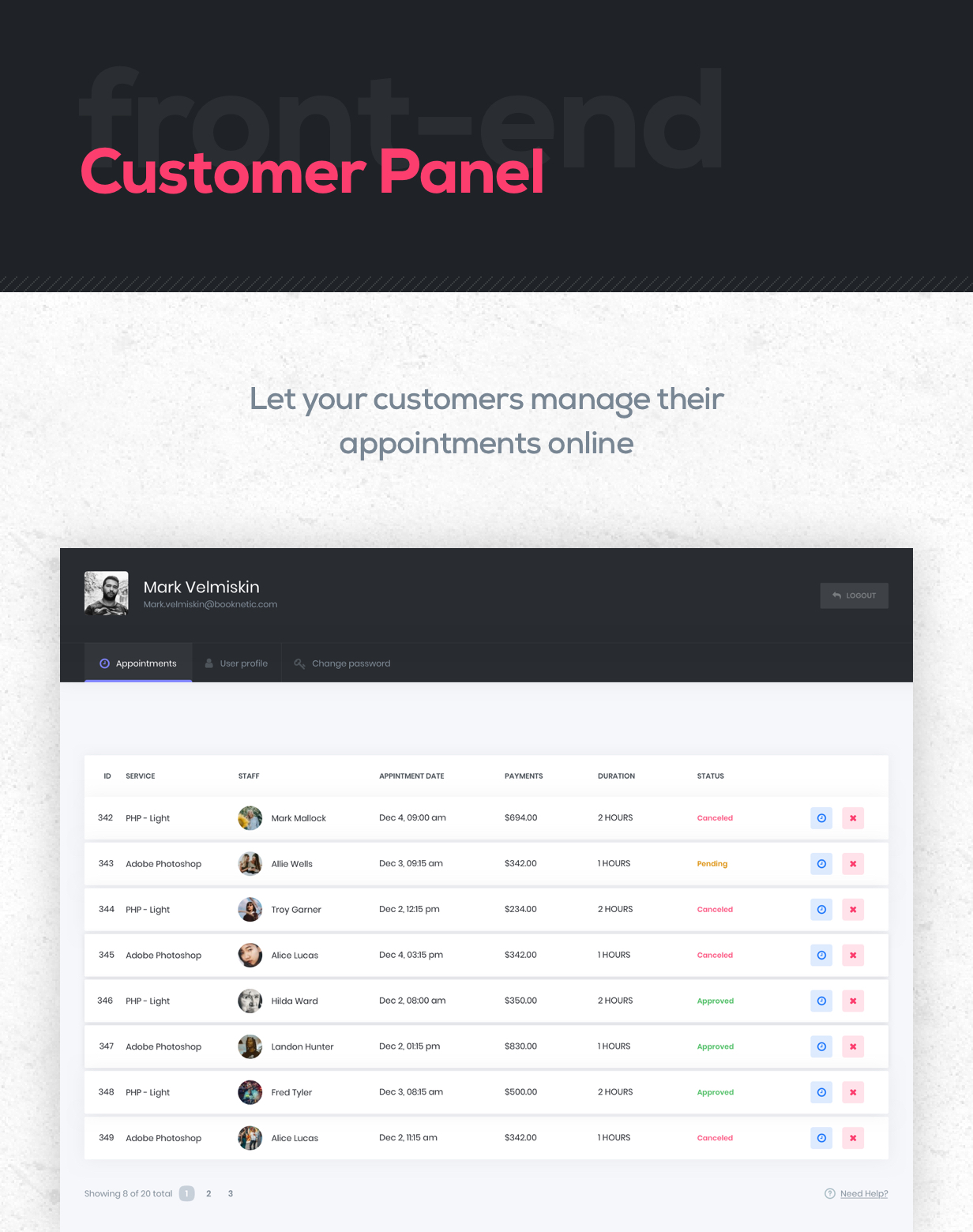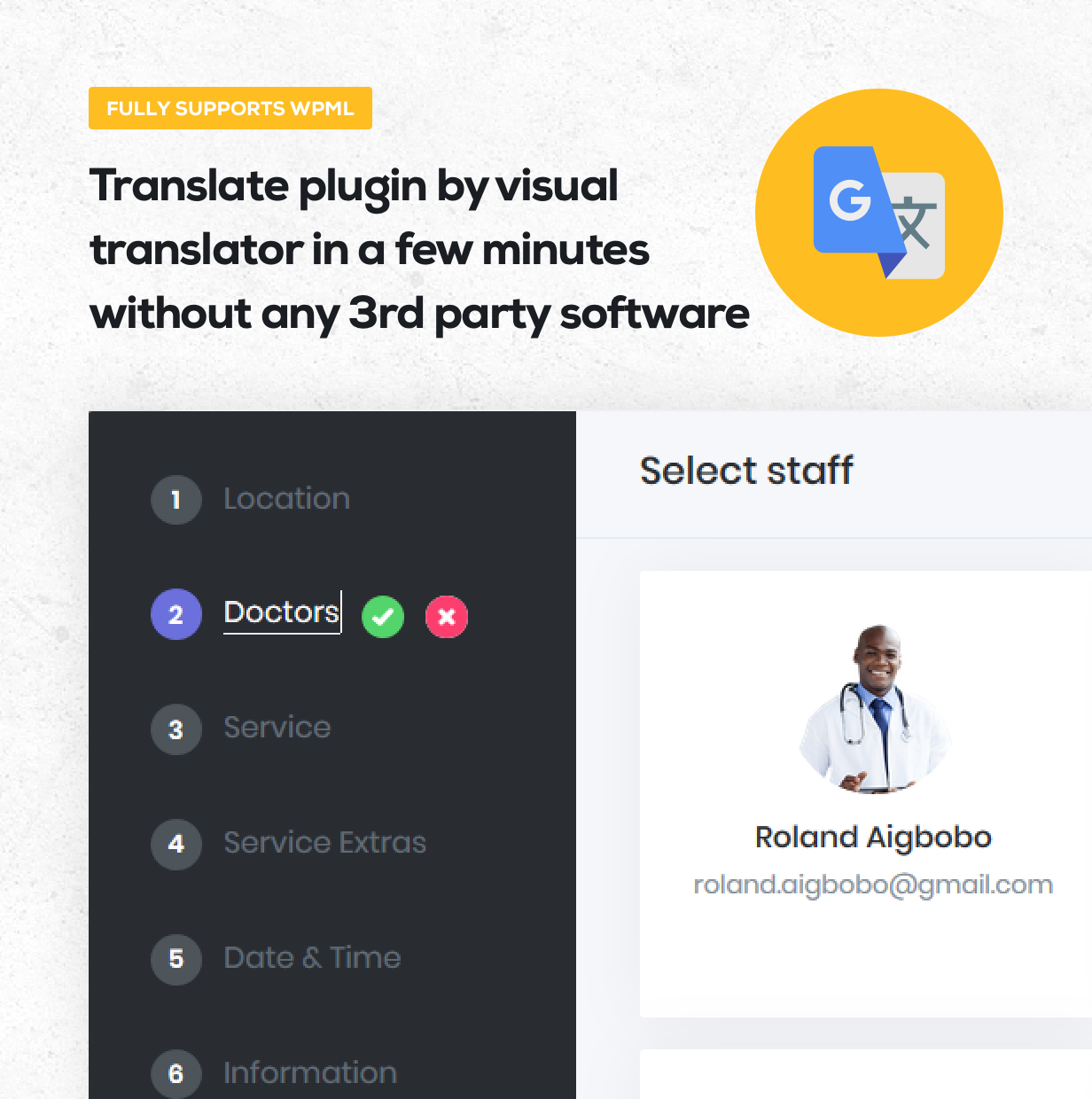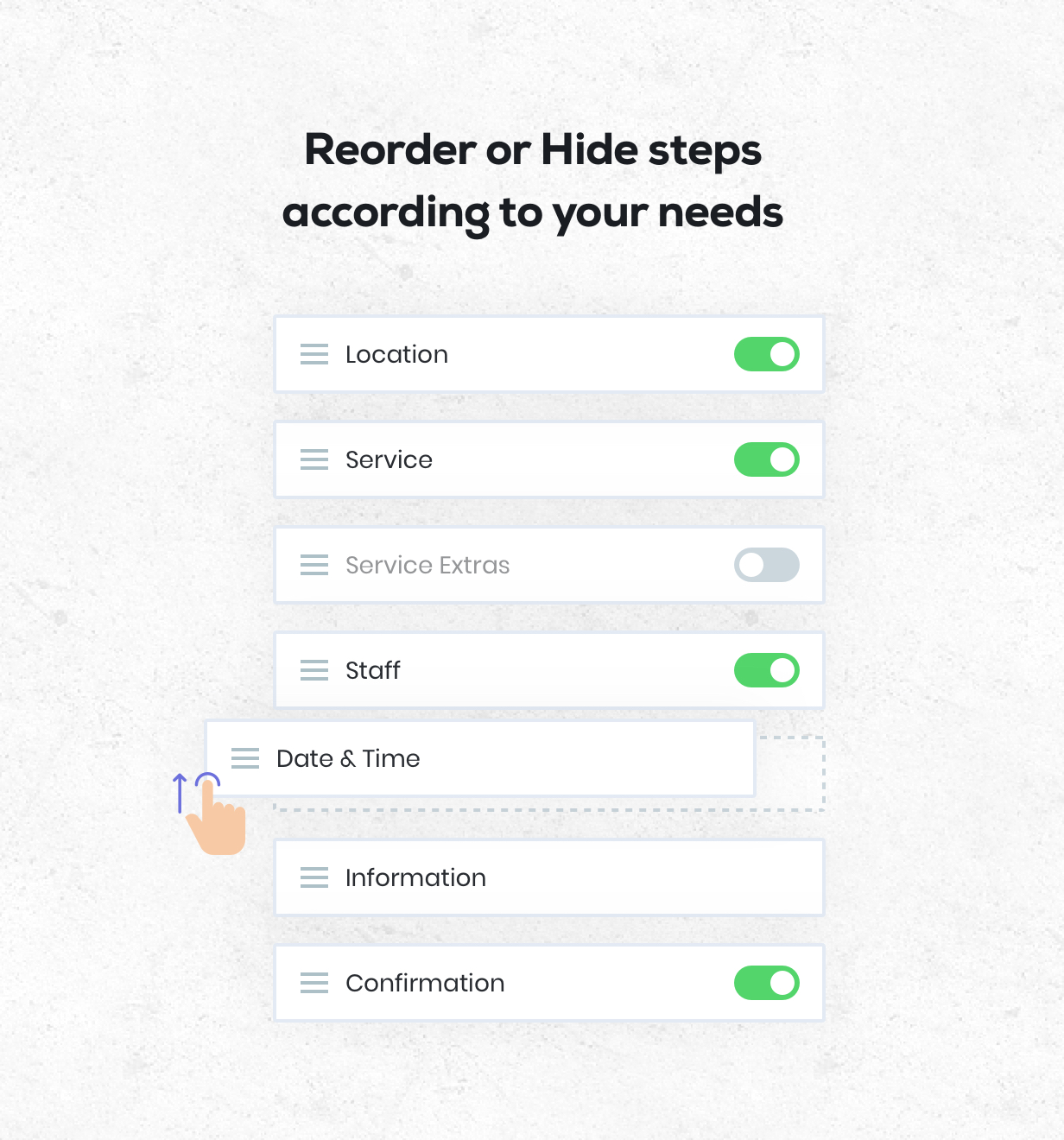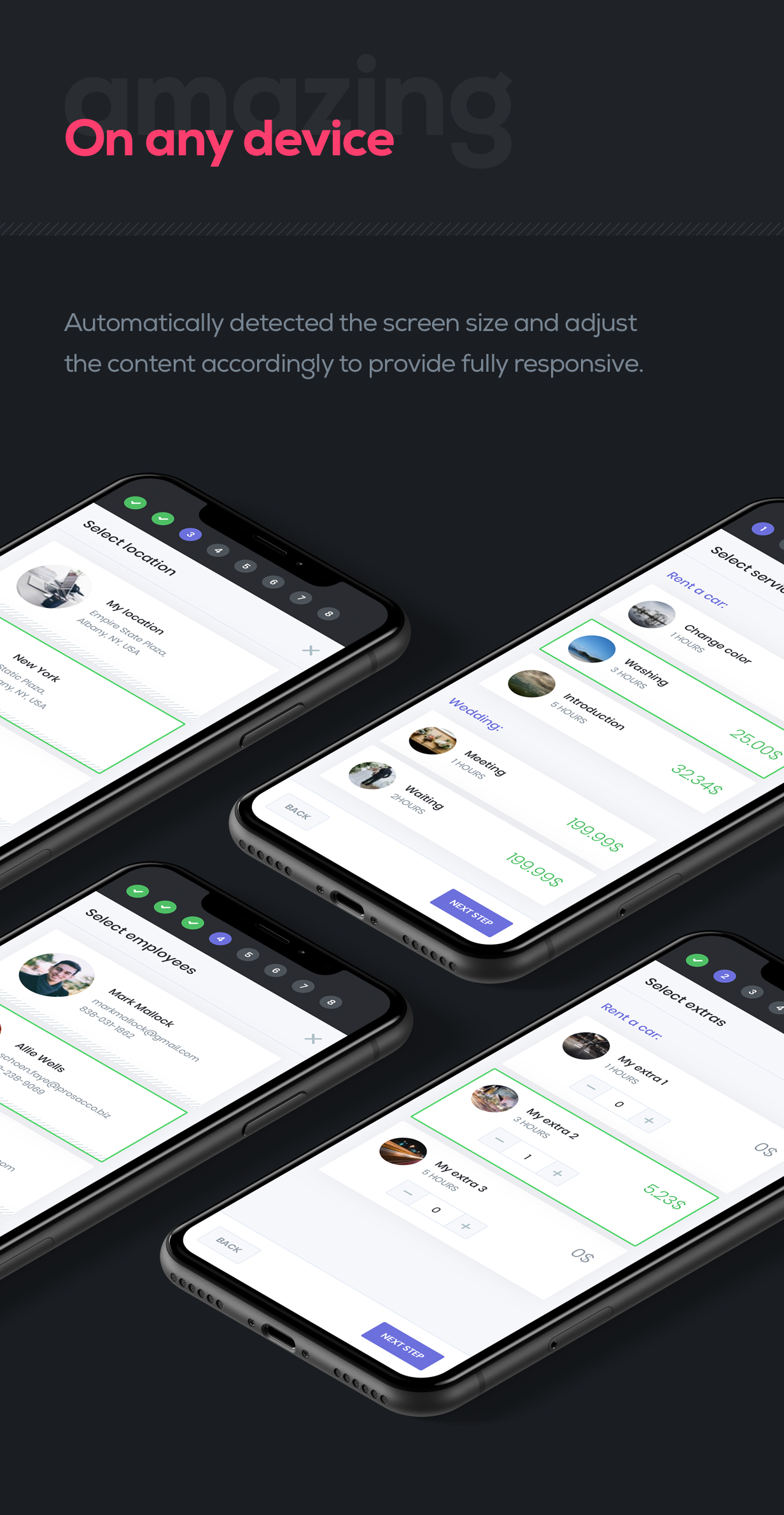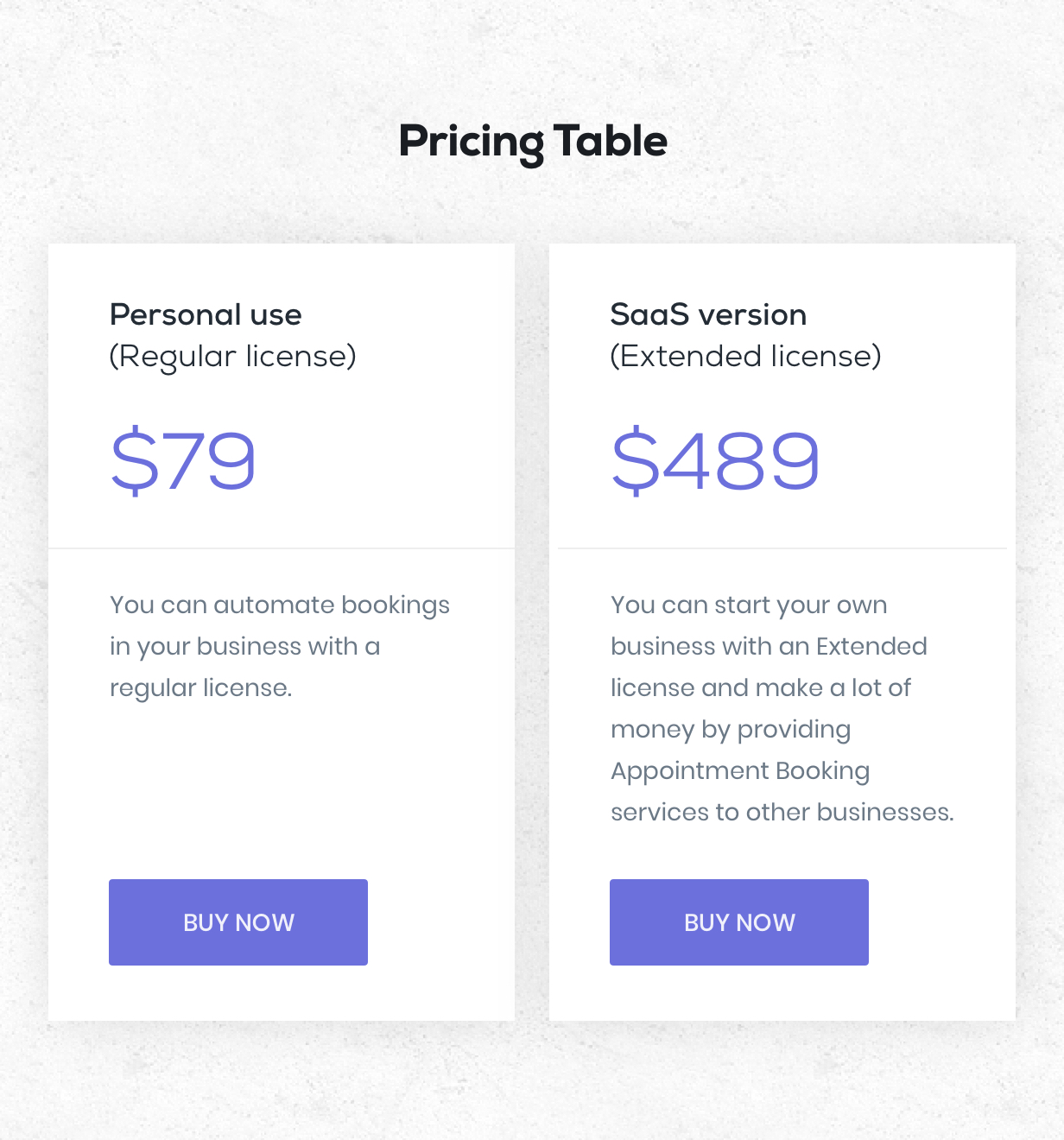 The appointment plugin for WordPress allows you to tailor your custom fields to your business using the multi-function Form Builder with your Front-end booking pane. You can look at different forms at the same time and select each form for various services.
With conditional fields for custom forms, you can manage and filter different data entries that might be important to enroll. Such as appointment location or appointment title.
* We offer this feature as an add-on.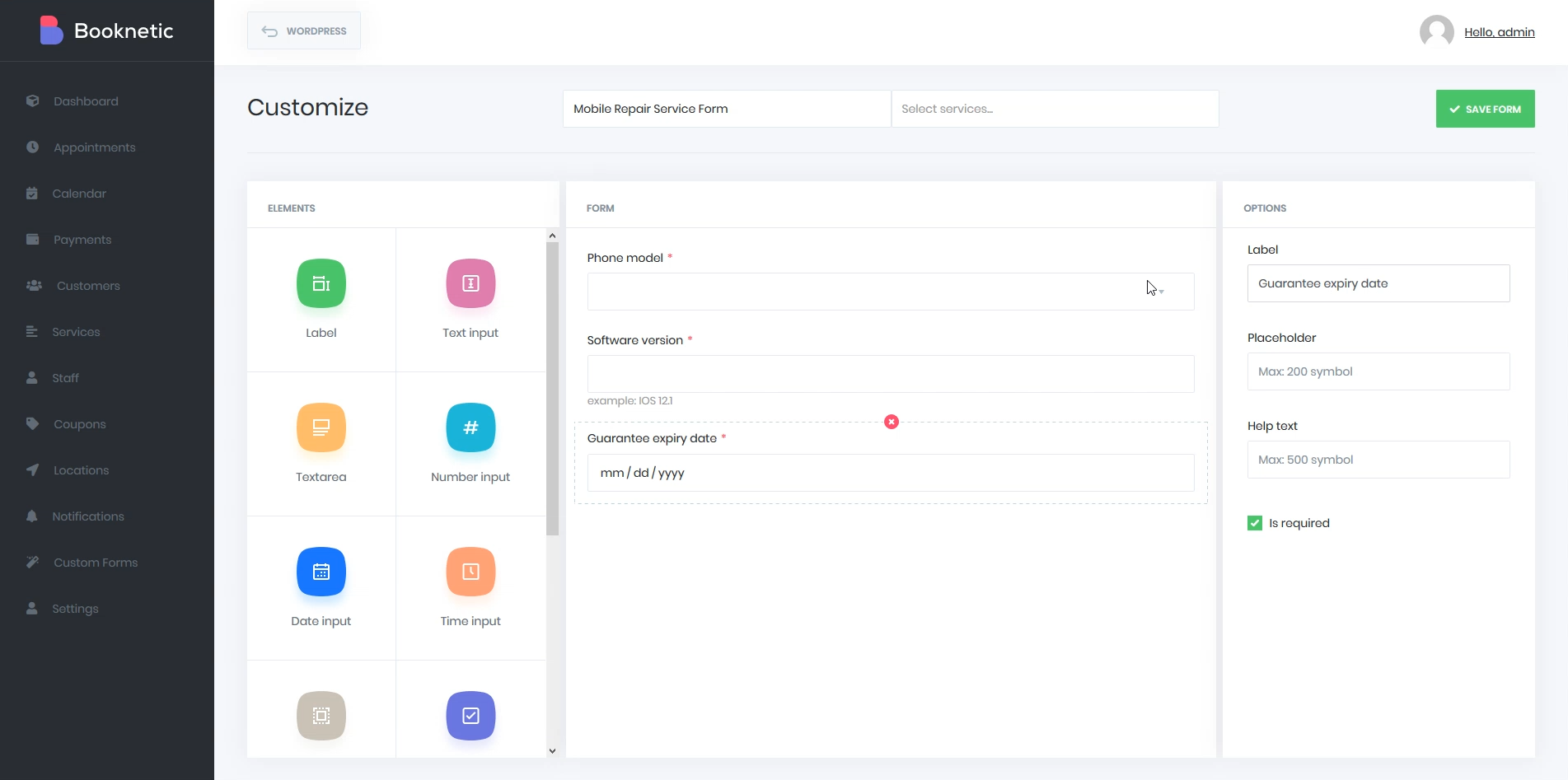 Zoom has become one of the major communication channels for various appointment-based businesses. With native Zoom integration, you can connect virtual meetings from the booking plugin dashboard. With your Zoom Integrated Appointment Booking system, you will plan and combine your meetings in different places.
* We offer this feature as an add-on.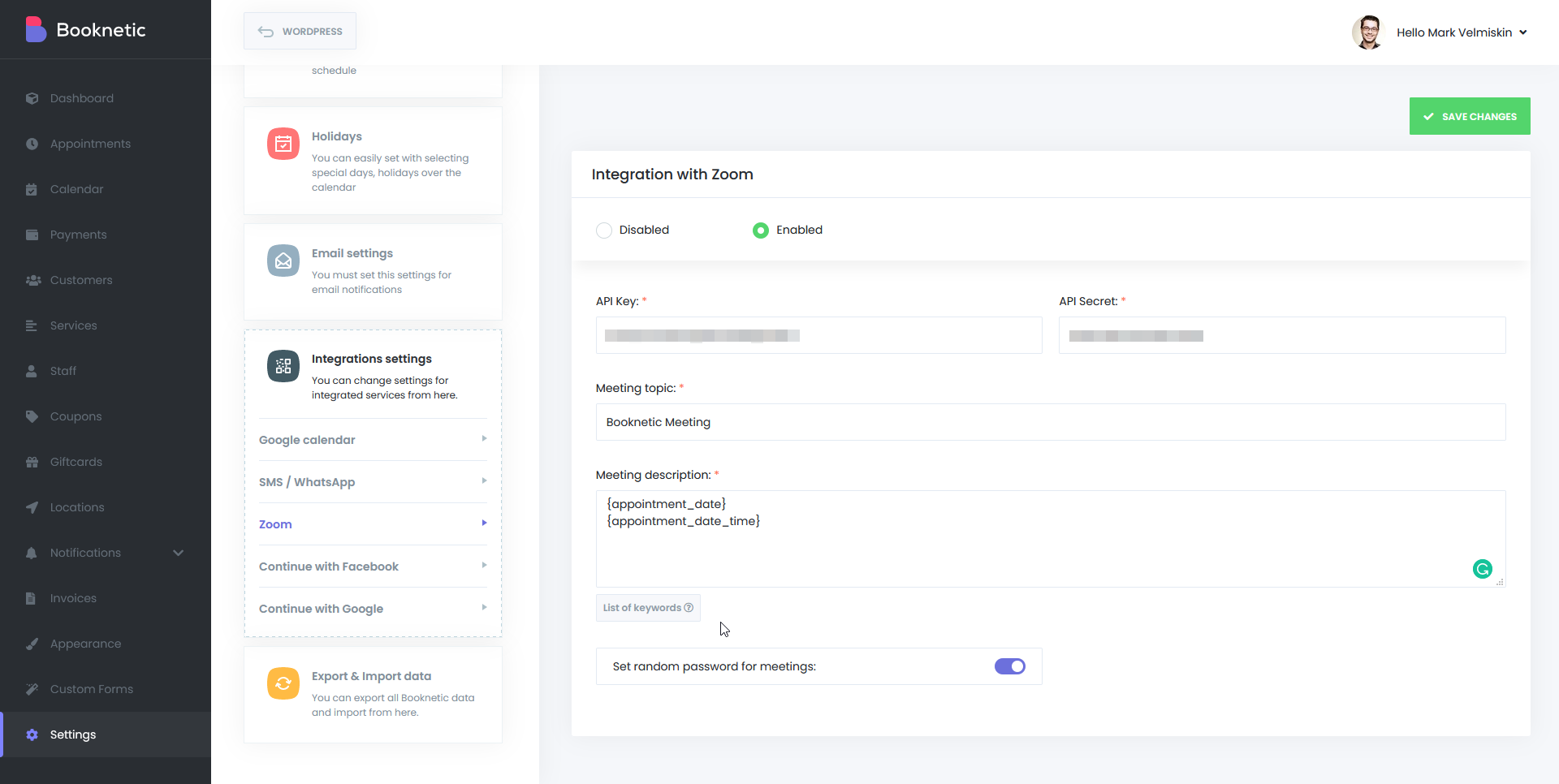 To simplify your time management and remove any confusion, we offer Booknetic Google Calendar Integration add-on. Once activated, you can automatically sync all your Booknetic appointments to Google Calendar and import Google Calendar events to Booknetic calendar. So, the busy times on your Google Calendar will be marked as busy on your booking calendar for WordPress.
You can further customize Booknetic Google Calendar event descriptions by adding keywords.
* We offer this feature as an add-on.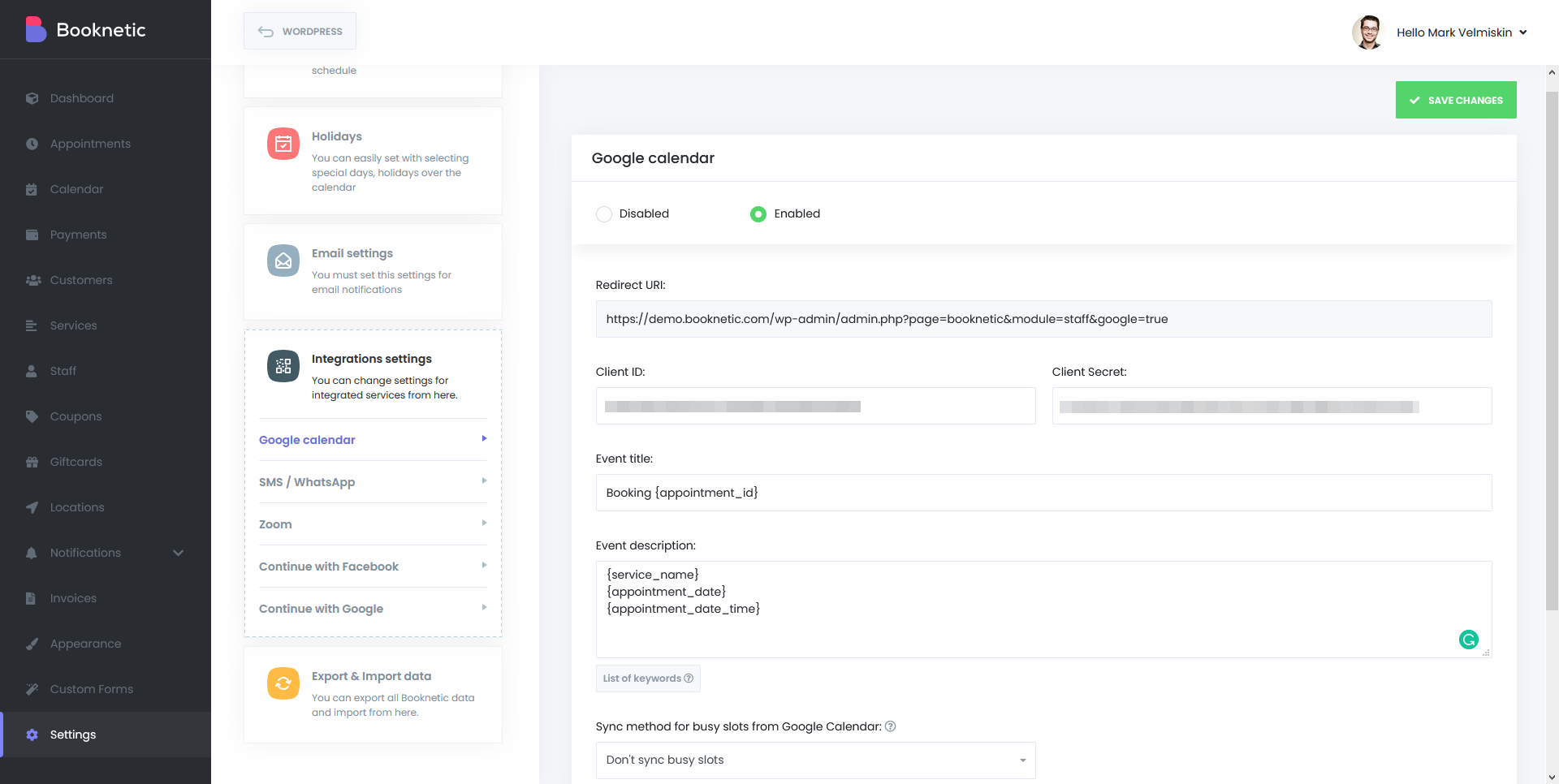 With the Workflow module, you can automate every action related to your meetings and build your business processes. For example, an email is sent to the customer when an appointment is received, and a Telegram notification is sent to the staff and administrator. Email the Zoom link to the client and Staff 30 minutes before the appointment. After the appointment, you should send the survey form to the Client via Whatsapp, and a POST request should be sent to EXAMPLE_URL via Webhook ( Zapier, IFTTT, etc. integrations ), change its status to the Archive 1 month after the appointment, etc.
List of actions supported in Workflow:
When a new appointment is added
When the time of the appointment is rescheduled
When the status of the appointment is changed (it is possible to set different combinations according to the previous and new status of the appointment)
At the end of the appointment (also X minutes after the appointment or X minutes before the end)
When a new customer is created
During the above actions, you can activate various triggers. The following is a list of supported triggers:
Send an email (add-on)
Send an SMS (with Twilio and Amazon SNS gateways) (add-on)
Send WhatsApp messages (with Twilio) (add-on)
Send a Telegram message (add-on)
Send any HTTP Request via Webhook (add-on)
Automatically change the status of the appointment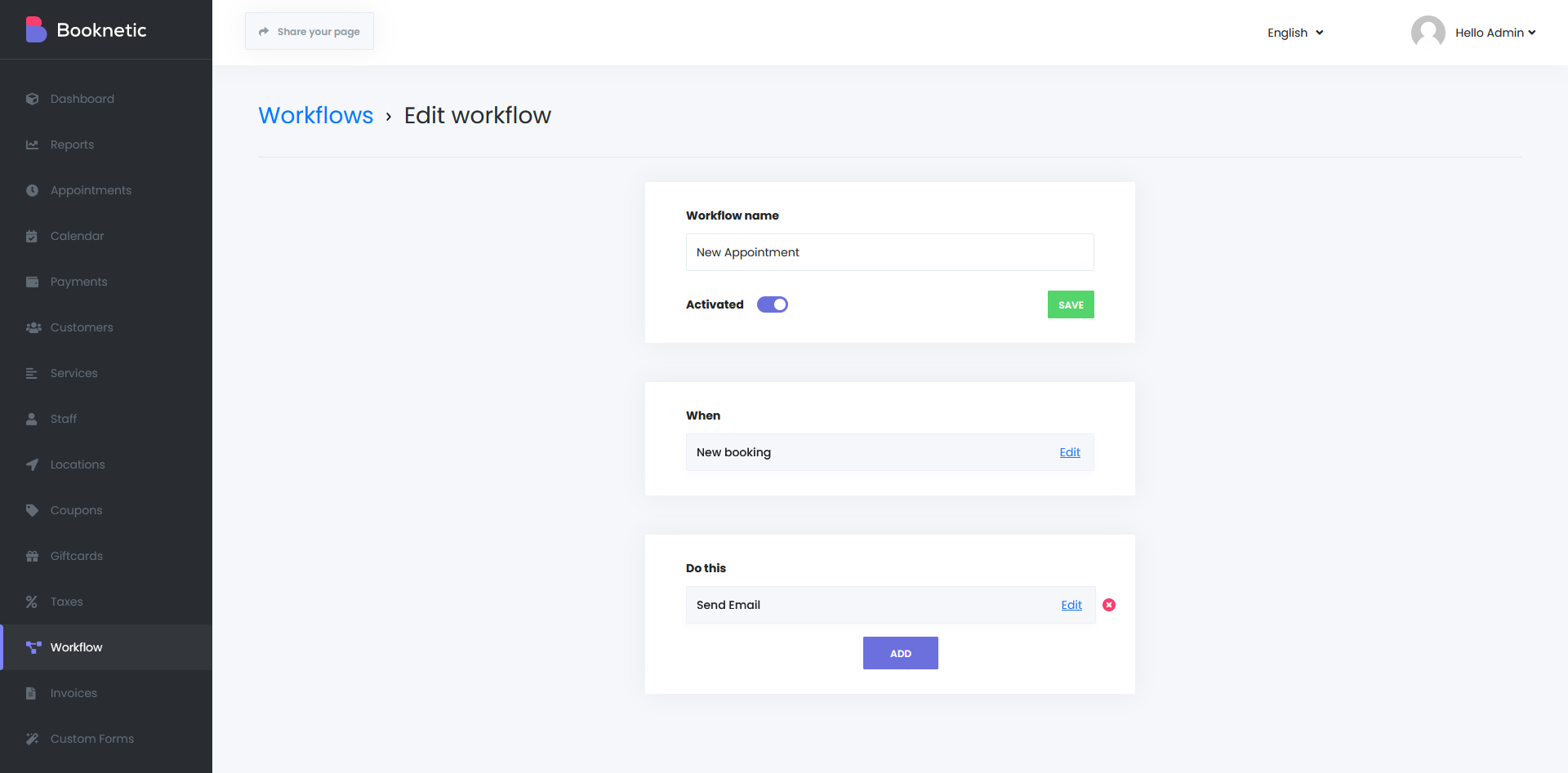 Conversion tracking:
Tracking user behavior is crucial for appointment businesses. Booknetic provides conversion tracking for booking panel. With the WordPress appointment scheduling plugin with Google Analytics and Google Tag Manager, you can track, view, and analyze website traffic in a single dashboard. If you have different events in GA, you can track their conversions with Booknetic appointment tracking integration. Conversion tracking for appointments allows you to integrate your appointment bookings with Facebook Pixel and tons of other tools via Google Tag Manager.
* We offer this feature as an add-on.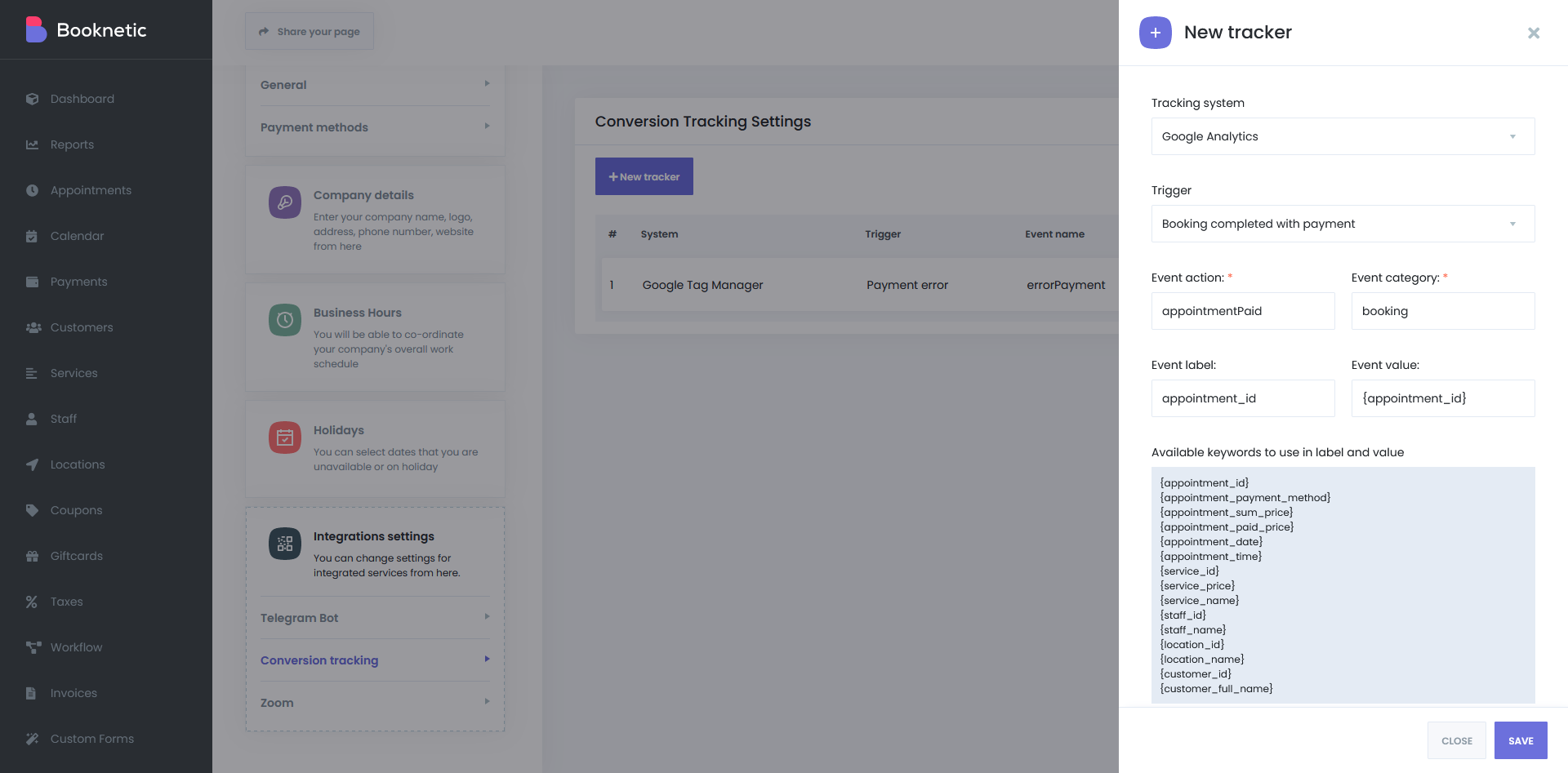 This feature lets you create unlimited statuses for the booked appointments throughout the appointment process. Plus to default status like approved or pending, you can add on status specific for your service and trigger action via workflow.
* We offer this feature as an add-on.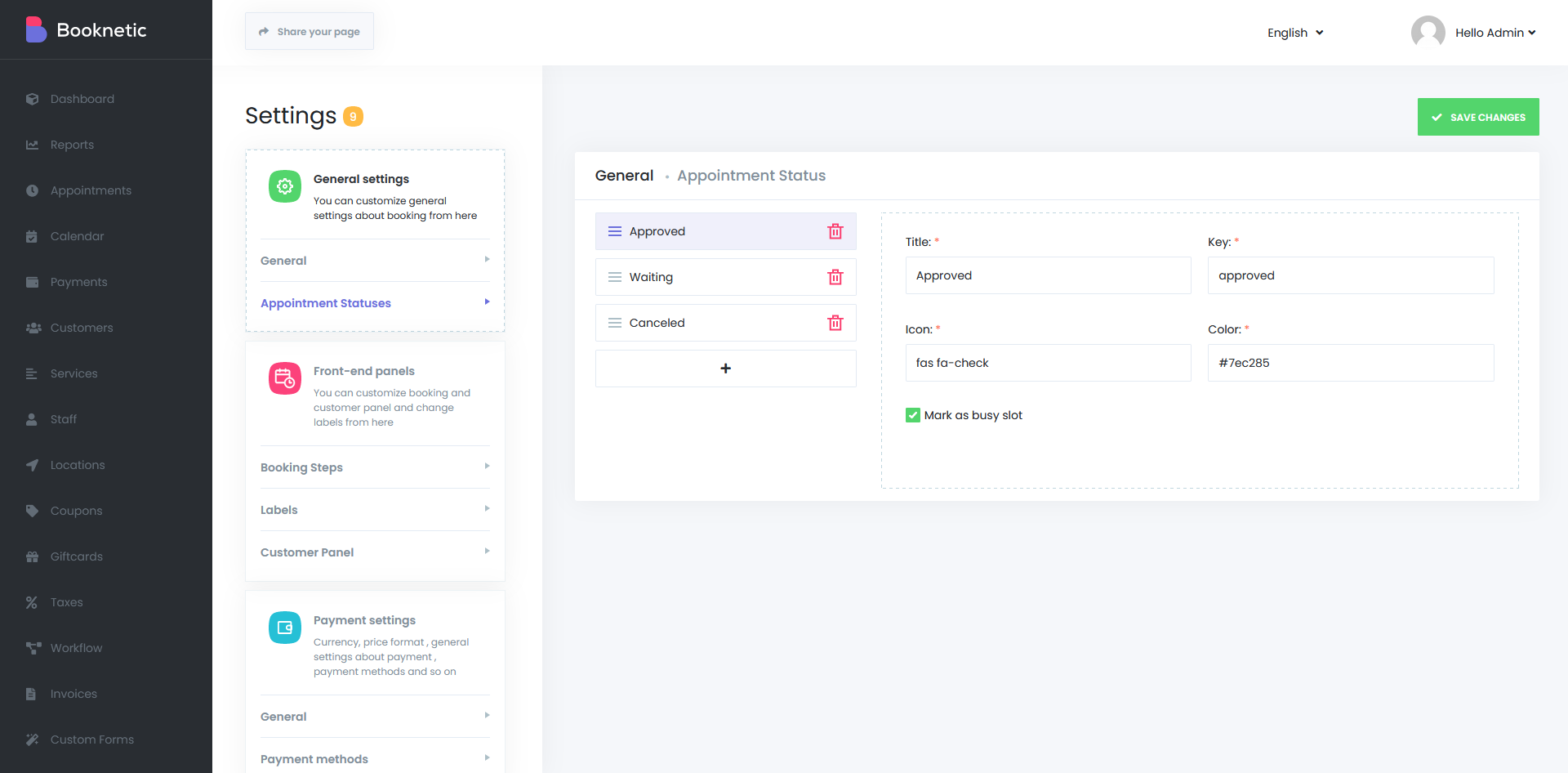 Thousands of you receive appointments with different time frames but charge the same amount. Appointment booking plugin with custom duration lets your clients decide how long they want to book an appointment.
* We offer this feature as an add-on.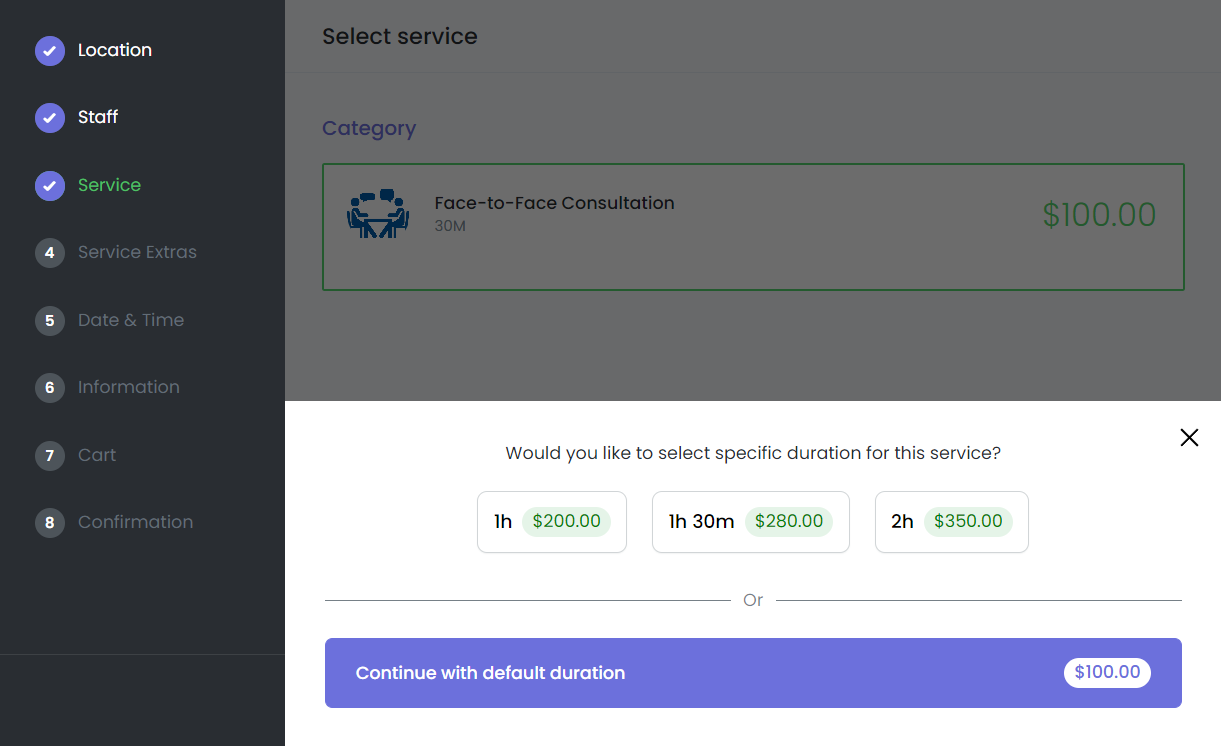 You can create a seamless and convenient payment experience with this appointment plugin for WordPress. The Booknetic offers native integrations to the most secure and popular payment gateways:
Paypal integration (add-on)
Stripe integration (add-on)
Razorpay integration (add-on)
Square integration (add-on)
Mollie integration (add-on)
Local payments
If you want to get your recipes on the spot from your customers, you can go with local payments. You can activate/deactivate the local payment method as you wish in settings.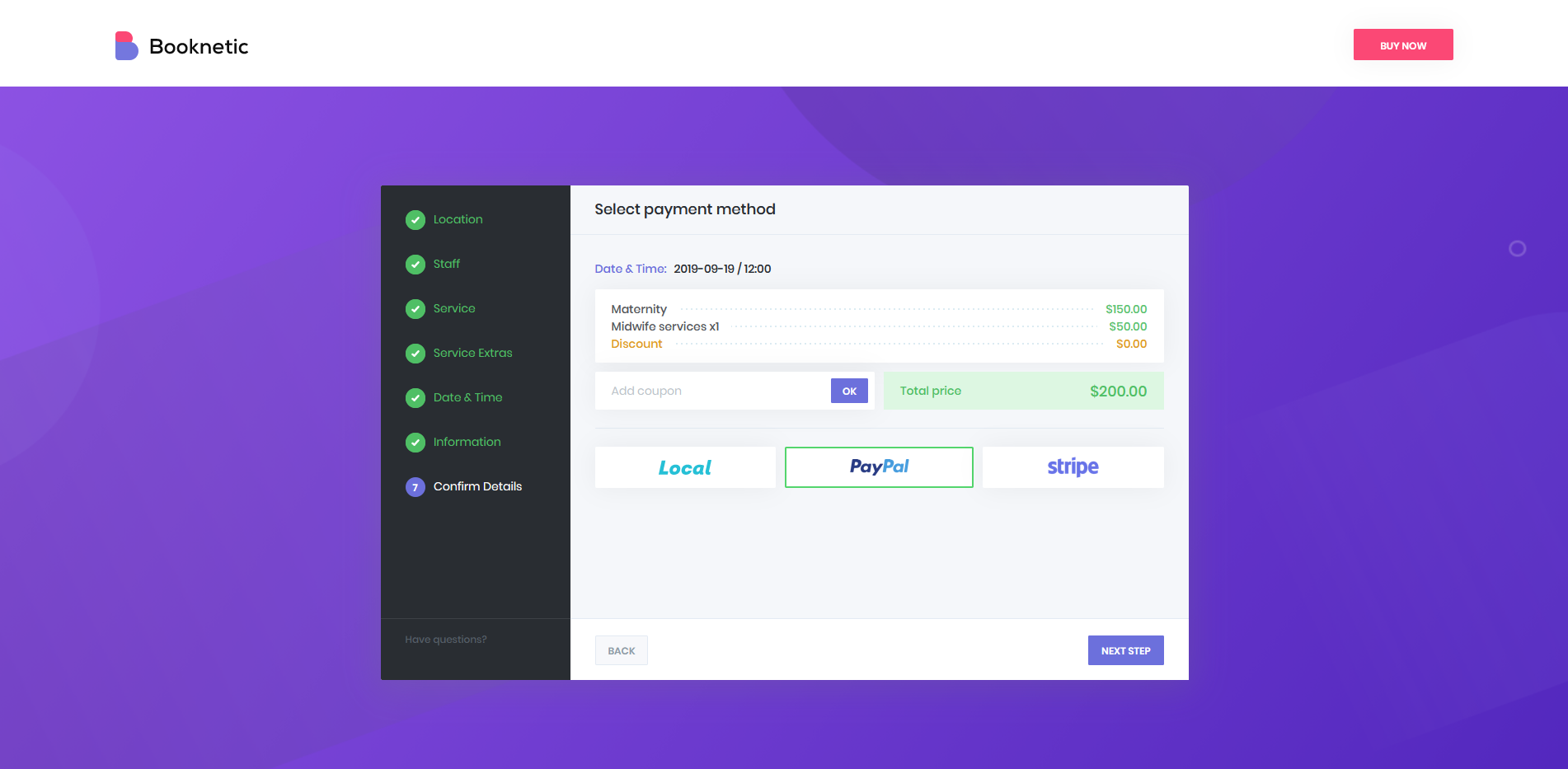 You can use a variety of payment gateways and WooCommerce opportunities by integrating WooCommerce.
* We offer this feature as an add-on.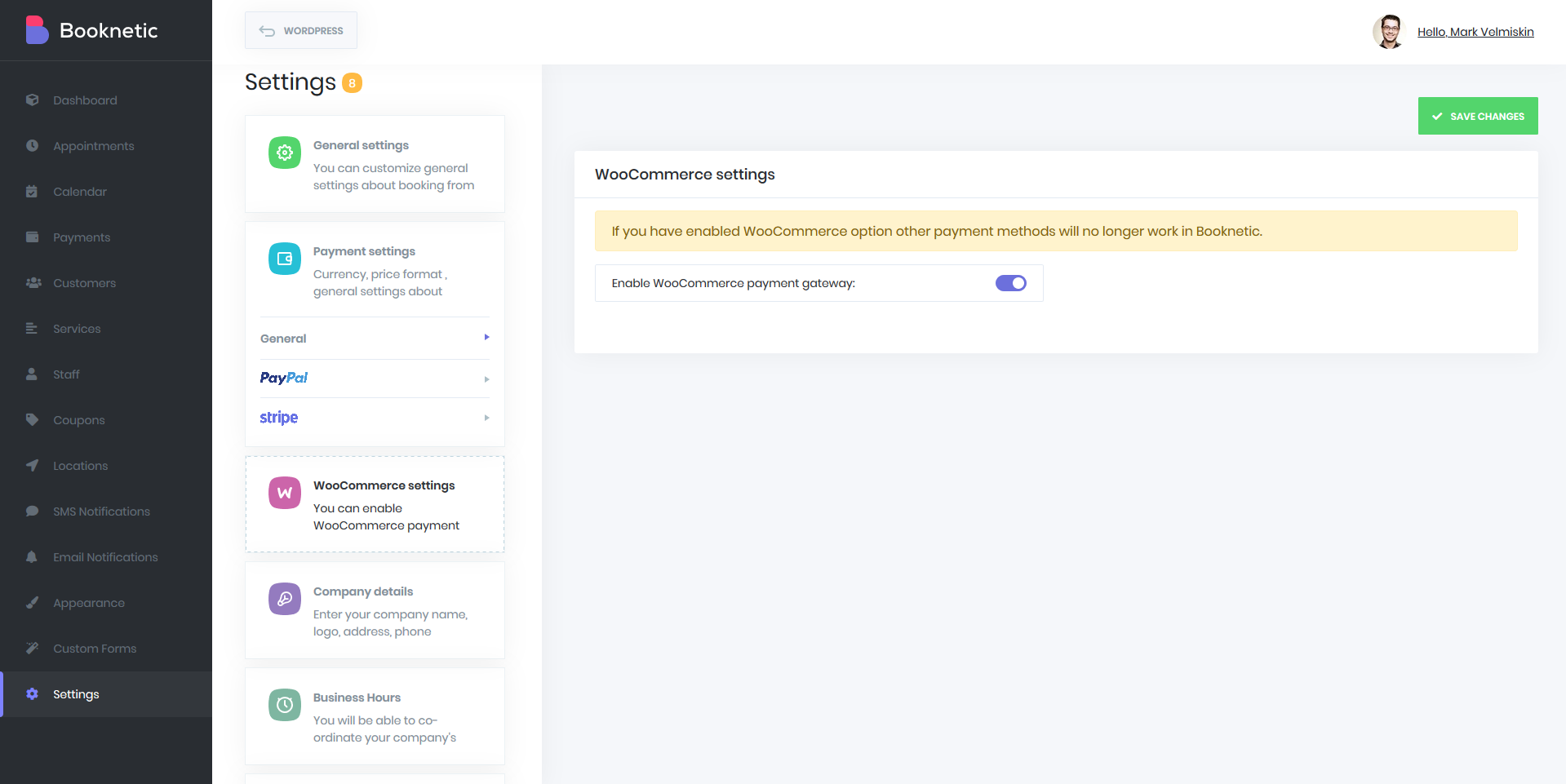 No-shows and cancellations have a costly experience for appointment-based businesses. The deposit payment feature is an actionable solution to minimize their financial impact. You can set the amount of required deposit for each service, location, or staff from the plugin settings.
Whether you're working in the beauty or fitness industry, every service professional's been there: you arrive at work and take stock of the day's schedule. You're fully booked, and you're waiting for the day to start, ready to greet your first client. And you keep waiting. Maybe the phone rings, and it's your client, canceling 15 minutes after their appointment was scheduled to start. Now, you're left scrambling. Even with your waitlist enabled, it's often too late to re-book the newly vacant spot. Now, you're left in an impossible position: do you enforce your cancellation and no-show policy and risk losing the client, or do you take the hit to your daily income? The appointment plugin for WordPress enables deposit payments to save you against any cancellations or no-shows
* We offer this feature as an add-on.
With Booknetic appointment plugin for WordPress, you will have a chance to send invoices about your services. However, preparing invoices is quite a complex and time taking task. With the Booknetic Invoice feature, everything will be created automatically and fast in PDF format.
* We offer this feature as an add-on.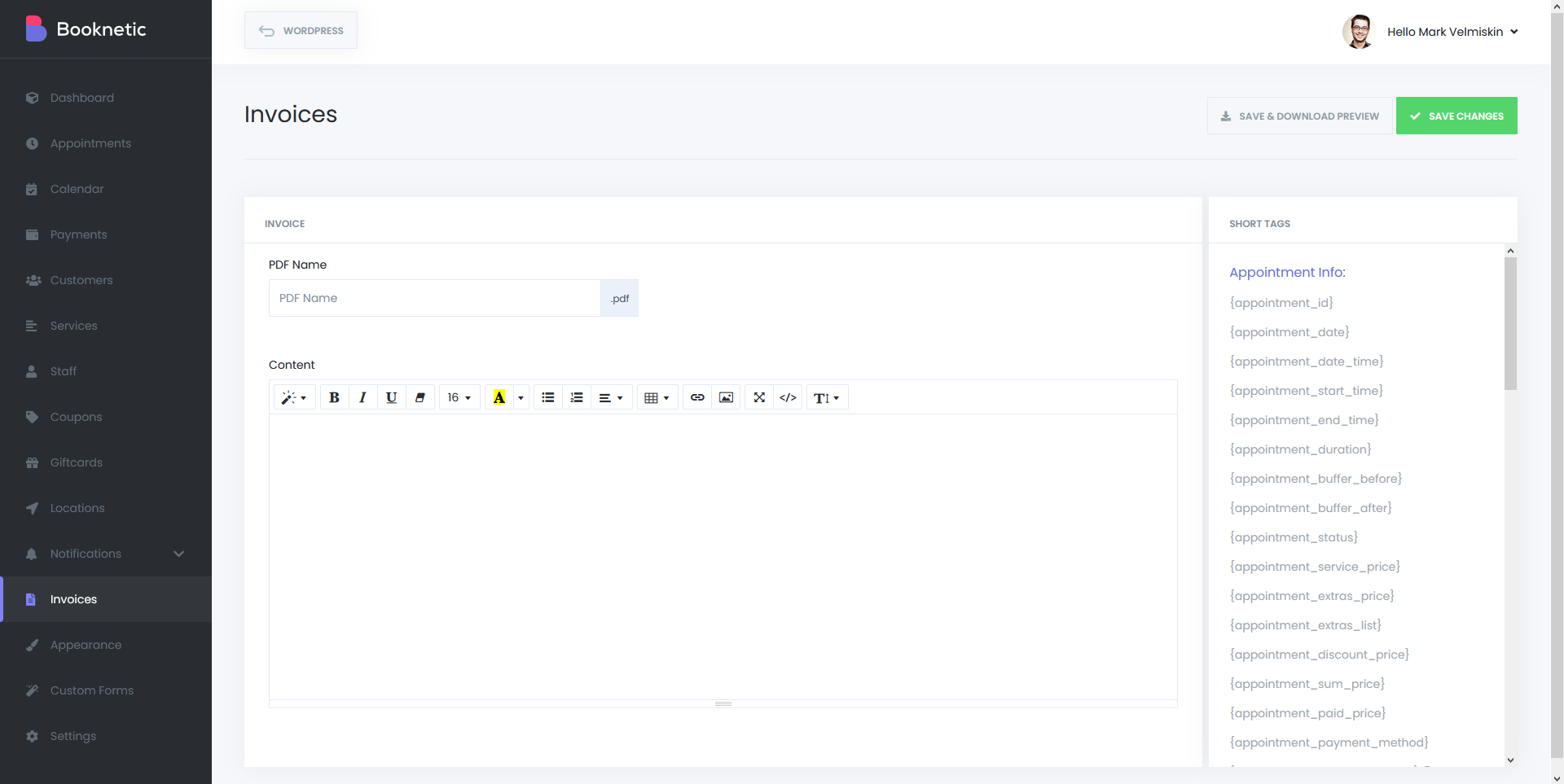 To stimulate your prospects and existing customers for appointment booking, we developed a coupon add-on. You can offer special discounts for staff, services, or locations during a specified time frame within Booknetic.
* We offer this feature as an add-on.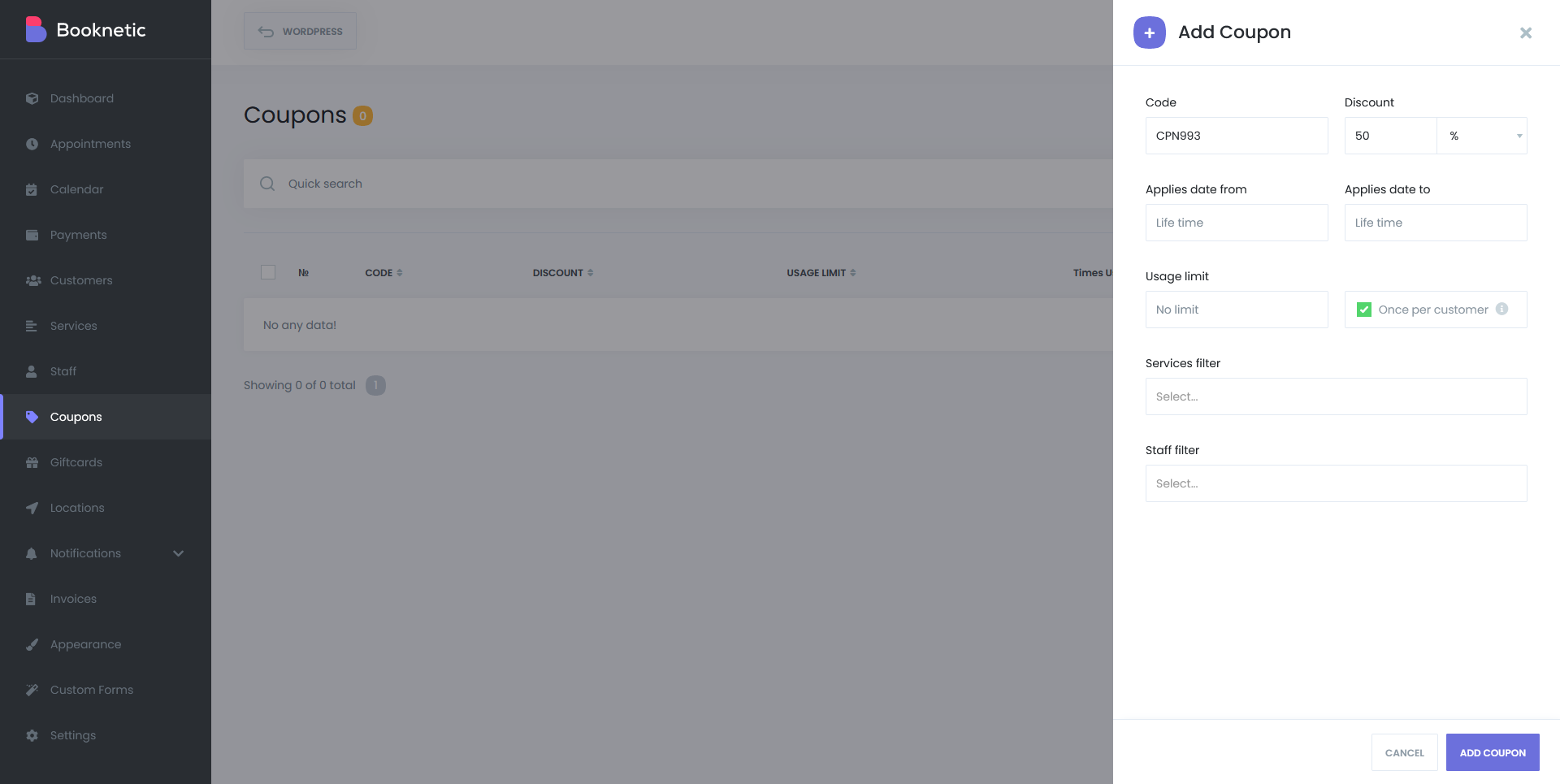 You can use Giftcards add-on to present customers through our appointment plugin for WordPress. The Giftcard you have created will correspond to a certain amount, and if the Customer uses this gift card when making an appointment, the money paid will be out of the gift card balance.
* We offer this feature as an add-on.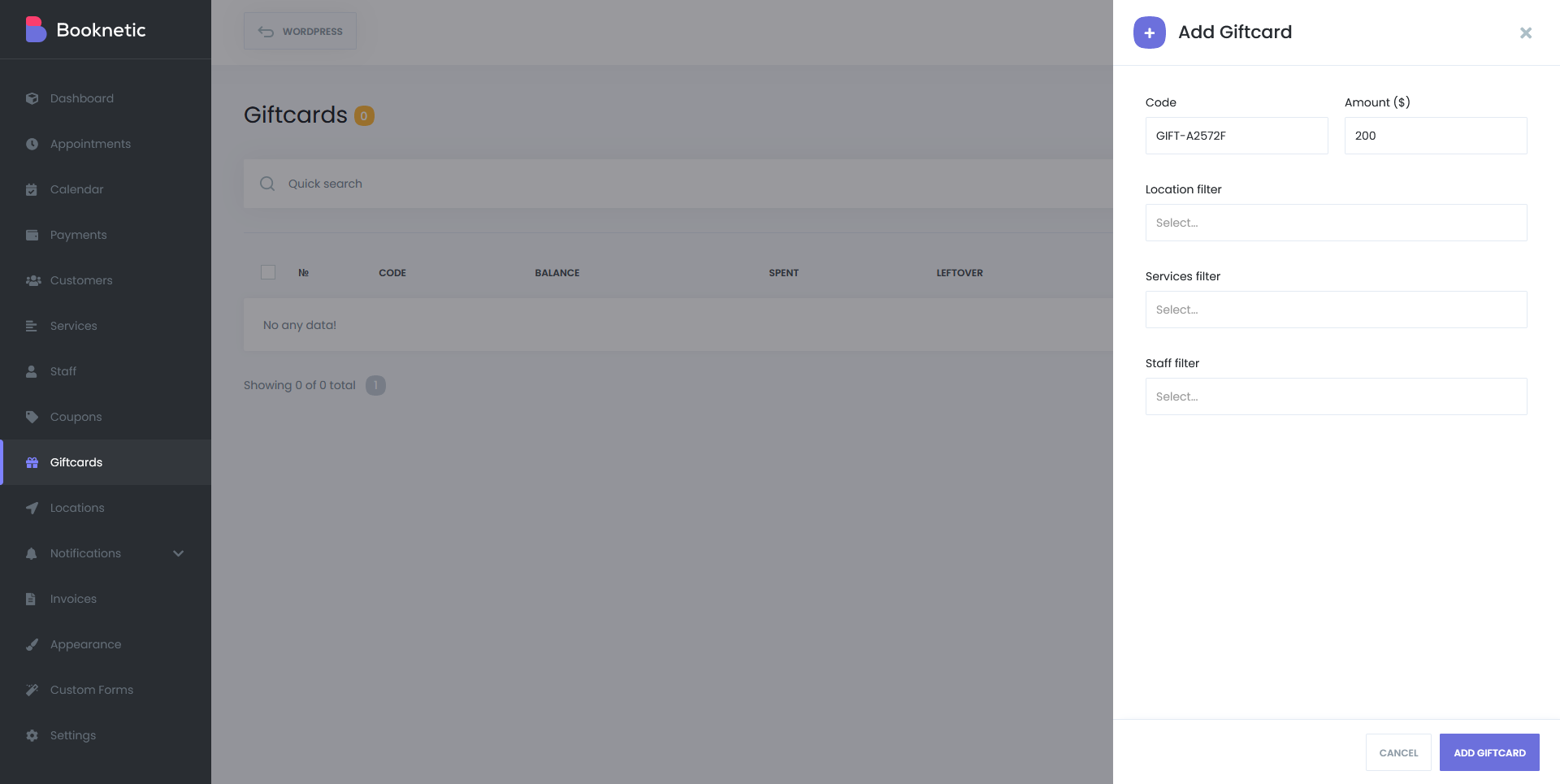 Due to high customer demand, we added Booknetic Multi booking services feature. Now your customers can book more than one services in a single booking session. This feature is available for multi services appointments. This allows your customers to book multiple staff, services, and times. WIth the help of multi booking, you can grow your appoinment based business at a larger scale.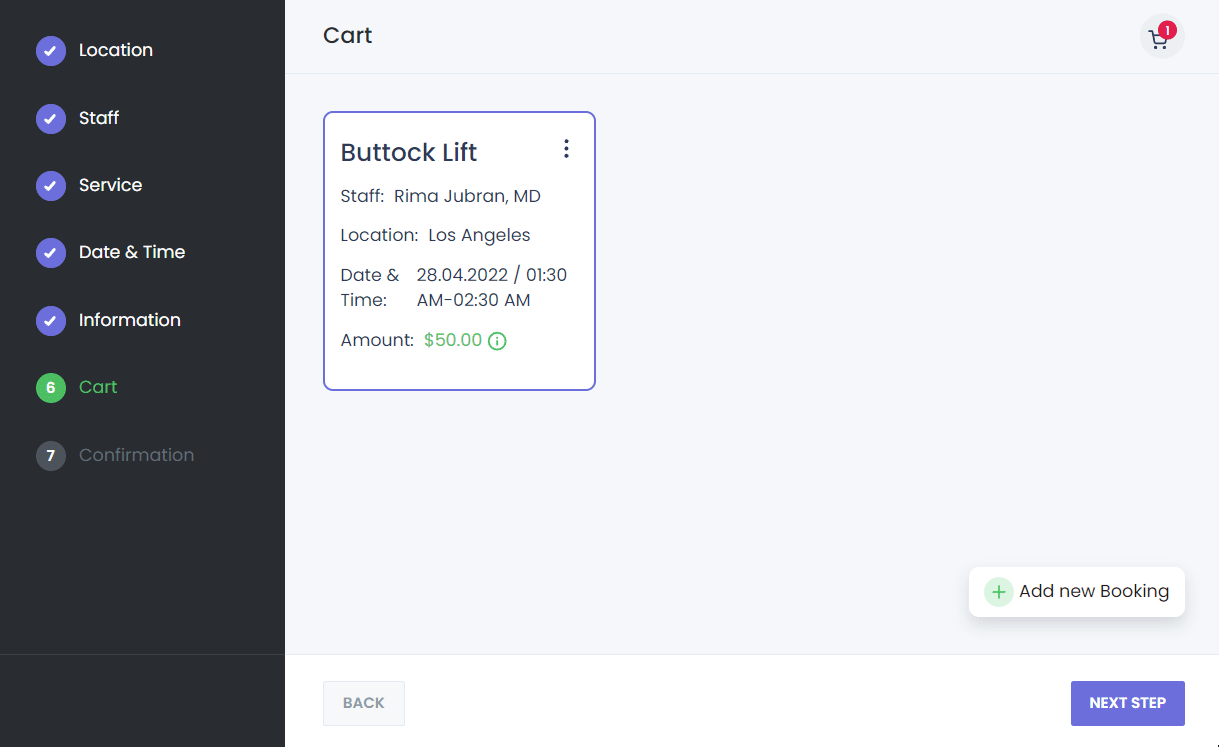 Group appointments – also called group visits or witnessed appointments – vary widely but tend to have several core elements to ensure that clients get the service they need with less amount money.
With the Booknetic appointment plugin for WordPress, you can keep the booking of your repetitive services in a convenient and superb interface. With the wide-ranging, flexible configurations, you can integrate every type of your business's recurring service into your system.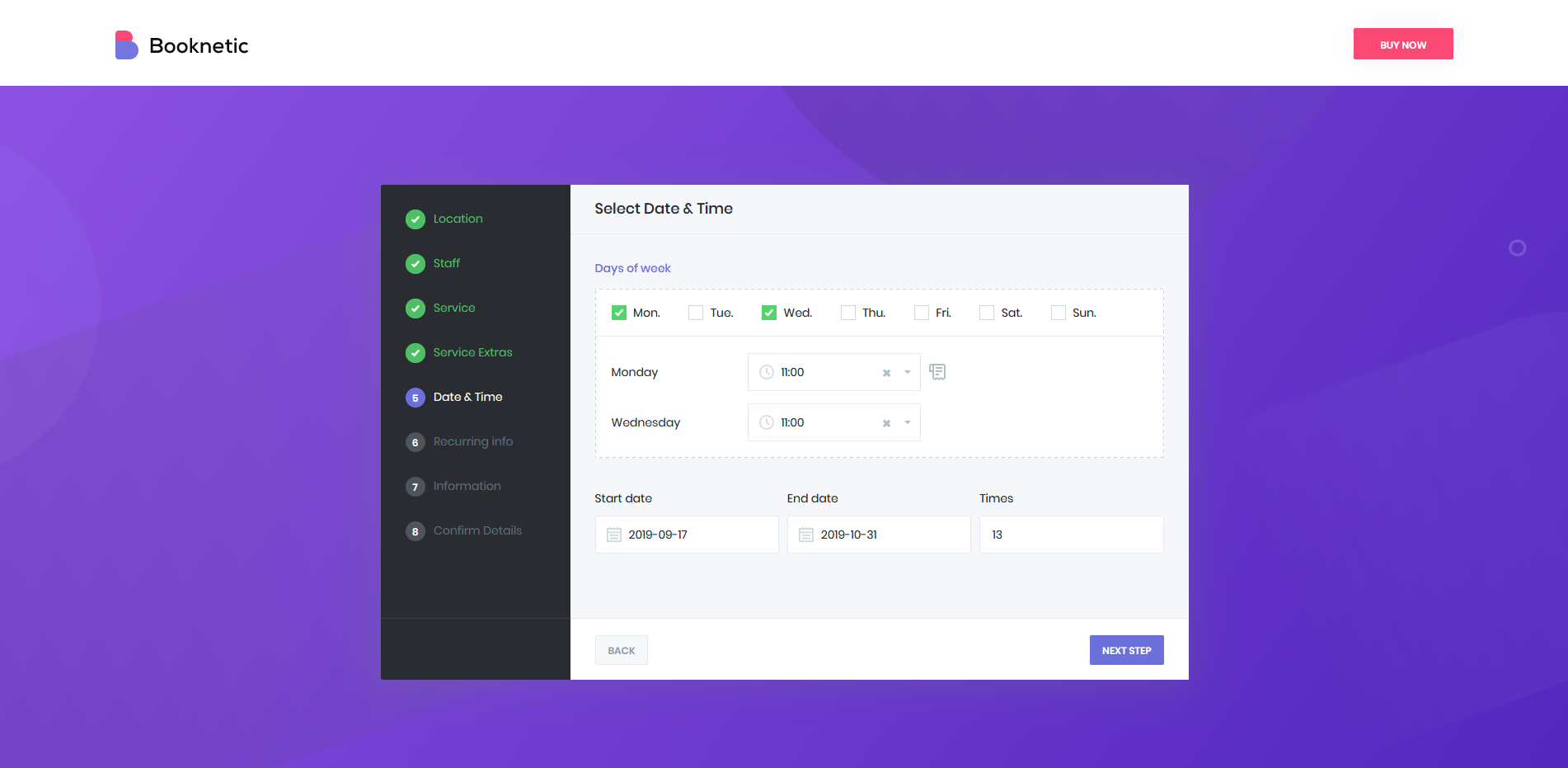 Booked time slots may prevent you from making immidiate adjustments to customer booking requests. To let you receive appointments for busy time slots, we offer Booknetic waiting list feature. Booknetic waiting list feature gives you more flexibility and efficiency over your booking calendar.
You can enable the waiting list feature in your Booknetic admin panel. Once the requested timeslot becomes available you will immidiately receive appointments for that time. You can set what type of notification to send customers in the waiting list once it is available such as email, WhatsApp, or others.
Customer cannot pay for the appointments in the waiting list. Once the timeslot is available, you can charge customers to pay in advance if you want.
* We offer this feature as an add-on.


Ratings and reviews empower your services with real customer feedback. Now you can display staff names with their ratings in the appointment booking process. You can send review forms to customers when a new appointment is booked, cancelled, started, and ended. Booknetic ratings and reveiews lets receive notifications whener new reviews is left, also filter notifications for only 1-star reviews.
* We offer this feature as an add-on.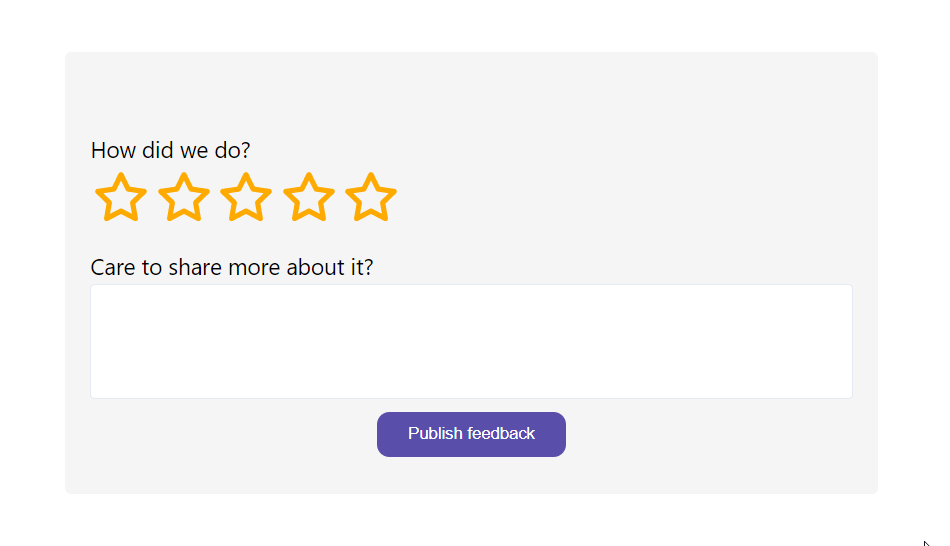 The Booknetic plugin is multi-locations supported. If your company is located simultaneously in several locations, you can combine your points on a system by adding each other separately. You can accept separate bookings for each area, and you can add staff for locations and by comparing your locations, you can create a rating schedule for creating competition between.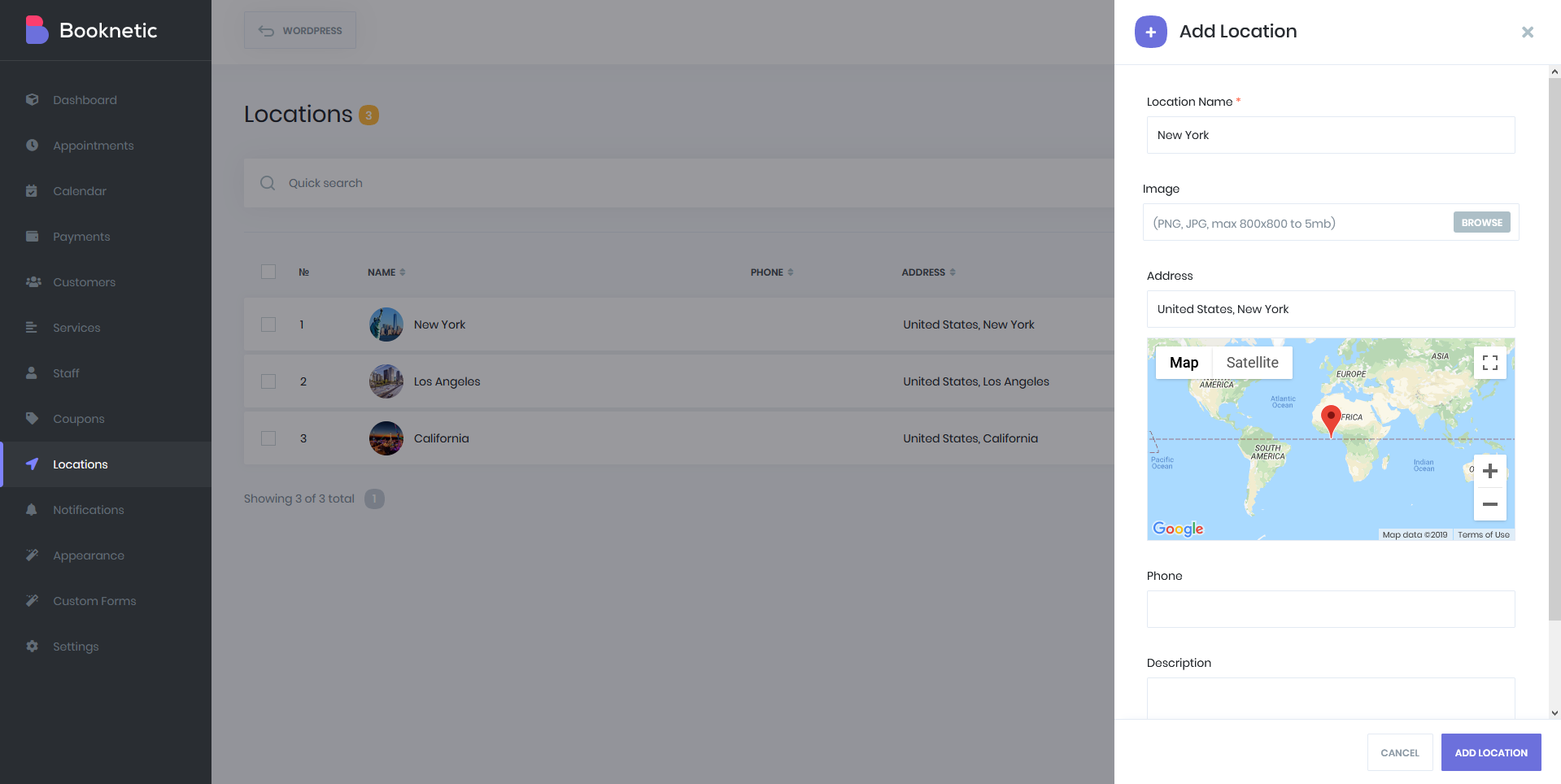 In the Booknetic appointment plugin for WordPress, you can create your services with multi-level service categories. With the perfect structured view, you can easily categorize your business services. The service Module has been created by using the latest design and technology for your convenience. If you have a lot of services, the list mode will be beneficial for you. With the list view, you can list your services in a single row.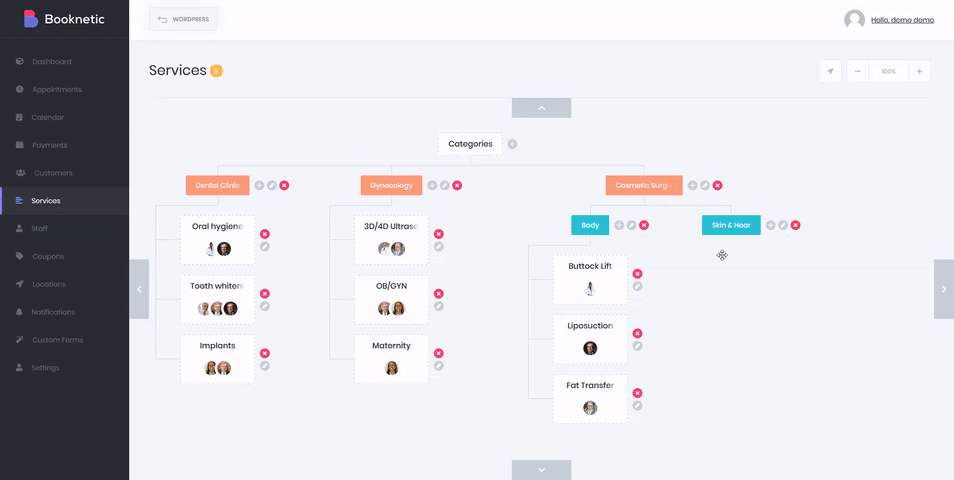 Booknetic booking plugin lets you connect major services with sub-service categories. This feature is service extras in our admin dashboard.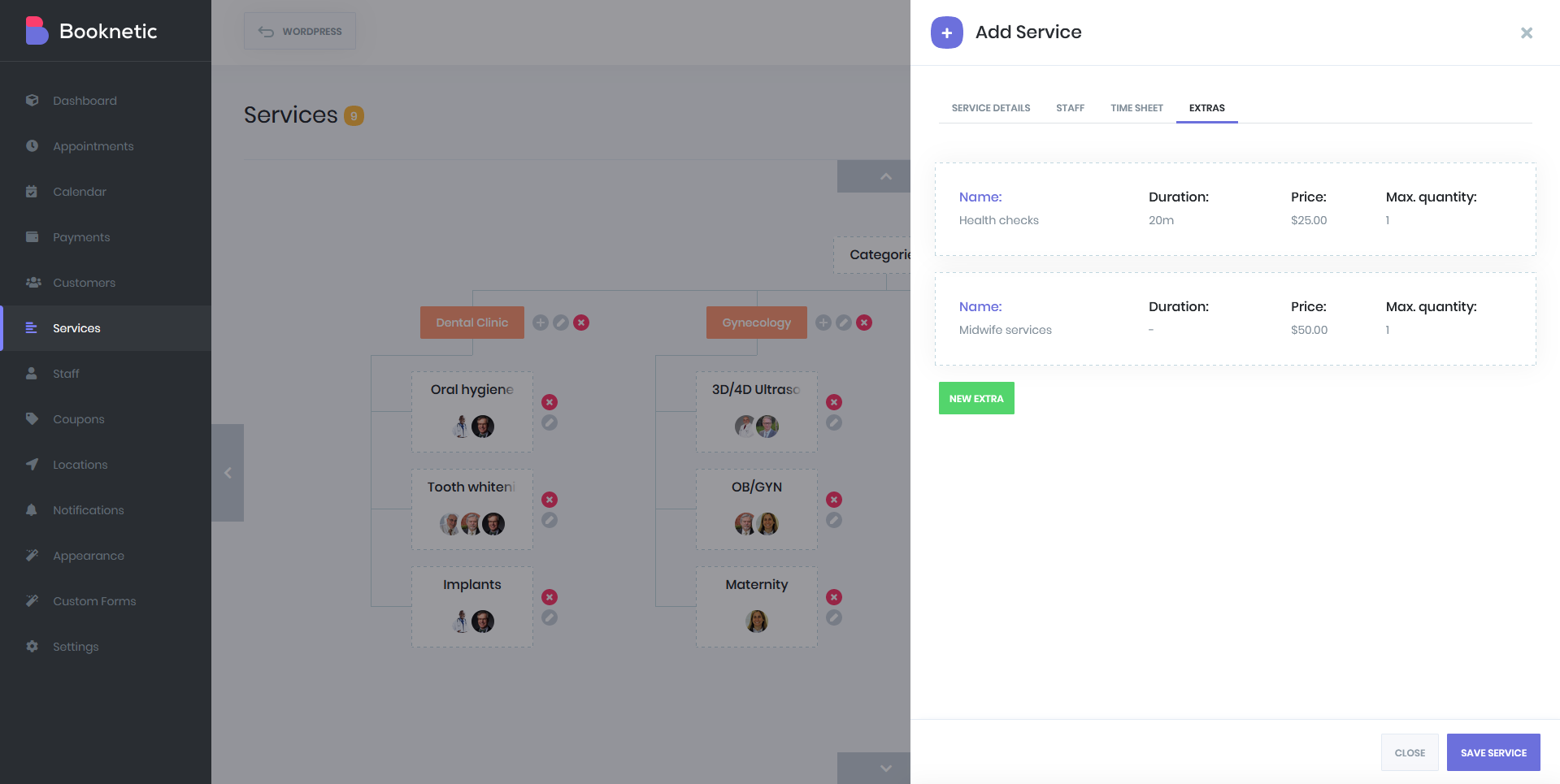 User role manager:
Considering a large number of user requests, we added User role manager to Booknetic. Now you can give permissions to different users based on their role in your business. This will take the burden of management from the super admin's shoulders and divide management among relevant users.
* We offer this feature as an add-on.
Serving across the globe makes us simplify our solutions for all of our customers. With Booknetic booking plugin for WordPress, you will be able to translate or change any words in the Booking panel easily. Head over to the Settings > Booking panel > Label menu and enjoy the visual translating module's ease!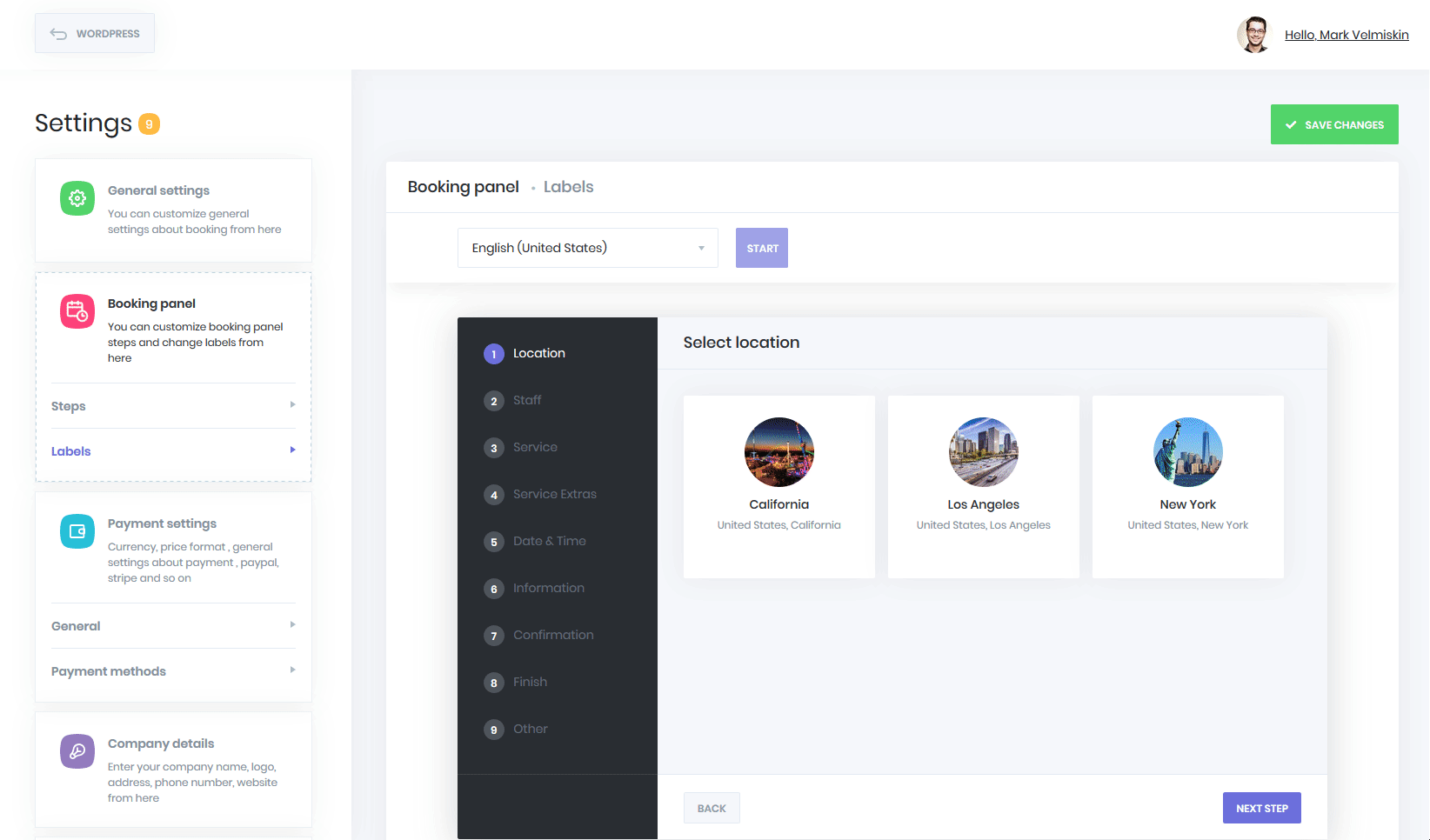 Fully translatable (static & dynamic data):
Plus to being multi language WordPress appointment booking plugin, we offer built-in translate data option. Now, you can easily translate your business data such as service name, location, custom statuses to any language that you use appointment booking system.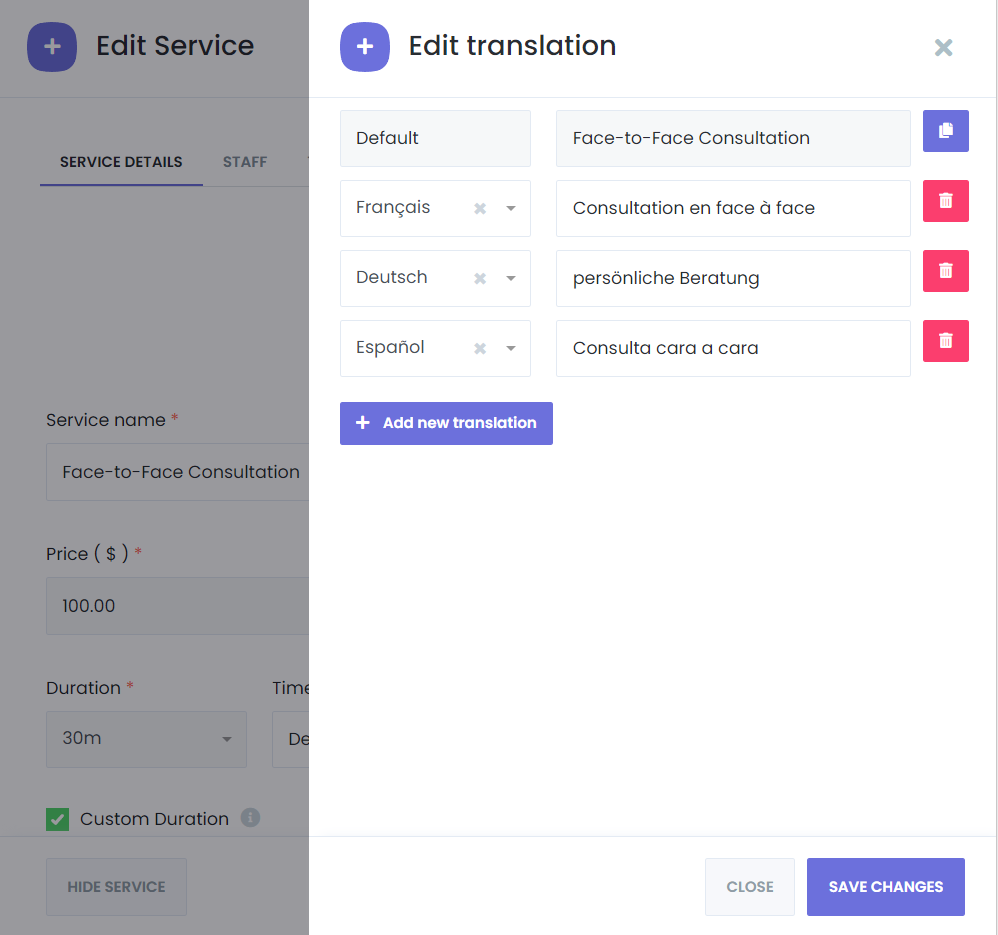 Our dashboards tab gives a snapshot of ongoing appointment bookings in your business. You can view the status of booked appointments along with their counts, the amount of booked hours, and the total bill payment.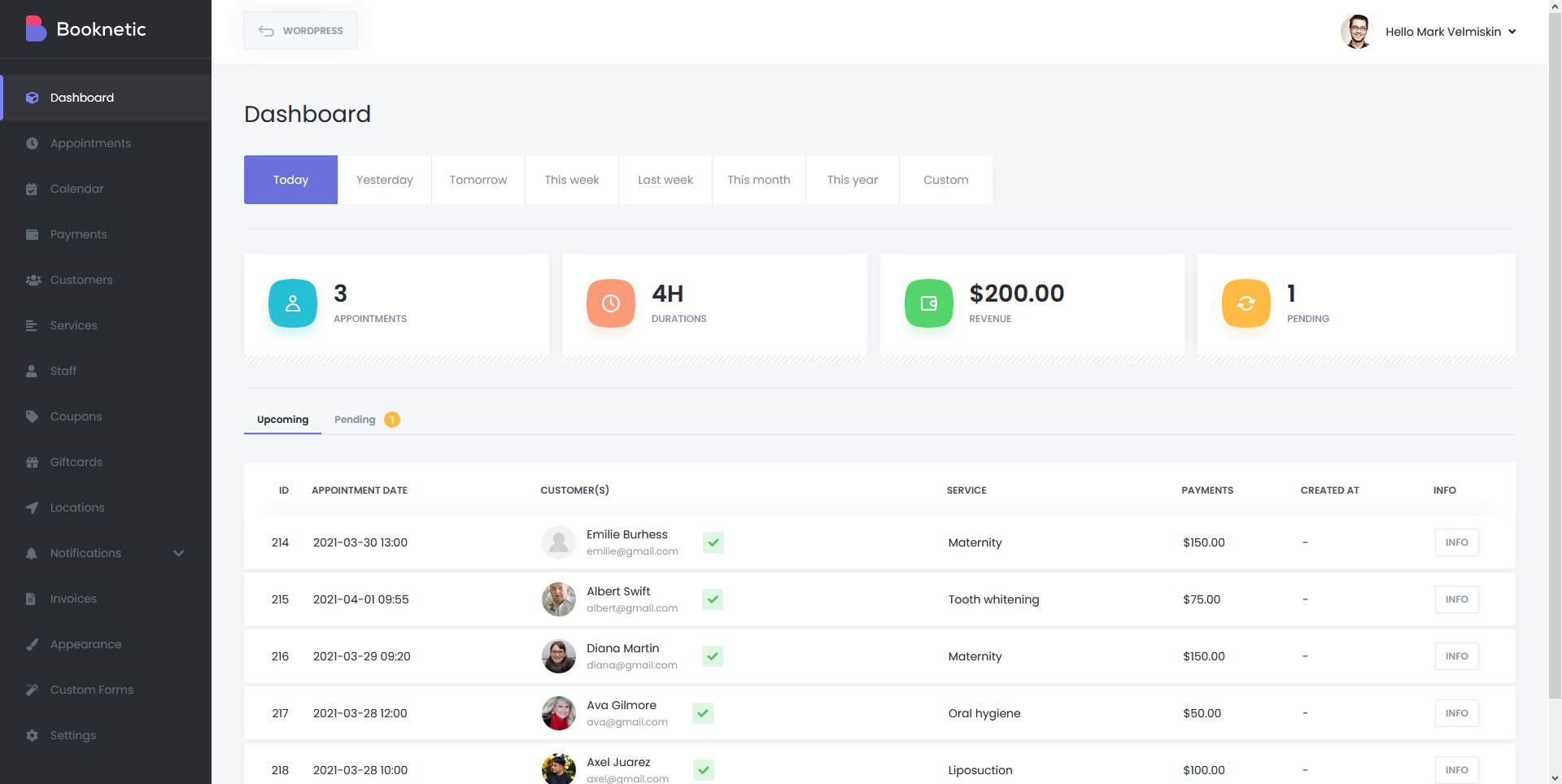 The security of our customers has always been the #1 priority for us. Most WordPress users complain about getting spam appointments. We natively integrate with Google ReCaptcha to secure your business against unwanted user interactions. By activating Google ReCaptcha, Booknetic users will avoid spam appointments.
Using an up-to-date interface and informative calendar, you can monitor your staff appointment schedule. You can choose to view calendars in daily, weekly, or monthly views on the Calendar module. Plus, the list view of the calendar is also available in Booknetic appointment booking plugin for WordPress.
The Calendar module also has filtering options based on locations, services, and staff.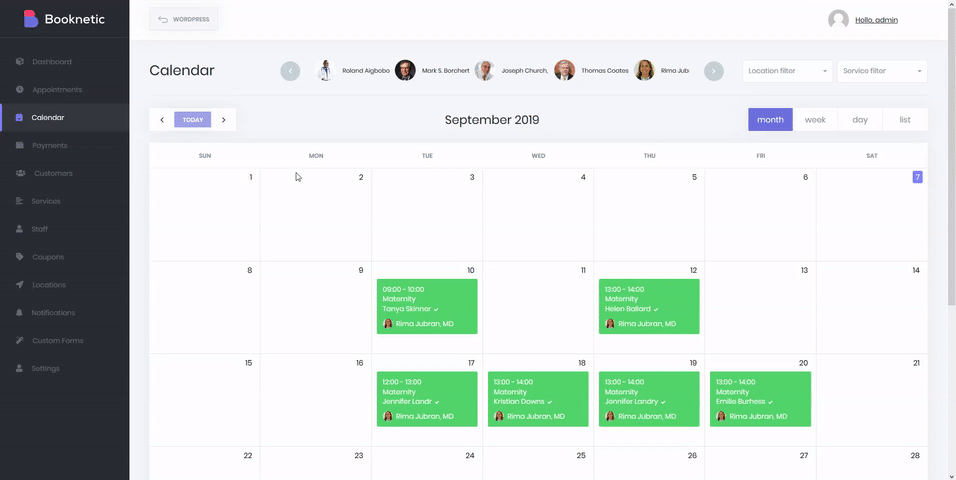 You can limit getting appointment bookings for a time. We built breaks, day-off, holidays to simplify this process on your behalf. This feature allows you to block certain time slots on your calendar thus avoiding getting appointment bookings for that period.
You improve what you are capable of measuring. Our comprehensive reporting add-on allows you to improve your booking system and business with analytics. You can view and compare business profitability by locations, staff, or services, and compare them one with another. Graphical illustration of reports makes the analytics easy to understand.
* We offer this feature as an add-on.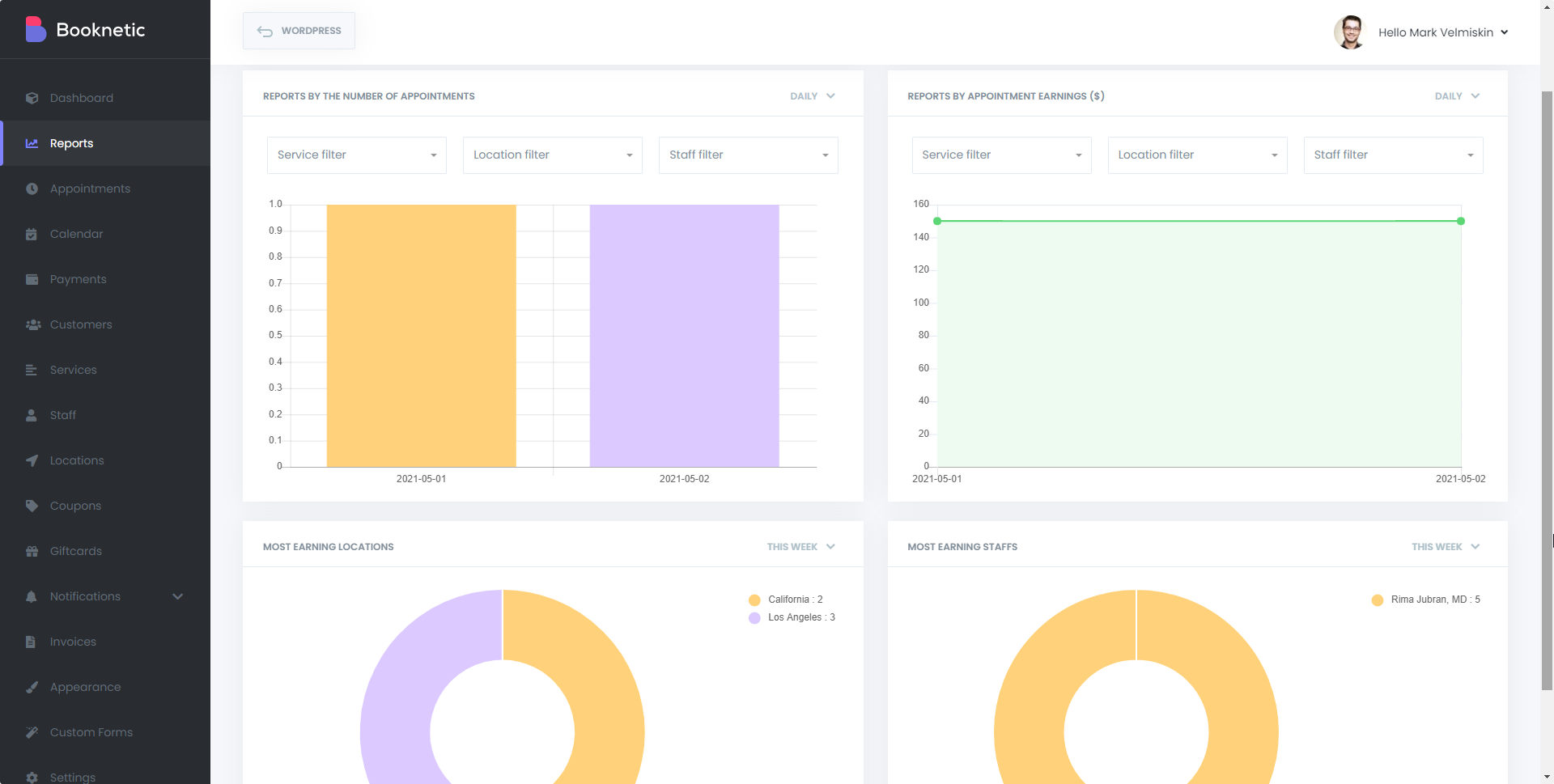 Donations for appointments:
Donation to let your clients to support your business at their terms. As a business, you can own a non-profit or for profit organization that charges a fix amount for its services. Donations for appointments let your clients donate a certain amount of money voluntarily. Your clients will define the amount of donation by themselves.
* We offer this feature as an add-on.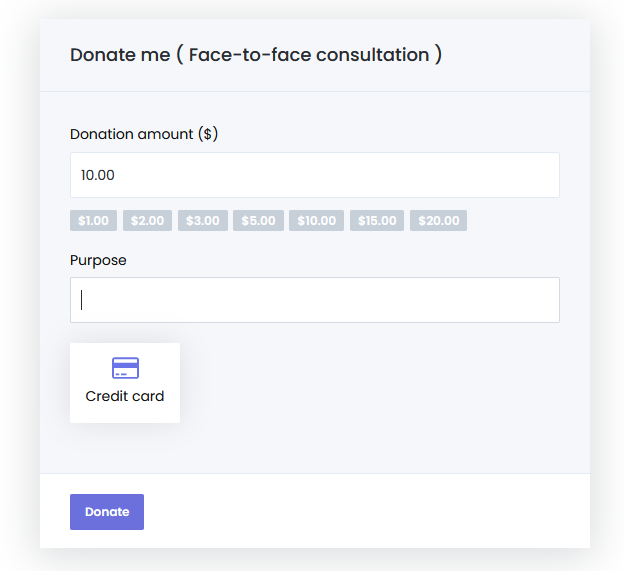 For group appointments, you can enable a single user registration for multiple seats. Bring people with you feature can be used within group appointments to remove separate appointments for each attendant.
Entering details in every registry may overwhelm users or cause type while filling out the booking forms. Continue with Google is a unique feature to Booknetic booking plugin for WordPress to remove tiny errors and generate a better experience for your customers.
Also, Booknetic has a Continue with Facebook feature to further facilitate the user registration process. Continue with Facebook lets you provide a super-simplified customer experience from first sight.
Keeping unnecessary steps can make your booking process complex. You can enable disable certain fields and reorder their place. Also, Booknetic has a selected booking panel, where you display only selected location, staff, or service to customers among available options.
Customization of Booknetic plugin lets you choose the appropriate booking panel appearance for your website or brand. We offer 7 options to design your booking panel: Default, Brown, Red, Green, Blue, Purple, Pink. You can choose one of the styles you want, or you can create a new template from your own.
If there is a CSS change that you think you need to make in your Booking panel, you can do so through this feature. You can easily change the settings that you cannot change in Appearance via Custom CSS.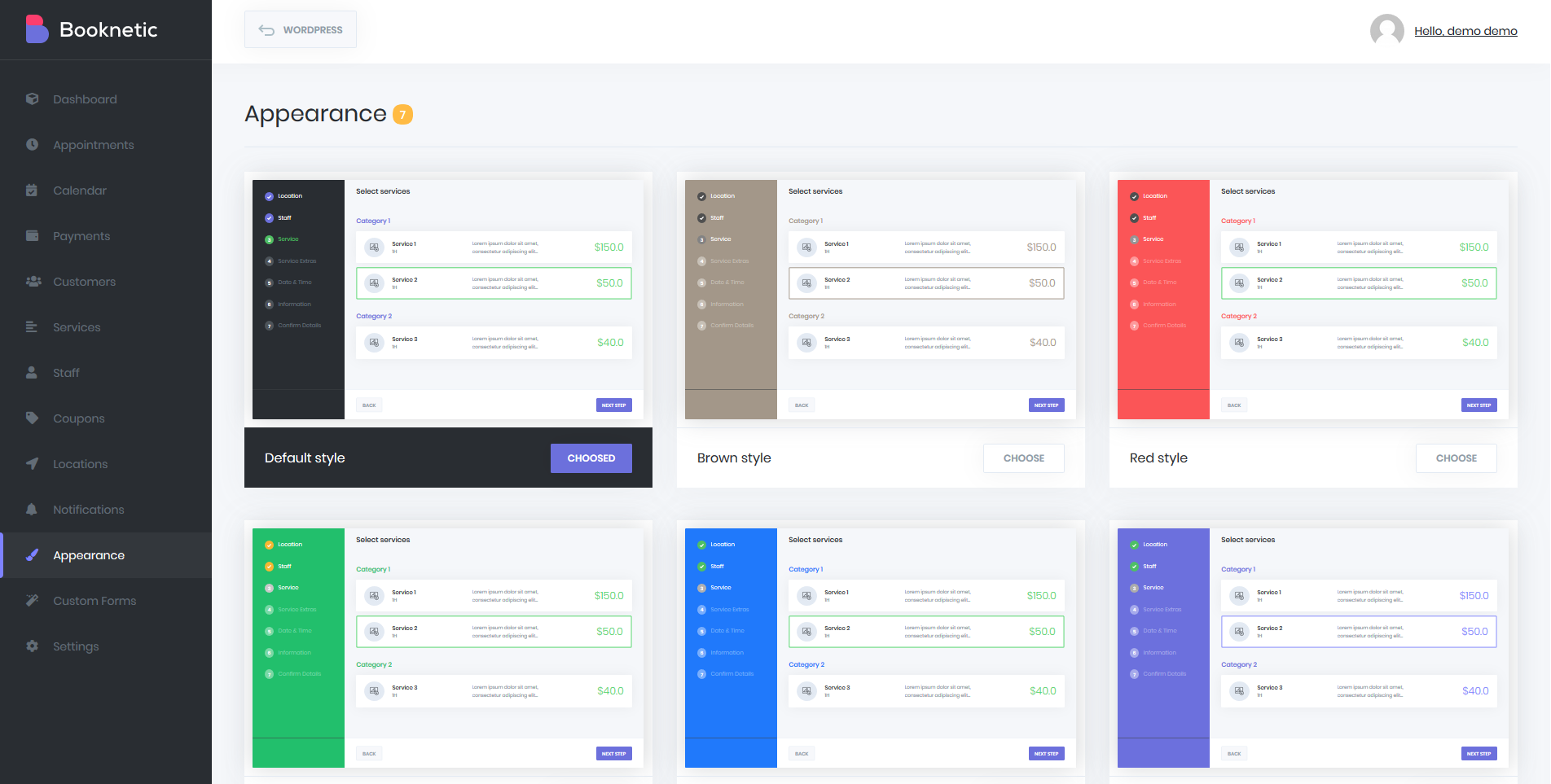 Customer module:
Our built-in CRM features save you juggling between unmanaged customer data. Booknetic's customer database lets you store customer data along with appointment details. You can further import or export customer lists with our booking plugin for WordPress.
Export & Import data:
Our code structure lets you easily migrate your booking system into a new booking provider. Booknetic has a built-in Export & Import data feature in the Settings section. You can export the whole Booknetice data or configuration and then import the backup file into the new system.
This also allows you to migrate your booking system or data when you switch to a local machine.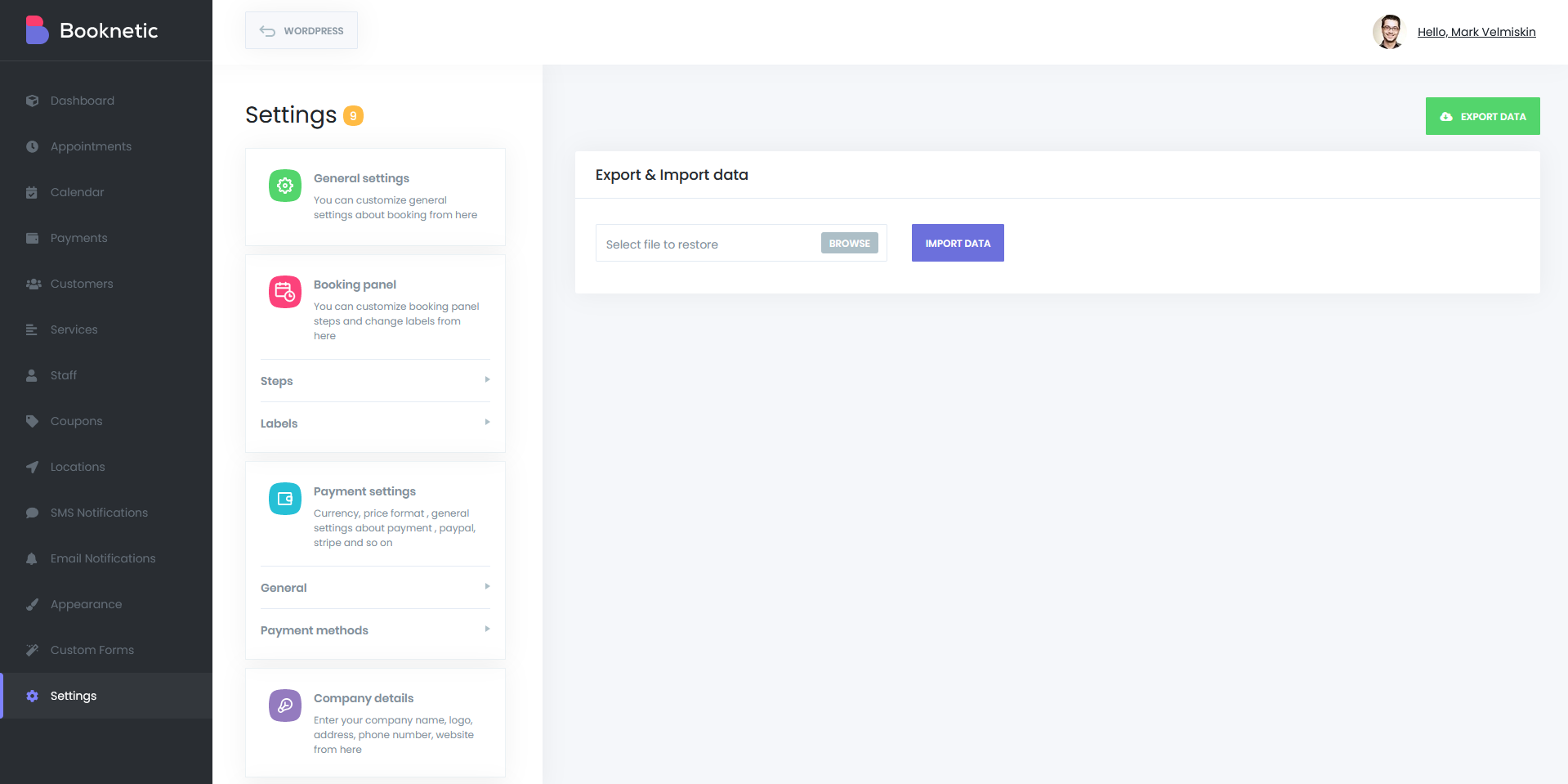 Booknetic featured in popular WordPress resources:
– FS Code ( Best WordPress Booking Plugins )
– Hubspot ( Best Appointment Scheduling Apps )
– NP Digital ( Best WordPress Booking Plugins )
Updates & Changelogs ( Regular version ): https://www.booknetic.com/documentation/booknetic-updates-changelogs
Updates & Changelogs ( SaaS version ): https://www.booknetic.com/documentation/booknetic-saas-updates-changelogs
To install and configure Booknetic into your WordPress site, you need some starting guide. You can use the Documentation and submit a ticket to our customer support team.
Our other products:
– FS Poster – WordPress Social media Auto poster and Scheduler
– Planly – Social Media Scheduler
– FS Code Blog – WordPress plugins, themes, tips & tutorials, resources, etc.