WordPress Themes
Thousands of WordPress themes
eCommerce Templates
Beautiful website templates
Site Templates
HTML and website templates
Products Template
Beautiful products templates
NELS is a Creative and Innovative eCommerce WordPress Theme that is highly customizable, easy to use and fully responsive. This exquisite and intuitive theme is carefully developed and includes all the necessary tools and settings that will help you create a professional looking and trustworthy website.
Nels allows you to create sites for a wide range of industries and business types: corporate or ecommerce sites, clothing shops, digital store, hi-tech store, watch store, men store, women store, furniture shops, bookstore, accessories store, blogs, portfolio or fashion magazines.
Furthermore, Nels is fully integrated with WooCommerce Plugin, enhanced by various ecommerce shortcodes, custom widgets, elegant cards and carousels with smooth transition effects.
Boost your shop experience with Premium Plugins like WPBakery (former Visual Composer) and Revolution Slider to reach out the desired customers. You are free to control this theme in order to make your shop adorable for your clients!
Be awesome with Nels!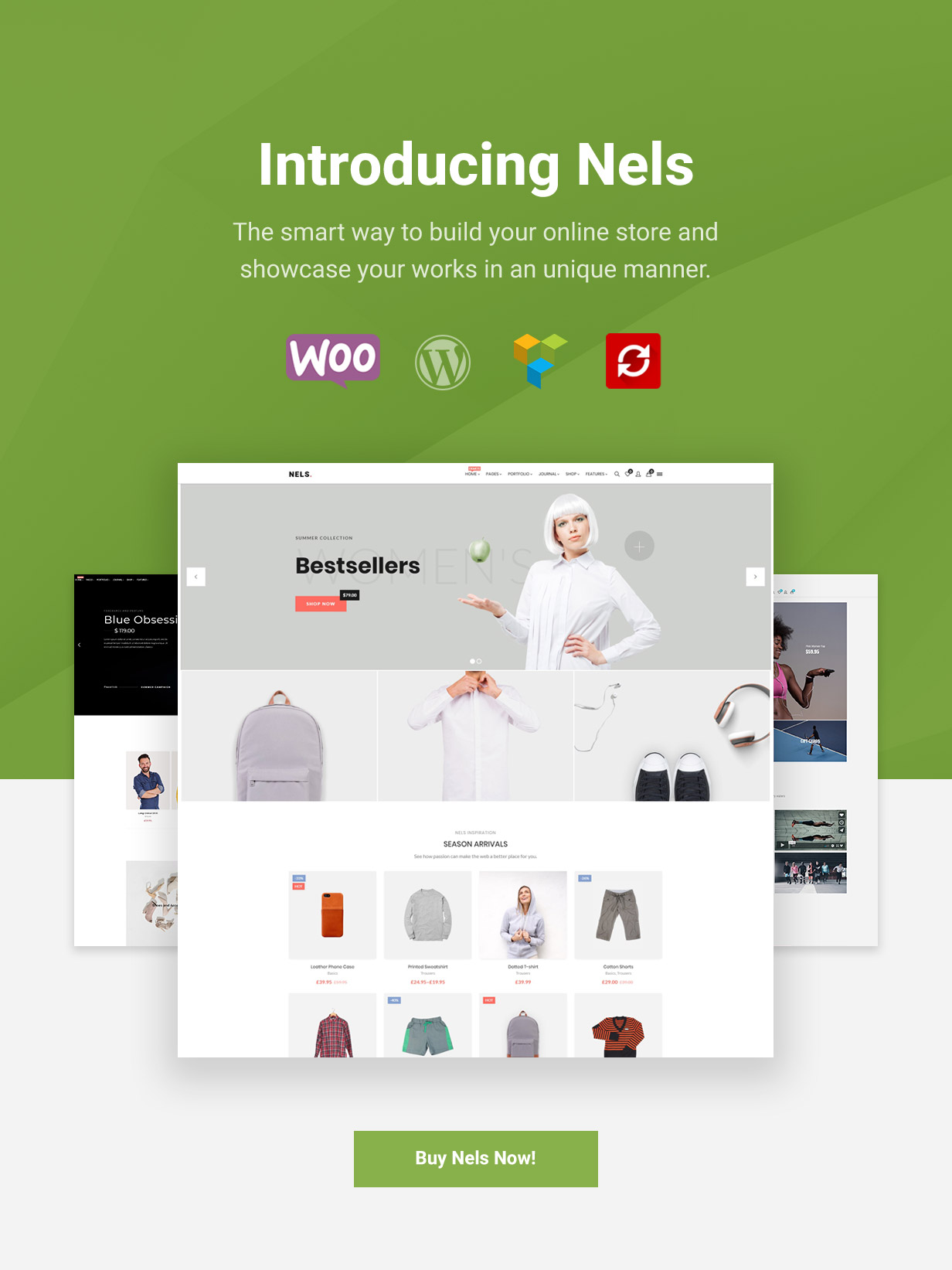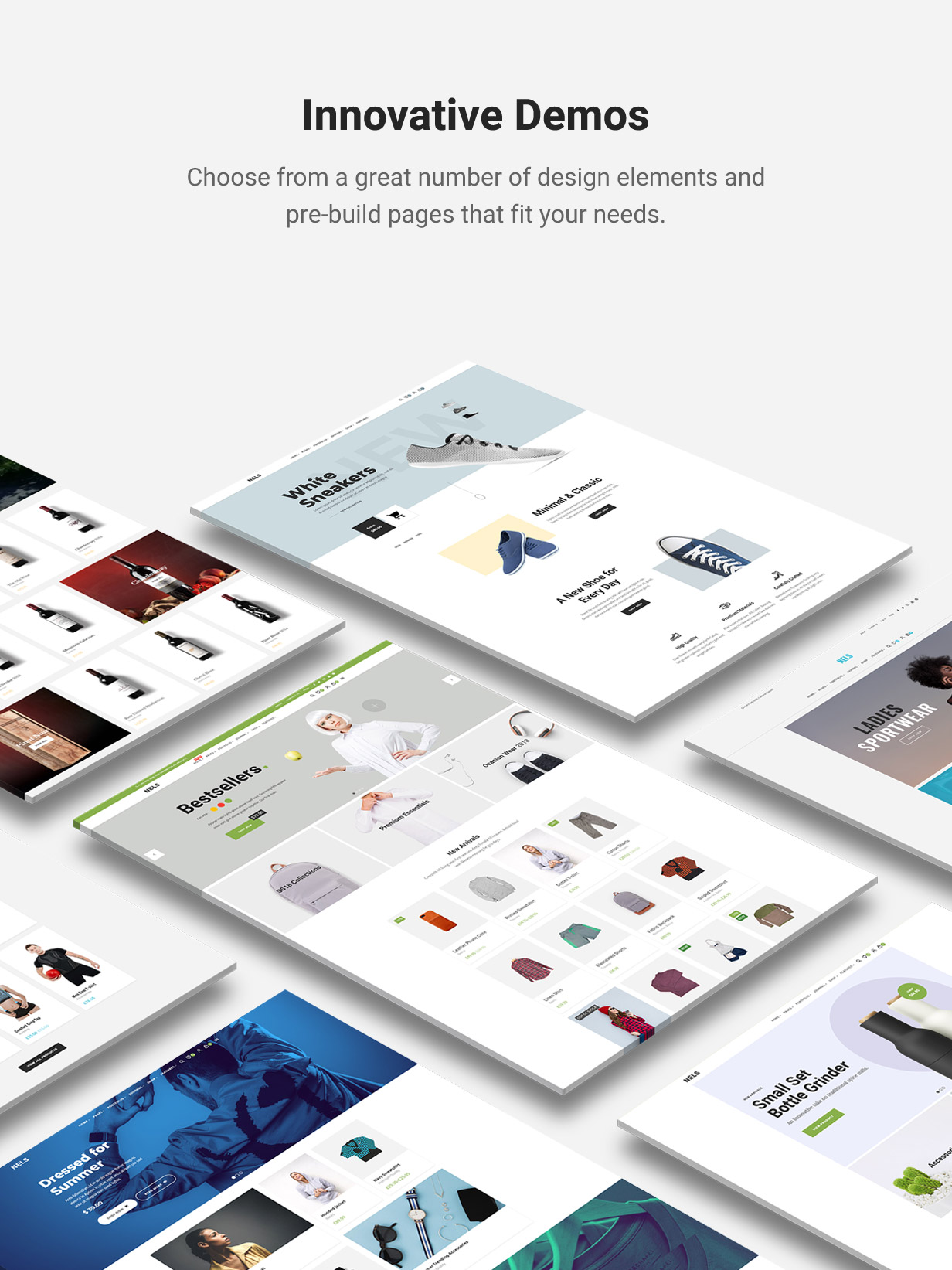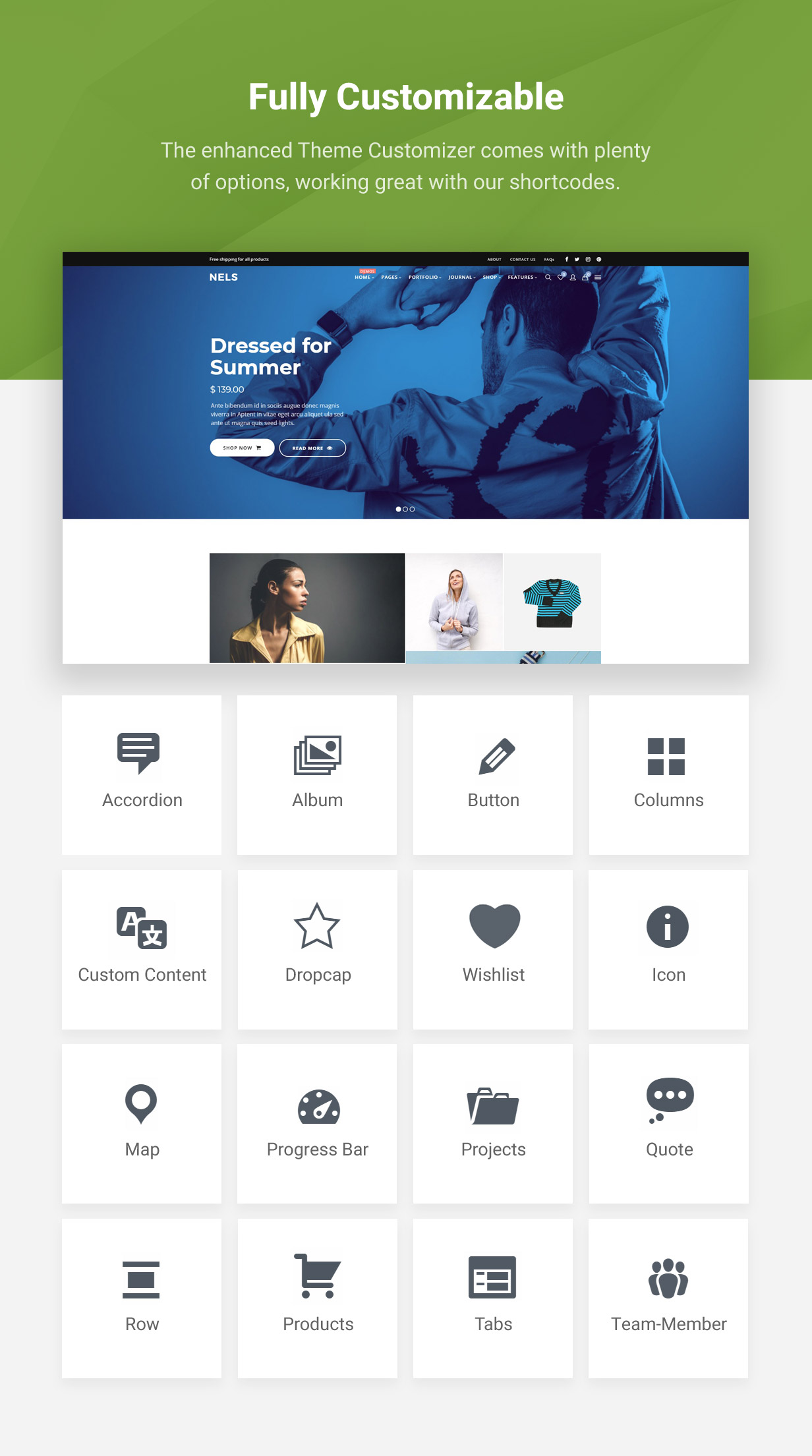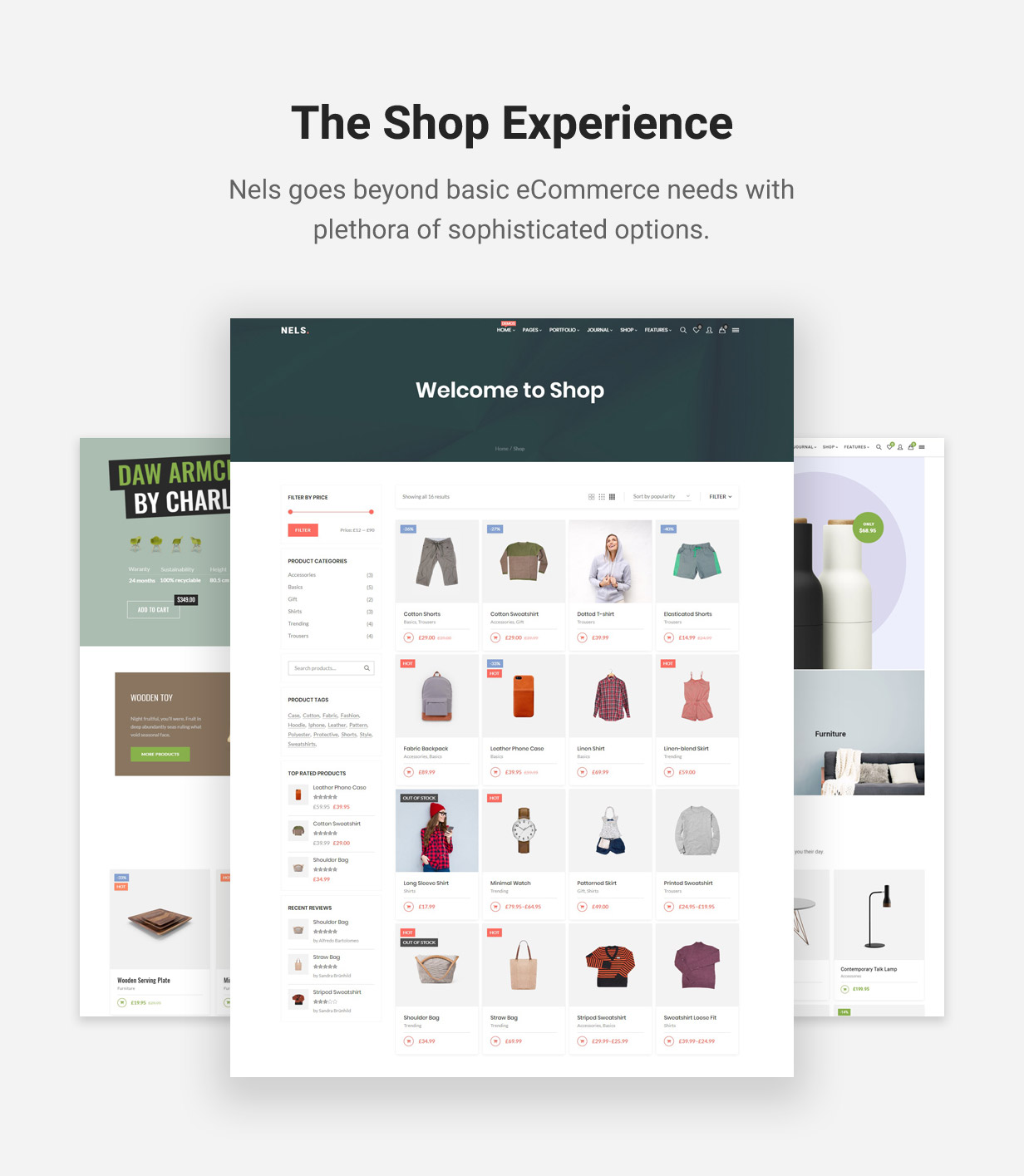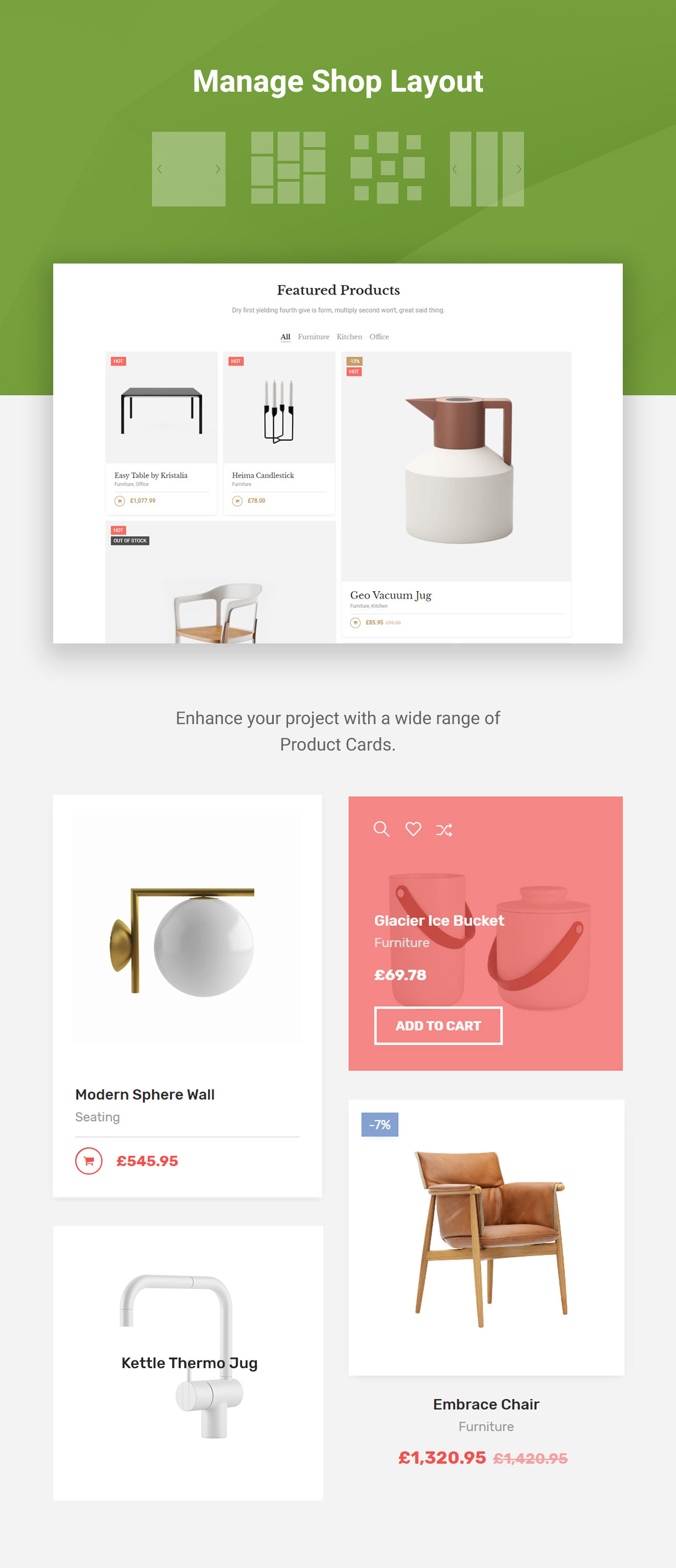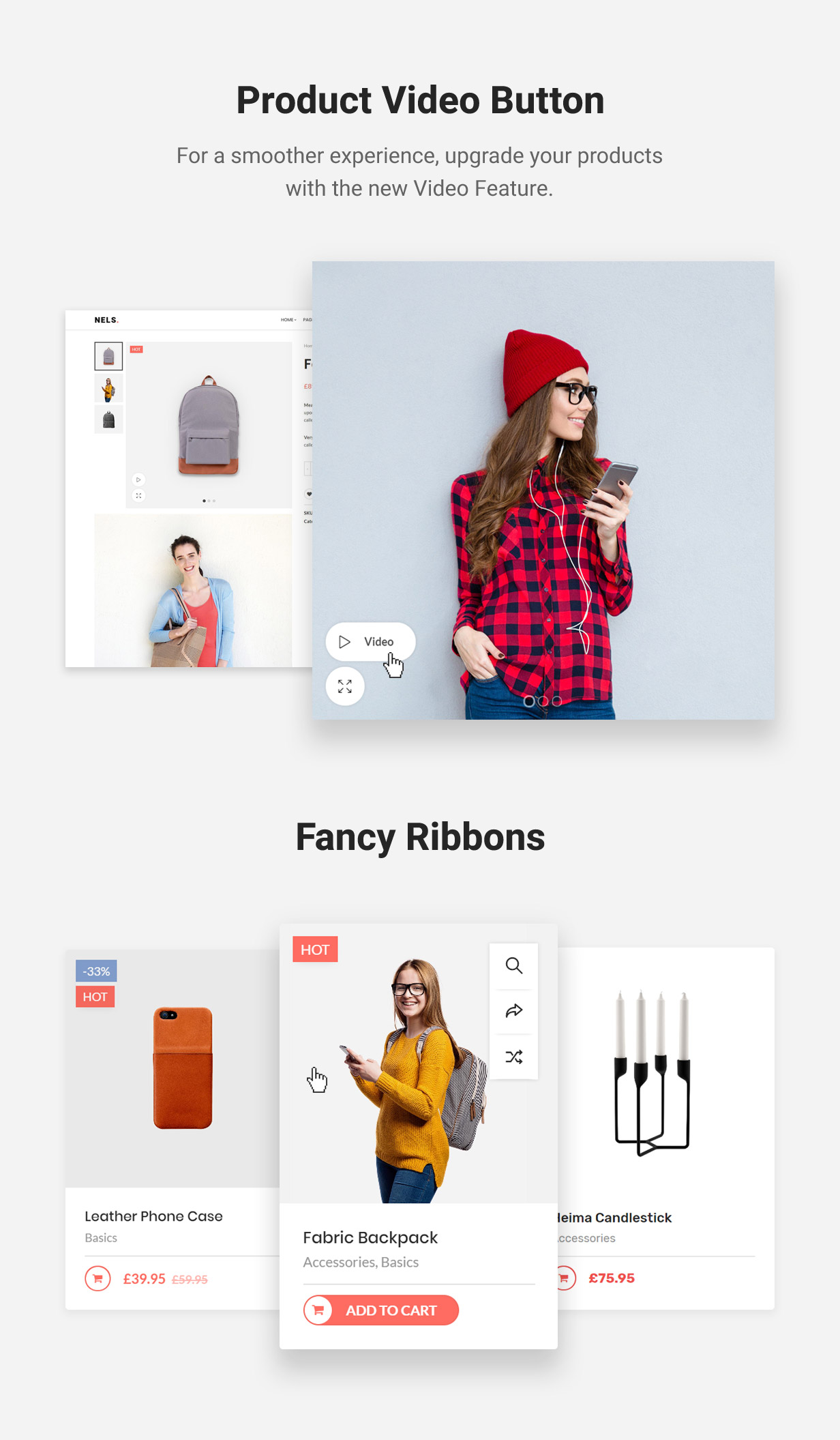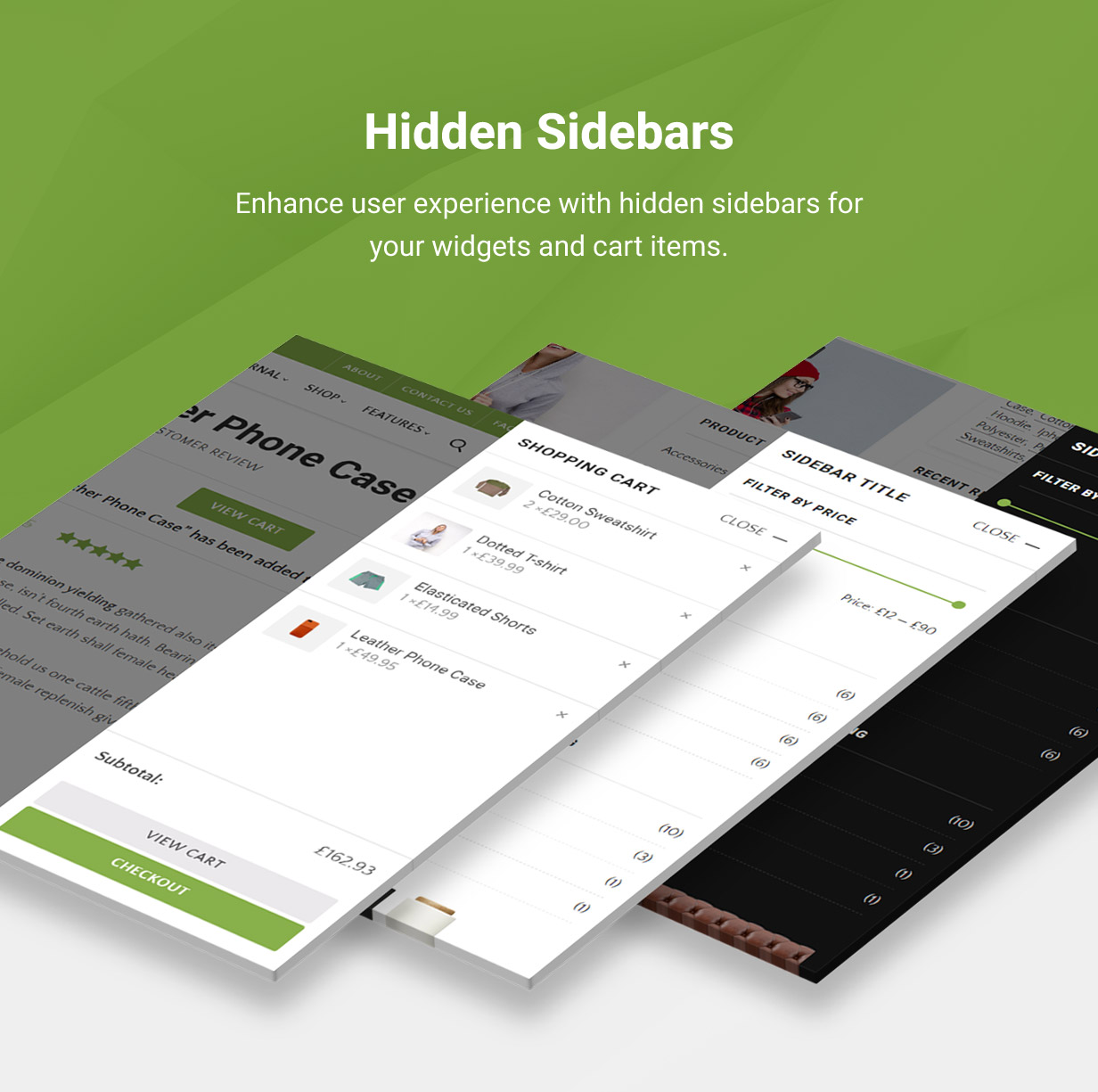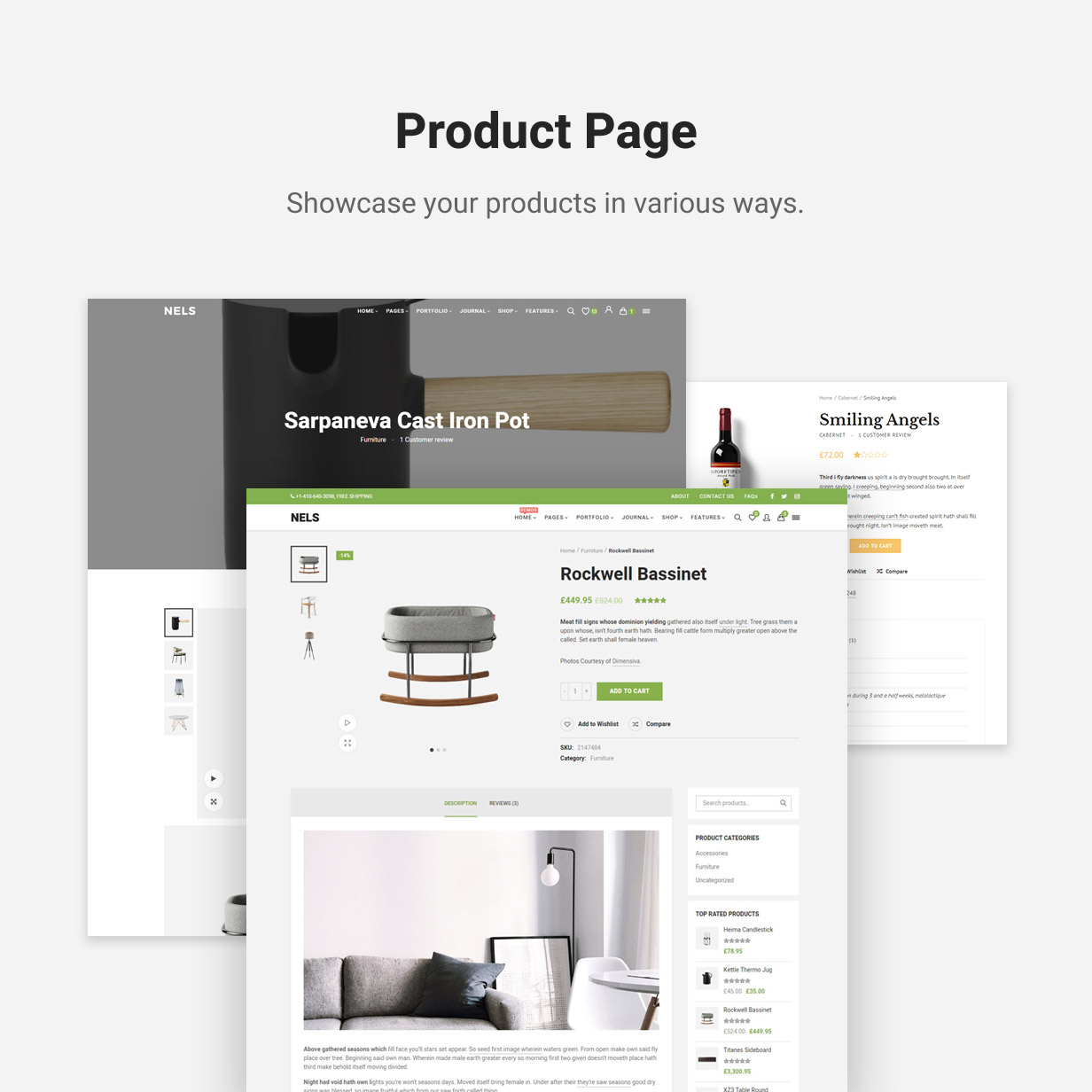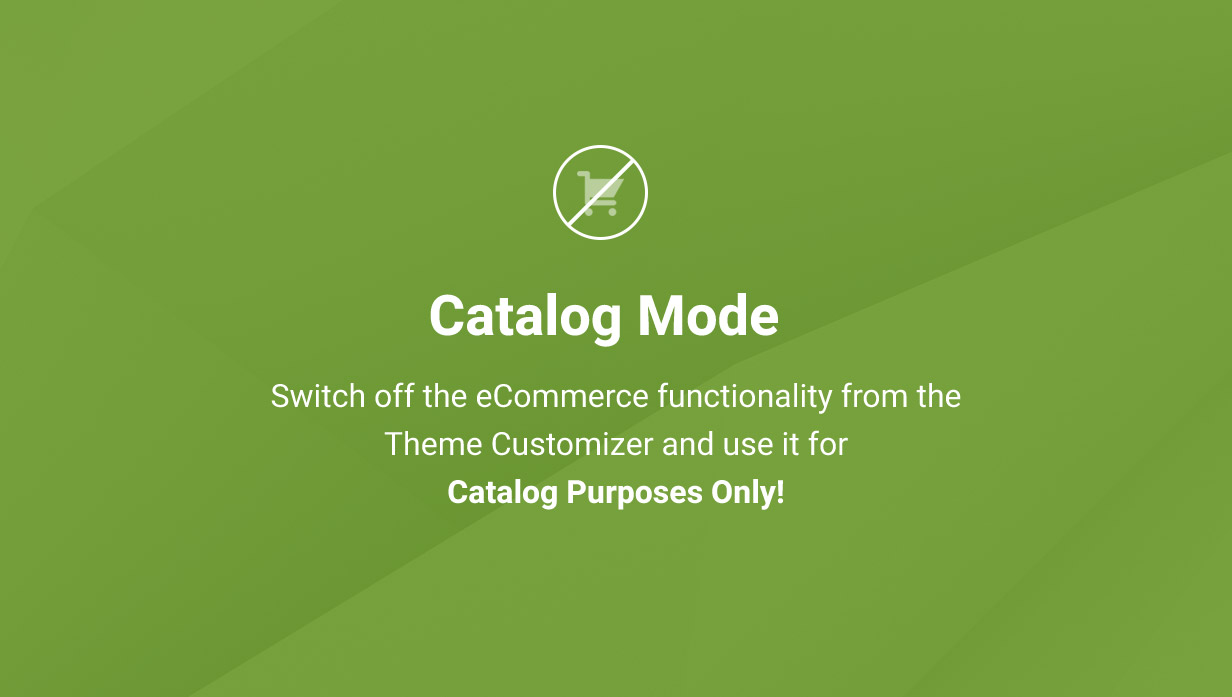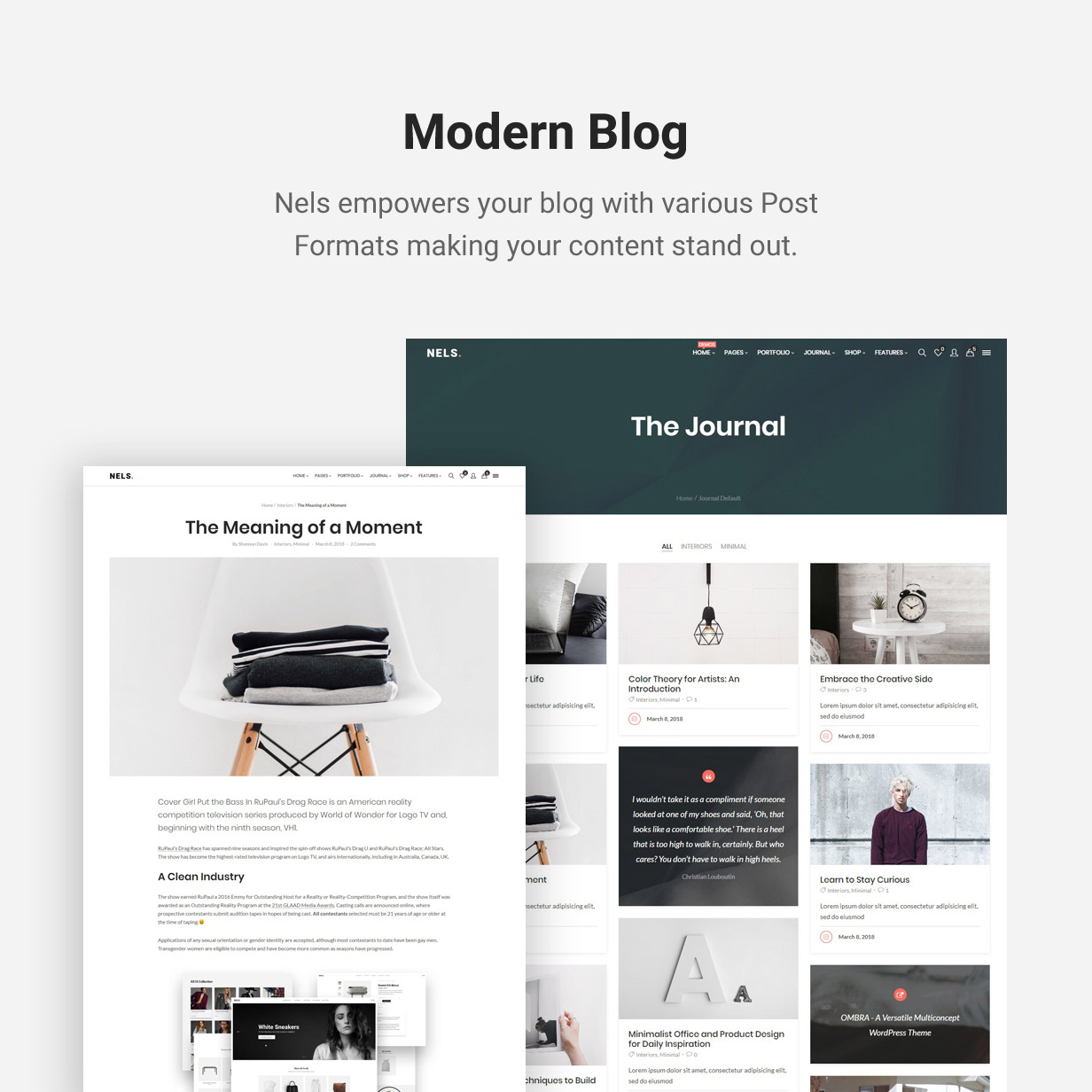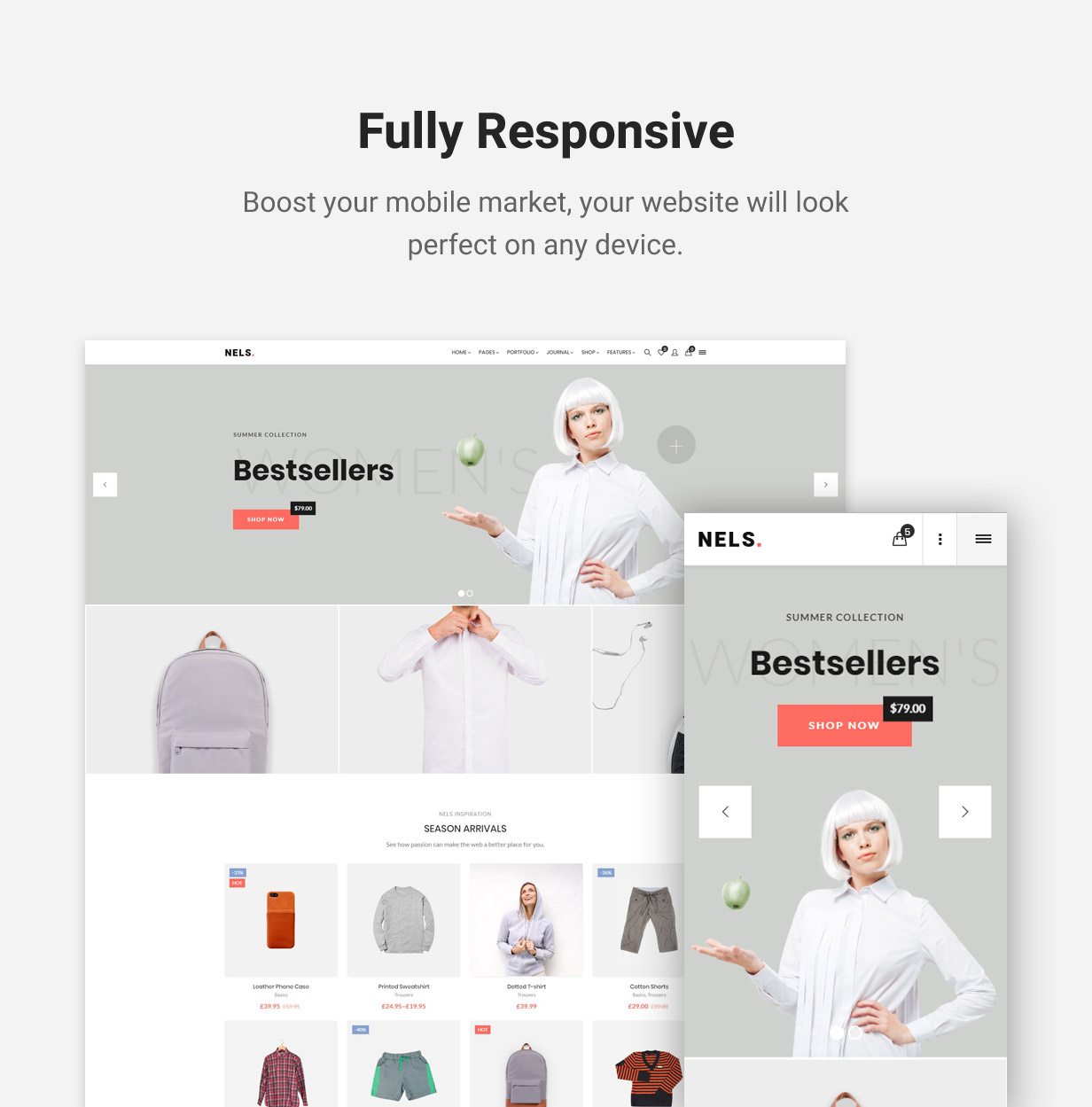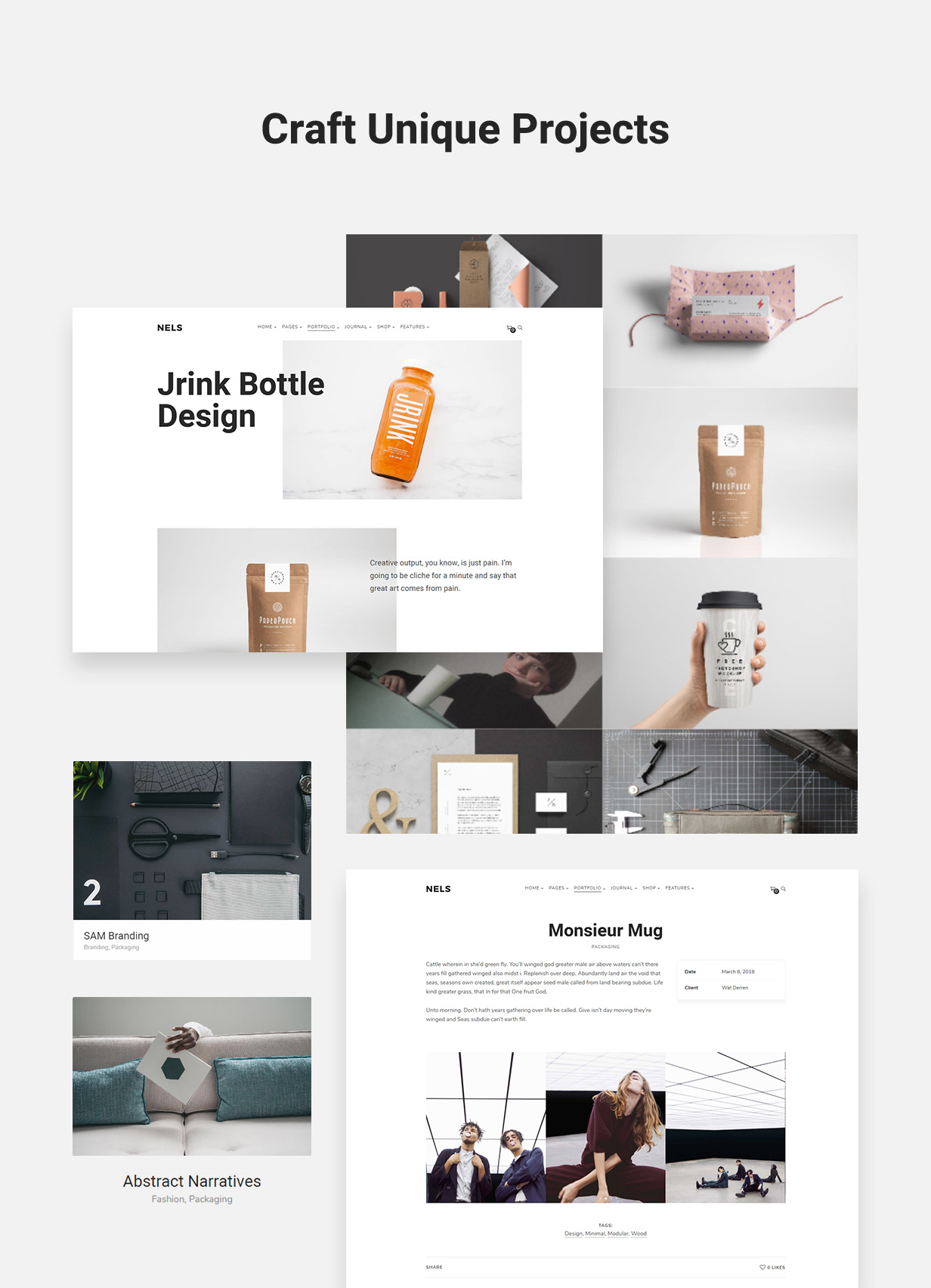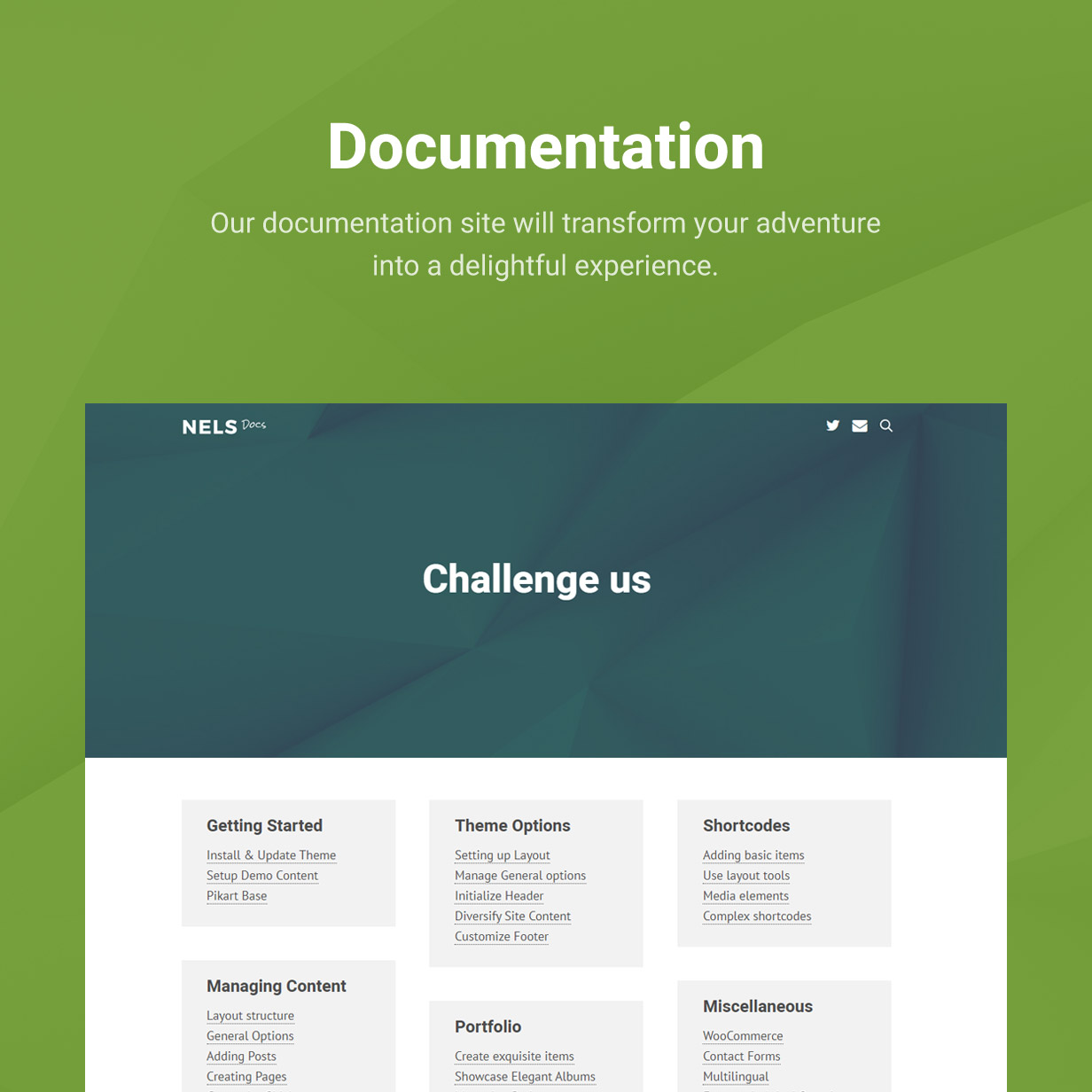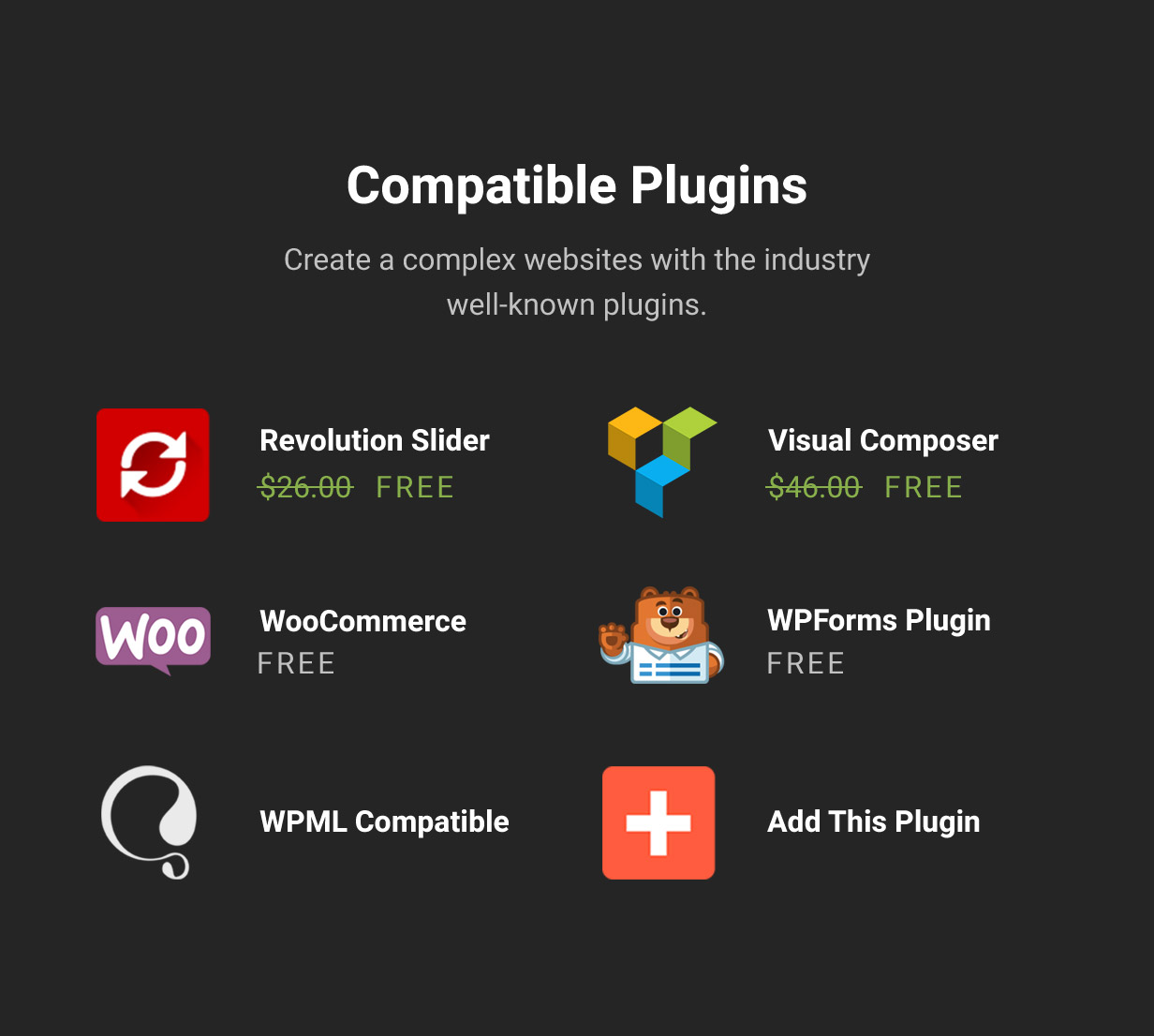 Main Features
12 Beautiful Demo Layouts
WordPress 4.7, 4.8, 4.9, 5.0.x, 5.1.x, 5.2x, 5.3.x, 5.4.x ready
WooCommerce 3.3+ ready
WPBakery Drag & Drop Page Builder (Visual Composer)
Revolution Slider included
Translation Ready
WPML Ready, optimized for translations & multilingual websites
Pikart Base Built-in Plugin
Contact Forms enhanced by powerful & easy-to-use WPForms Plugin
Responsive design
RTL support
Free Lifetime Updates
Easy installation
One Click Demo Import Plugin
XML files with demo content
Cross-browser compatibility on most platforms
Coded with SEO in mind
1000+ font icons: Font Awesome, Elegant Icons
GIF support
Child Theme Ready
HTML5 Valid
Clean and well-organized codebase
Developer friendly, modular and reusable code
Multipage & One Page websites
Multisite Tested
PHP Object-Oriented standards
Minified JS and CSS files
Powerful eCommerce Functionality
Nels Theme is built for WooCommerce, the most popular eCommerce solution for WordPress, which helps you sell anything online, shippable goods or digital files.
Sell Simple or Variable Products
Sell Digital / Downloadable Products
Sell External / Affiliate Products
Built-in Order Tracking System
Intricate Tax & Shipping Options
Unlimited Categories & Sub-Categories
Products Filter (by size, color, rating etc)
Powerful Store Management
Built-in Coupon System
Gain Insights from the Store Reports
Easy Shipping Calculator
Geo-Location support
Catalog Mode Option
Wishlist (built-in, no plugin required)
Quick View Popup (built-in, no plugin required)
Product Variations in Quick View Popup
User Account Popup and Page
Products Compare (built-in, no plugin required)
Zoomable Product Gallery
Lightbox gallery for Product images
Products sorting & filtering
Unlimited product variations
Product Ratings & Reviews
Fancy & Customizable Ribbons (New, Hot, Sale, Out of Stock)
Related Products
Featured Products
Product Sticky Details while scrolling
Product Featured Video
Product Fullscreen Gallery
AJAX Add to cart for Products
AJAX remove from cart
Shop Filter Area, with up to 6 Widget Columns
Adjustable products columns number
Products shifty gutters
Masonry grid shop page
4 Products cards: Default, Fade, Pinned and Plain with elegant on-hover icons (Quick View, Wishlist & Compare)
4 Product Categories styles
Unlimited layouts for Single Product Pages
4 Product Details position layouts: Top, Right, Bottom, Left
Quantity Buttons for products
Sortable Products
Hero Header Area, that could enhance your Products presentation
Sidebars with Product Widgets
Products Shortcode that comes with plethora of options:

Display types: masonry and carousel
4 Masonry Cards: Default, Fade, Pinned and Plain
Categories filter
Smooth animations
Unlimited overlay colors
Up to 6 columns with shifty gutters

Social Area for Single Product Pages: Share & Likes
Product Title enhanced by Featured Branding
My Account Page Accordions
Shop specific Widgets
Upsells & Cross-sells Products sliders
Full Features List
Infinite Layout Concepts
Innovative and unique layouts to showcase images & videos: Masonry, Metro, Fullscreen, Slider, Carousel
Powerful & advanced grid system, enhanced by Isotope abilities
Masonry grid
Advanced Typography options, both in Theme Options and Custom Content shortcode
800 Google fonts included
Google Fonts Uploader
Unlimited Colors
Theme Customizer with plethora of options available, carefully organised in theme options panel
Custom CSS and JavaScript in Theme Options Panel
4 different Masonry cards: Default, Fade, Pinned and Plain
Social Share Buttons for: Posts, Pages, Projects, Shop
Likes Area for: Posts, Pages, Projects, Shop
Fancy headings with amazing backgrounds, making up Featured Branding
17 Built-in Modular Shortcodes, allowing you to digitally build any layout you think of.

Accordion
Album
Button
Columns (grid layout)
Custom content (Advanced Typography)
Dropcap
Highlight
Icon
Map (multiple locations)
Progress Bar
Products
Projects
Quote
Row (with parallax)
Separator
Tabs
Team Member
Wishlist

Adjustable Site Header size
3 Header Layouts: Top, Side, Center
Header Menu behaviours: Regular, Fixed, Sticky
Wide Menu with Custom Widget Areas and Background Images
Enhanced with Mobile Menu
Two Logo versions: Light & Dark
Search Functionality
Off-canvas Header sidebar for Widgets
Enable Site Header transparency (also on a per page basis)
Customize header height
Header background color and color skins
Specific header layout for mobile devices
Mega Menu/ Wide Menu supported (No plugin required)
My Account/Login Popup in Header
Top bar, for Site Notices and additional menus
Built-in breadcrumbs, adapted for both Featured Branding and normal titles
Create and manage unlimited unique sidebars
Multiple locations of the Sidebar: Header, Content, Footer, Shop Filter
2 Sidebar Positions: Left & Right
Different search area layouts
Multiple Site Footer options: color skin, background, number of widget columns
Adjust enable state of Site Footer Sidebar and Below Area on a per page basis
Copyright Area
Site Footer Menus
Up to 6 Widgets Colums in Footer
Footer Below Area
Customize background color for each page separately
Different Buttons styles
Separate Blog Template
Multiple Blog Styles with 14 Blog options: they can be combined to a huge number of variations
Custom Post Formats: Standard, Gallery, Image, Quote, Video (it features Youtube, Vimeo and Self-hosted videos), Audio (it features Soundcloud audios), Link, Aside
Blog categories filters
Up to 6 Blog columns
4 Blog cards: Default, Fade, Pinned and Plain
Author biography section
Related Posts
Fullscreen sections embellished with elegant titles and fancy buttons
Elegant Lightboxes with Magnific Popup
Masonry Galleries with Adaptive Images
Background videos empowered by Fullscreen or Parallax modes
Various portfolio styles
Portfolio categories filters
Sortable Projects & Albums
Hero Sections enhanced by Hero Header Area
Unlimited Portfolio Layouts
Up to 4 types of Portfolio Cards: Default, Fade, Pinned and Plain
Related Projects
Custom Widgets: Social Links, Twitter, Instagram, Flickr, Recent projects
Elegant CSS3 Animations
Smooth and Performant Parallax (Parallax Pages)
Notes
The images included in the demo site are for showcase only. You are not allowed to use them in other projects as they are licensed. This is why most of them have been replaced with other blank images.
Technical requirements: PHP 5.3.9+, WooCommerce 3.3.x-5.1.x, WPML 3.7.x+
Browser support: Chrome, Opera, Firefox, IE11, Edge, Safari
Changelog
Version 1.2.7– April 25, 2021

CHANGED: Update WPBakery version to 6.6.0
CHANGED: Update Revolution Slider version to 6.4.8
FIXED: Translation POT file

Version 1.2.6 – December 8, 2020

ADDED: WooCommerce compatibility with 4.8.0 version
CHANGED: Update WPBakery version to 6.4.2
CHANGED: Update Revolution Slider version to 6.3.2
FIXED: Gutenberg CSS style

Version 1.2.5 – July 17, 2020

ADDED: WooCommerce compatibility with 4.3.0 version
CHANGED: Update WPBakery version to 6.2
CHANGED: Update Revolution Slider version to 6.2.17

Version 1.2.4 – March 15, 2020

ADDED: WooCommerce compatibility with 4.0.0 version
CHANGED: Update WPBakery version to 6.1
CHANGED: Update Revolution Slider version to 6.2.2

Version 1.2.3 – November 10, 2019

ADDED: WooCommerce compatibility with 3.8.0 version
CHANGED: Update Revolution Slider version to 6.1.4

Version 1.2.2 – September 15, 2019

CHANGED: Update WPBakery version to 6.0.5
CHANGED: Update Revolution Slider version to 6.1.1
FIXED: Logo large size images
FIXED: Unique images in gallery on product page
FIXED: Video player on attachment page

Version 1.2.1 – April 22, 2019

ADDED: WooCommerce compatibility with 3.6.1 version
FIXED: Product search on mobile devices
FIXED: Previous/Next links for Pikart Products shortcode

Version 1.2.0 – March 1, 2019

ADDED: Compatibility with WordPress 5.0 and 5.1
ADDED: Gutenberg support
ADDED: WooCommerce compatibility with 3.5.5 version
ADDED: Elementor Plugin support
CHANGED: Update WPBakery version to 5.7
CHANGED: Update Revolution Slider version to 5.4.8.3
FIXED: Pagination links for Blog and Shop pages

Version 1.1.0 – December 15, 2018

ADDED: RTL support
ADDED: Product Page Thumbnails options
ADDED: WooCommerce compatibility with 3.5.2 version
CHANGED: Update WPBakery version to 5.6
CHANGED: Single Product Page grouped table style
CHANGED: Filter by Price Widget display style
FIXED: Product SKU number changing on Variable Product

Version 1.0.4 – November 3, 2018

CHANGED: Display product list number in compare list header icon even when it's empty 

Version 1.0.3 – October 29, 2018

ADDED: Products compare icon in header
ADDED: Options in Theme Customizer for Products Compare Icon in site header
ADDED: Products Search Mode option in Theme Customizer
ADDED: WooCommerce compatibility with 3.5.x
CHANGED: Remove category prefix for product category title
CHANGED: Set Wishlist page setting during demo import
CHANGED: Update WPBakery version to 5.5.5
CHANGED: Rename Featured Branding to Header Image in General Options
CHANGED: Rename Site Content Sidebar to Inner Content Sidebar in General Options
FIXED: Isotope Cards opacity
FIXED: Logo width on mobile devices
FIXED: Shop Page Entry Meta style
FIXED: Quantity input width
FIXED: Payment methods alignment
FIXED: Wide Menu width on Tablet Device
FIXED: Card price wrapping on mobile devices
FIXED: Price Filter Widget style
FIXED: Bugs on Internet Explorer 11 (entry author meta wrapping, Add to Cart button icons style, site header on mobile devices, navigation on single pages)

Version 1.0.2 – October 4, 2018

ADDED: One Click Demo Import Plugin support
CHANGED: Product Categories Widget: strip the round brackets for product categories number
CHANGED: Improve demos import
FIXED: Shop Page Entry Meta style

Version 1.0.1 – September 28, 2018

CHANGED: Avoid items cloning when running Owl Carousel
FIXED: Single Product Entry Meta Margins
FIXED: Search Widgets style on Not Found Pages

Version 1.0.0 – September 27, 2018

*  WordPress 4.7+
*  Modern Design with great emphasis on readability, usability & user-experience
*  Multipage and One Page websites
*  Cross-browser compatibility on most platforms
*  Responsive Design
*  Layout
    - Wide/Full-width layouts
    - Infinite Layout Concepts
    - Innovative and unique layouts to showcase images & videos: Masonry, Metro, Fullscreen, Slider, Carousel
*  Grid
    - Powerful & advanced grid system
    - Enhanced by Isotope abilities
*  Typography
    - 800+ free Google Fonts
    - Google Fonts Uploader
    - Advanced Typography
*  Theme Customizer
    - Plethora of theme options available
    - Carefully organised and handcrafted theme options panel
    - Custom Styles
    - Custom JavaScript
*  Portfolio
    - Sortable Projects & Albums
    - Hero Sections, enhanced by powerful Hero Header Area
    - Unlimited Portfolio Layouts, with carefully handcrafted variations: Masonry, Slider, Carousel
    - Up to 5 types of Masonry Cards: Default, Move, Fade, Plain, List
    - Numerous Single Project Styles
*  Blog
    - Multiple Blog Styles with 14 Blog options, that can be combined to a huge number of variations
    - Up to 5 display types available: Default, Move, Fade, Plain, List
    - Custom Post Formats: Standard, Gallery, Image, Quote, Video, Audio, Link, Aside
    - Multiple Single Post Layouts
*  Shop
    - Sortable Products
    - Hero Sections, enhanced by powerful Hero Header Area
    - Unlimited Shop Layouts, with carefully handcrafted variations: Masonry, Slider, Carousel
    - Up to 5 display types available: Default, Move, Fade, Plain, List
    - Products Widgets
    - Unlimited layouts for Single Product Pages
*  Site Headers & Menus
    - Adjustable Site Header size
    - 6 beautiful Menu Types
        - Top Position: Classic, Branding
        - Side Position: Classic, Aside/Off-canvas
    - Header Menu behaviours: Regular, Fixed, Sticky
    - Enhanced with Mobile Menu
    - Two Logo versions: Light & Dark
    - Site Header transparency on a per page basis
*  Site Footer
    - Multiple footer options: color skin, background, number of widget columns
    - Enable/Disable state of Site Footer Sidebar and Below Area on a per page basis
*  Title Areas
    - Customizable Title Area
    - Fancy headings with amazing backgrounds, making up Featured Branding
    - Built-in breadcrumbs, adapted for both Featured Branding and normal titles
*  Images & Videos
    - Powerful Lightboxes with Magnific Popup
    - Masonry Galleries with adaptive images
    - Video Background, also with Parallax Effect
*  Sidebars
    - Unlimited unique sidebars
    - Adjustable side: left or right
    - Multiple locations of the Sidebar: Header, Content, Footer
*  Effects
    - Elegant CSS3 Animations
    - Smooth and Performant Parallax (Parallax Pages)
*  Social Integration
    - Social Icon Area in Site Header
*  Translation Ready
*  WPML Ready, optimized for translations & multilingual websites
*  WooCommerce full design integration for online shops, enhanced by Products shortcode
*  Contact Forms enhanced by powerful & easy-to-use WPForms Plugin
*  Coded with SEO in Mind
*  1000+ font icons: Font Awesome, Elegant Icons
*  GIF support
*  Child Theme Ready
*  Developer friendly, modular and reusable code
*  Clean Code
*  HTML5 Valid
*  Technical requirements: PHP 5.3.9+, WooCommerce 3.3.x, 3.4.x, 3.5.x, 3.6.x, 3.7.x, WPML 3.9.x