WordPress Themes
Thousands of WordPress themes
eCommerce Templates
Beautiful website templates
Site Templates
HTML and website templates
Products Template
Beautiful products templates
QuickAI – AI Content Writer, Image Generator, ChatGPT Flutter APP
QuickAI App is a webview based flutter application of the QuickAI OpenAI – ChatGPT – AI Writing Assistant and Content Creator PHP script.
This app provides all the features of the QuickAI php script. It is created with the flutter technology so you can create your own Android and IOS app with this flutter app.
Our Help Desk Link: https://bylancer.ticksy.com
Note: You must have the QuickAI PHP script to use this app.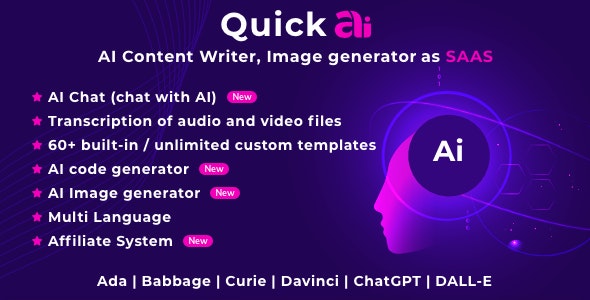 Changelog
= Version 3.0 =
* Added - Text to Speech feature
* Fixed - Image download issue
* Fixed - IOS issue

= Version 2.0 =
* Fixed -  Social login issue

= Version 1.0 =
* Initial Release