WordPress Themes
Thousands of WordPress themes
eCommerce Templates
Beautiful website templates
Site Templates
HTML and website templates
Products Template
Beautiful products templates
Video Demo: https://drive.google.com/drive/folders/1rQfKBaxBfj-uaYnZq2nqJUczf0TfXRlq?usp=sharing
About Cirilla App
Are you looking for a multi-purpose app with rich functions and top code quality where you can design your own
template layouts or want to import pre-built demo layout templates directly into your app and can change design
anytime
you want? An app where you can create many different app types such as: single shop woocommerce app, food app,
radio and podcast, Cosmetic shop, grocery shop, beauty app, news & magazine and many other type apps?
Then we introduce you with our multi-purpose Cirilla app where you are your own boss. We have spent more than
4000 hours developing, designing and planing so you can configure your app and publish it in very short time.
Cirilla is
for people with zero coding, developers and agencies who wants to save time and money by providing their clients
with top quality apps. Cirilla gives you more power and control over your app and it comes with an App Builder
plugin
where you design and change your app designs without needing to re-publish to app stores.
– Work latest Flutter v3.13.x
– Version 3.7.9 – Update 01 September 2023 – Changelog
– Version 3.7.8 – Update 08 August 2023 – Changelog
– Version 3.7.7 – Update 24 July 2023 – Changelog
– Version 3.7.6 – Update 11 July 2023 – Changelog
– Version 3.7.5 – Update 06 July 2023 – Changelog
– This is Exclusive Product License from Envato
– DEDICATED plugin App builder
– DEDICATED plugin Push
notification
– Full Flutter source code, life time download and update.
– The plugin App builder required installation. To active app builder, you need use your
purchase code and register license code in our system.
– The Notification is optional. But it is very useful for you to send notification for
marketing, or trigger notification when order status changes …

How to redeem free cloud builds time?

– What is a build cloud service? Instead of downloading and setting up the Flutter
environment on your computer to build the app, You can build directly from the web. In this service, we will
charge a fee and not include it when buying the item. See all pricing options
Check out the video now and see for yourself how easy it is to build an app with build cloud:
Video build Android
Video build iOS
App Builder templates
Instead create a new template we pre make some templates for the user to import and edit, it saves many
times for configuration.
App Builder
– App builder works the same popular Page Builder in WordPress but it has a special UI/UX
for your easy configuration/previews mobile app.
Create Multi – Purpose App
Location
Notification
Support Post format
Vendors widget
Detail Multi Vendors
Design Post single
Create Multiple Custom Screen & Tabs Screen
Post Latest widget
Post Latest widget
Builder Widgets and Couting
Theme creative on the fly
Category screen
Produc List Screen
03+ Refine Layout Style
Product Detail Builder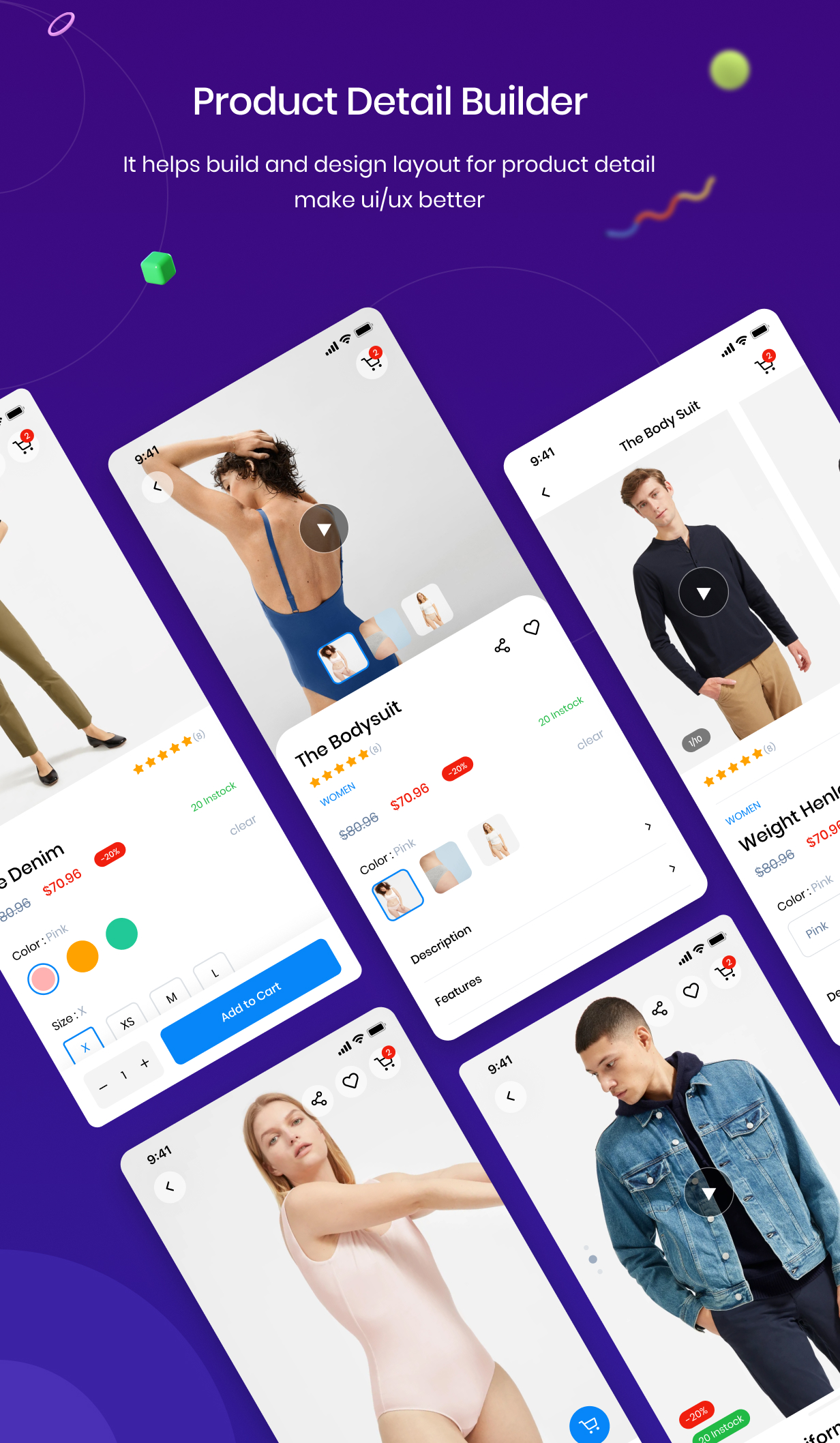 Product Detail
Sidebar Menu
Presets layout Login / Register Screen
Contact Screen
Multiple Languages
Payment Gateways via Webview
Support Dark Mode
Source Code
We don't collect any data
File Included
Save 4000 Hours
For Agency
For Developer
For People Zero Coding
KEY FEATURES
Changelog

    v3.7.9
    - [Improved] Performance open the app
    - [Upgrade] Flutter 3.13.2
    - [Upgrade] Payment gateway – Tabby (Add-on package)
    - [Added] Shipping Method Layout Direction
    - [Added]  Buddypress – Filter group, member
    - [Integration] Better messages
    - [Feat] Overwrite custom tab by build in navigation screen
    - [Feat] OneSignal Push Notifications
    - [Fixed] Error when list category empty
    - [Fixed] Displays the coupon price without tax in cart screen
    - [Fixed] Go to notification detail error
    And some minor bugs fixed and improvements
    Detail: https://appcheap.io/changelogs-1-sep-2023/
    

    v3.7.8
    - [Feat] Layout profile
    - [Feat] Integrations – bbPress plugin
    - [Feat] Push notification – buddypress
    - [Feat] Integrations – B2BKing Pro
    - [Feat] Google Fonts Update
    - [Improved] flutter_webview_plus package
    - [Improved] flutter_shopping_video visibility_detector version
    - [Improved] RTL product detail, widgets, product blocks
    - [Improved] build:gradle:7.3.0 & device_info_plus: ^9.0.3
    - [Fixed] Convert data wishlist
    - [Fixed] Value in widget inspired menu bottom
    - [Fixed] Top of floating layout creative can't clickable
    - [Fixed] Variable product stock inherit from parent
    - [Fixed] Token init after user status changed
    - [Fixed] Cart key pass to wallet gateway wrong after login
    Detail: https://appcheap.io/changelogs-9-aug-2023/
    

    V3.7.7
    - [Feat] Query Data Selector
    - [Feat] Dynamic product list layout
    - [Feat] Buddypress widgets
    - [Feat] Sync cart
    - [Feat] Geolocation, upload files Flutter webview v4.x
    Detail: https://appcheap.io/changelogs-24-july-2023/
    

    V3.7.6
    - [Fixed] Data fields shipping/billing address empty
    - [Fixed] Order received screen show login form
    - [Fixed] Parse gateway data in checkout flow
    - [Support] Filter product list with brand
    - [Support] Geolocation, upload files Flutter webview v4.x
    - [Added] Wallet checkout in custom checkout flow
    

    V3.7.5
    - [Support] Add post list to bottom navigation
    - [Support] Disable image in post item
    - [Support] Dynamic post list layout
    - [Fix] Convert data attributes
    - [Fix] Quantity in product detail
    - [Improve] Full screen video on webview
    - [Add] Empty download screen
    - Some minor bugs fixed and improvements
    

    V3.7.4
    - [Support] Smart coupon plugin
    - [Support] Filter product list by list categories (Ex: category=ID1,ID2,ID3)
    - [Add] Show vertical payment method (Checkout flow)
    - [Chore] Show buy now when select variable
    

    V3.7.3
    - [Support] Merge local cart and user's cart after user successfully login
    - [Improve] Validate checkout form before next step (checkout flow)
    - [Upgrade] cirilla_ads dependencies
    - [Fix] Language in product tab widget
    - [Fix] Null block posts blocks
    - [Chore] Translate shopping video widget
    

    V3.7.2
    - [Support] Ajax search pro plugin
    - [Fix] Terawallet is not deducting from available credit
    - [Fix] Pressing the button add to cart automatically zoom in
    - [Update] Load more and screen empty in brand screen
    - [Update] "Razorpay native gateway" compatible with Flutter SDK 3.10.x
    

    V3.7.1
    - [Support] Open deep link in app with format `domain.com/product/slug-name` or `domain.com/post/slug-name`
    - [Support] Show/Hide bottom navigation bar
    - [Improve] Show filename upload in cart and product detail screen
    - [Fix] The app freeze after login in checkout
    - [Improve] Hide out of stock variations
    - Some minor bugs fixed and improvements
    

    V3.7.0
    - [Upgrade] Latest Flutter 3.10.3
    - [Upgrade] Gradlew 7.5, build tools 7.2.0 and kotlin 1.7.10
    - [Add] Share dynamic for product, post
    - [Support] Upload file in product addons plugin
    - [Fix] Duplicate post list screen
    - [Fix] Count Type default value in bottom navigation
    - [Modify] CFBundleName cirilla => Cirilla Store