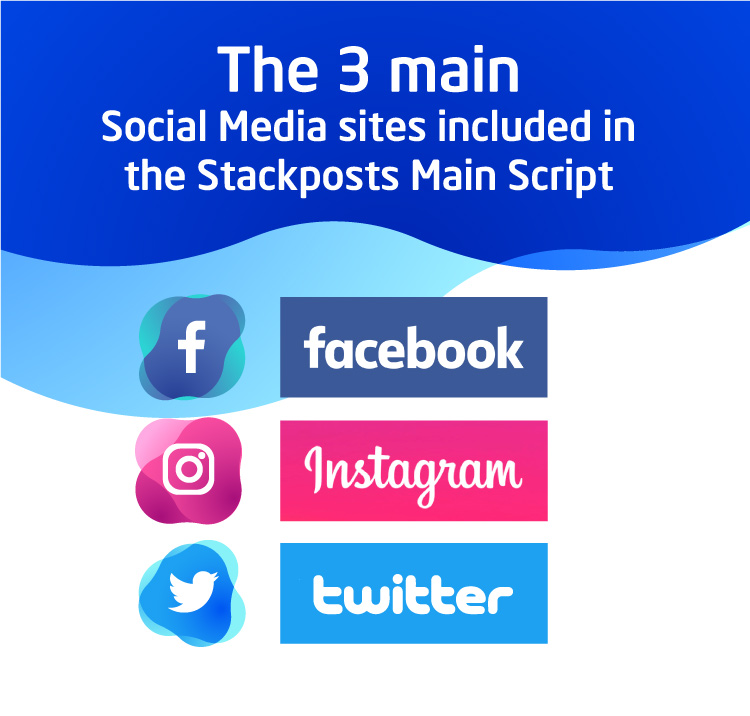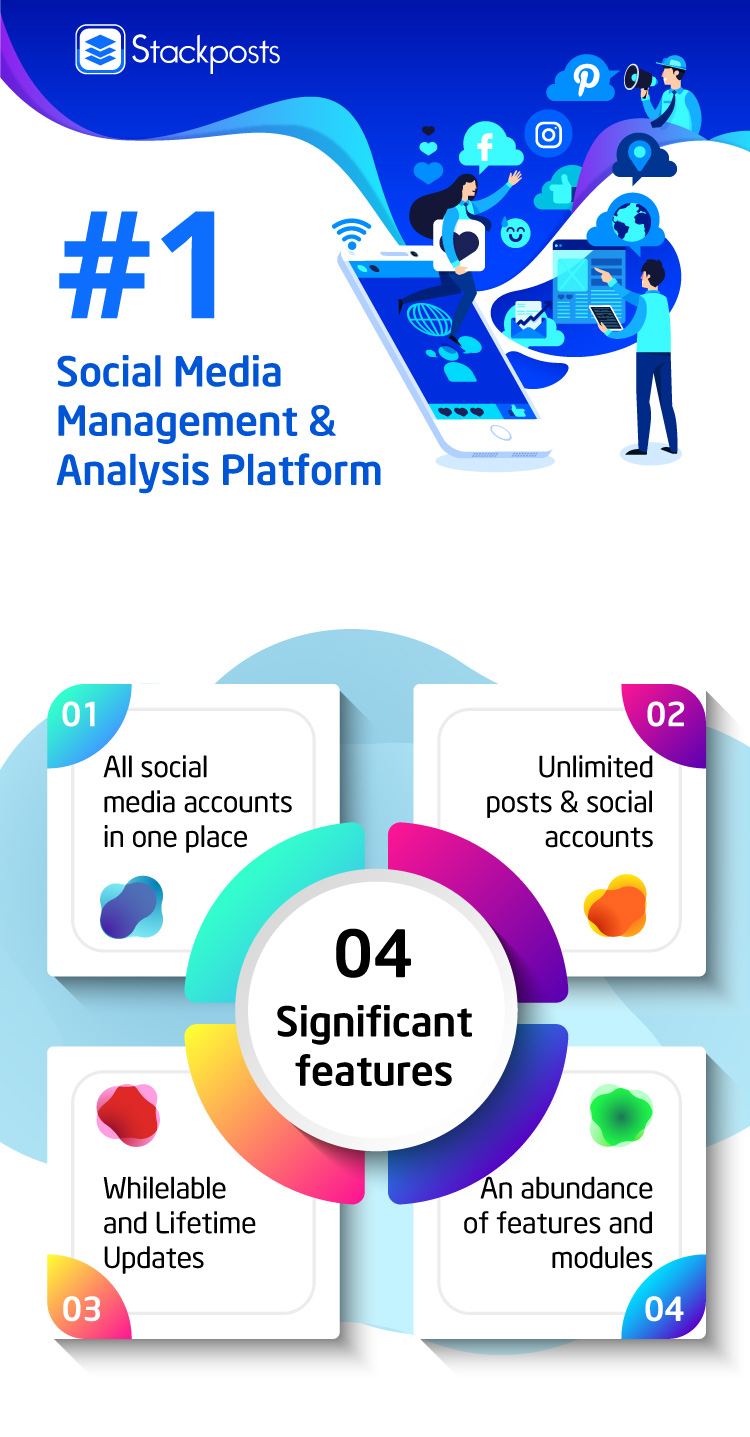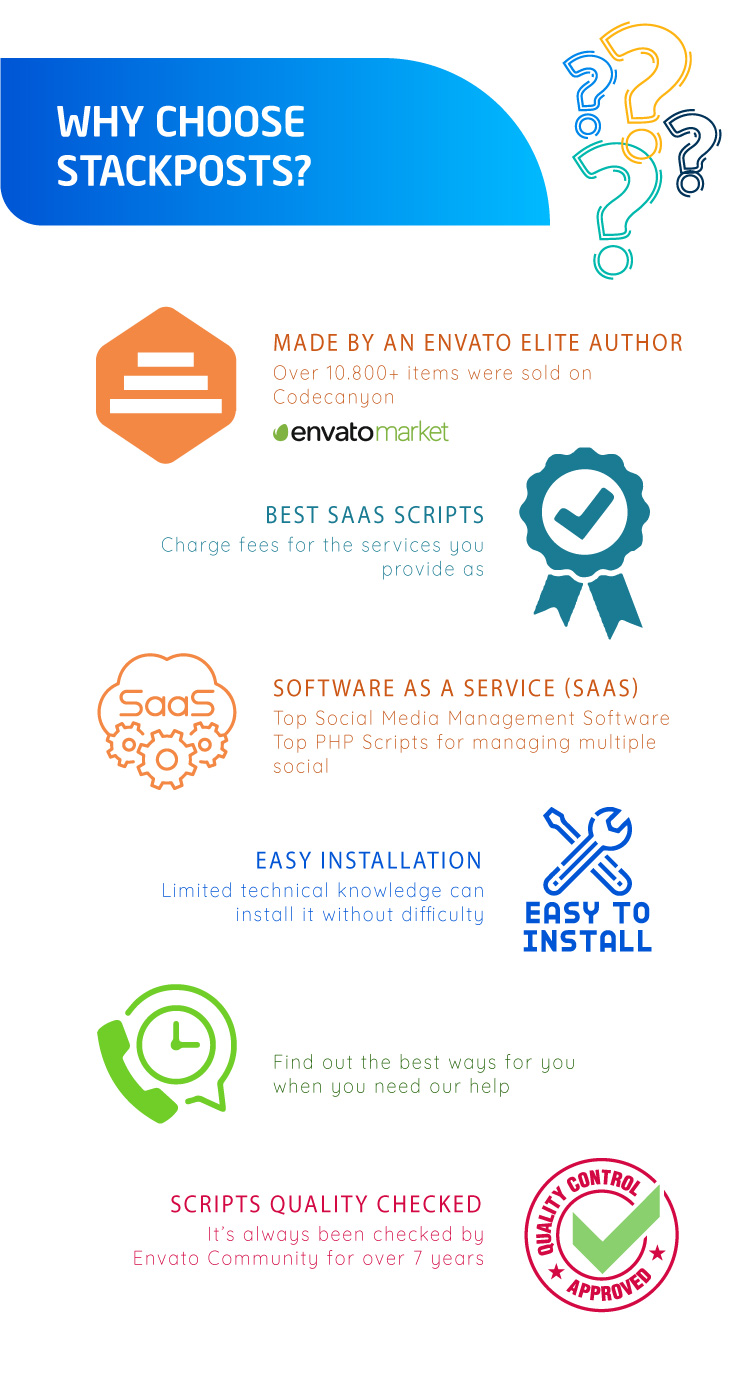 Overview
#1 Social Media Management & Analysis Platform
Stackposts is Social Media Tool or Software and PHP Scripts that you can use to manage your brands or viral business on social networks such as Facebook, Instagram, Twitter, and more.
Stackposts will help you that planning and schedule your posts to analyze and optimize performance on many social media platforms.
It is the best solution for Individuals, Small or Large Companies, Software Companies, and Digital Marketers as well as you can use it as the software-as-a-service (SaaS).
Currently, Stackposts have over 10,000 members in the world and are developing more in 2023
Main Features
Read more and explore the ultimate features
Composer
Not only can create and publish social media content across multiple platforms but also do more with Stackposts
Instagram Official Posting Stories with a video and image (Official API)
Instagram supports Posting Carousel/Reel/Stories/Single image (Official API)
Facebook Page Posting Media/Text/Link (Official API)
Facebook Group Posting to groups as an admin role (Official API)
Facebook Profile Posting Media/Text/Link/Story (Cookie Login)
Facebook Page Posting Media/Text/Link/Story/Reels (Cookie Login)
Facebook Group Posting Media/Text/Link/ to groups as a member (Cookie Login)
FFMPEG is required to post with Unofficial API to post a video (required)
Twitter supports posting Tweets with API Official v2
Twitter supports posting  Media/Text/Link (Official API)
1. Integrate scheduling easily
Save time and streamline your social media management by importing and scheduling multiple posts across various profiles and networks simultaneously. Plan ahead by queuing up posts in advance.
2. Optimize results
Streamline your content publishing process and improve your outcomes by leveraging scheduling and monitoring tools that automatically publish content during the times most likely to engage your audience.
3. Image and Video Library.
Simplify asset management and create visually engaging social media posts by using a centralized location to create, organize, edit, and publish your assets.
4. Multimedia Integrations
Add videos and images from platforms like Google Drive, Dropbox, One Drive and Adobe Express to your creative process in order to create visually engaging social media posts.
5. Additional account settings
Under the New Post tab in Settings, you'll find an option for Social Accounts. This is separate from the tab, where you'll find a lot of preferences related to how each account operates on its platform. 
6. Preview Post
View the post before it is published on your social accounts. It is safer to preview your post and verify how your post looks on social platforms. You can edit or change the post as per your need after previewing. 
7. Various Options for Media, Links and Text
There are several types of posts that can be created on Stackposts such as Images, Videos, Links and text.
8. Save and edit drafts
Keep your content ideas safe by saving drafts from the Composer whenever you want, enabling you to perfect and publish them later.
9. Save & Get Captions
Save your content with Captions Feature that you plan to use repetitively in your social media posts that you regularly use are particularly good to be saved as captions. Sometimes, you can organize your hashtags, and links and then get them when you compose a new post.
10. Photo Editor
Produce attention-grabbing, remarkable, shareable, and stunning images with Image Editor which is integrated with Adobe Express.
Upon initial image selection, you can edit and enhance your photo before publishing it to your selected network. Additionally, use the intelligent cropping tools to ensure optimal sizing based on network preference.
11. URL Shortener
Shortening URLs becomes essential when you have to share long and complicated web links on social media platforms that have character limitations.
12. OpenAI
It can be used to generate high-quality content for social media posts with captions. 
13. Spintax
It's an ideal tool to create massive content. It could minimize the risk of account lockouts if social media platforms tag the messages as spam.
Dashboard
Clear and Concise Dashboard
It helps you to quickly and easily understand all your post reports on social media networks and make informed decisions for subsequent campaigns.
You can get the report for all accounts or each social account following a specific day or range of time.
Bulk upload multiple posts
Save time and effort by scheduling more than a hundred social media posts using Stackposts's Bulk Uploader in three easy steps.
Schedule Calendar
See all your scheduled posts in one place, and add or edit posts as needed.
Stackposts provides social media management tools and a content calendar, enabling easy management of your social media accounts. This includes scheduling, queuing, and bulk uploading posts, making it ideal for teams using quarterly or monthly content plans.
Account Manager
Save time on social media by connecting your accounts to Stackposts. With Stackposts, you can manage activity for all your linked accounts in one place, removing the need to sign in to each social network individually.
Adding Facebook Profile/Page/Group with Official API
Adding Facebook Profile/Page/Group with Cookie
Adding Instagram Account with Official API
Adding Instagram Account with Username and Password (Unofficial API)
Twitter Official API with v2
File Manager
With the file manager, you can create and view the files/folders hierarchy and access a range of functions like uploading, moving, as well as deleting files, and folders.
You also get media from Dropbox, Google Drive and One Drive.
Tools
Watermark
Watermarks can be added to images using the Stackposts Watermark tool that is included in the main script. It offers built-in watermarking features to help you protect your posts which remain visible even if the content is downloaded or shared by others.
FAQs
FAQs (Frequently Asked Questions) are an essential component of any website as they provide a quick and convenient way for users to find answers to common questions about a company, product, or service.
Settings
1. Customize the Color Scheme
This feature is important for branding, aesthetics, accessibility, emotional impact, and differentiation. By choosing the right colours and creating a cohesive colour scheme, your website can create a more engaging and impactful user experience.
2. Notifications
A notifications feature on a website is a tool that allows you to communicate with your users and keep them updated on important events, messages, or changes.
3. Social Logins
Social logins allow users to sign up for or log into your website using their existing social media accounts, such as Facebook, Twitter, or Google. 
4. Multiple Languages
By offering multiple languages, a website can reach a larger audience worldwide. Potential customers who use a different language from the primary language of the website can still access and understand its content, increasing your sales.
5. Email Templates
This feature is a useful tool for saving time, ensuring consistency, and providing a professional look and feel to emails sent for various purposes when you use the Stackposts as SaaS
Server Requirements:
Server Requirements:
Please check this page: Stackposts Document Full
End-User License Agreement
Please read this agreement carefully before installing or using this product.
If you agree to all of the terms of this End-User License Agreement, by checking the box or clicking the button to confirm your acceptance when you first install the web application, you are agreeing to all the terms of this agreement. Also, By downloading, installing, using, or copying this web application, you accept and agree to be bound by the terms of this End-User License Agreement, you are agreeing to all the terms of this agreement. If you do not agree to all of these terms, do not check the box or click the button and/or do not use, copy or install the web application, and uninstall the web application from all your server that you own or control.
Note: With Stackposts, We are using the official Social Media API (Facebook, Twitter etc, except Instagram) which is available on Developer Center. That is a reason why Stackpost depends on Social Media API . Therefore, We are not responsible if they made too many critical changes in their side. We also don't guarantee that the compatibility of the script with Socia Media API will be forever. Although we always try to update the lastest version of script as soon as possible. We don't provide any refund for all problems which are originated from Social Media API (Facebook, Instagram, Twitter etc). We're not responsible for any issue related to the social accounts.
If you do not accept the terms of this agreement and you purchased a product containing the web application from an authorized retailer, you may be eligible to return the product for a refund, subject to the terms and conditions of the applicable return policy.
Important notice:
We don't offer free support (Time support can up to 2 days)
We don't offer refund (If item has been Dowloaded or Mistake)
We don't support installation and custom script free
Read all the product information before you decide to buy it
Note: You cannot charge users for using this script with the Regular license. Kindly buy the Extended license for the commercial use of this script.