WordPress Themes
Thousands of WordPress themes
eCommerce Templates
Beautiful website templates
Site Templates
HTML and website templates
Products Template
Beautiful products templates
-> Read the Changelog (Important)
-> How to import demo?
-> What makes Kalles different from other WooCommerce themes?
-> RTL Language Supported

With Kalles, we redefine a good WooCommerce theme, one that is truly good not because of redundant features that waste users' time. A theme is good in our opinion when it is optimized; the features are just right, but the overall experience is really smooth and seamless. We don't have Header Builder or Footer Builder because, in my opinion, they are unnecessary to provide convenience to your clients. We spend time there improving, optimizing, and developing features to boost conversion rates.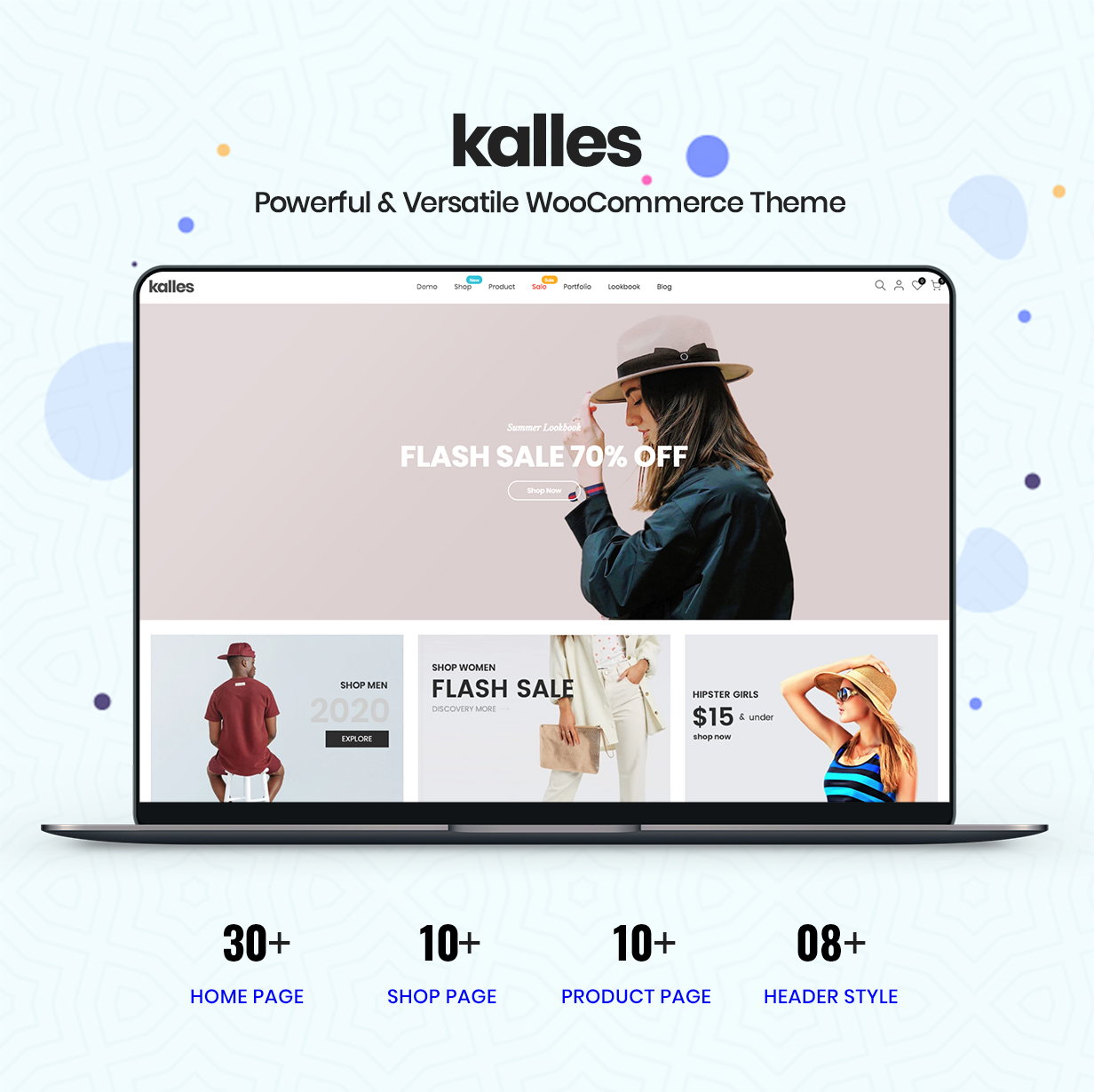 We have dedicated our minds for over a year to researching and improving better WordPress themes that increase conversion rates for store owners. Kalles WordPress is packed with features that make your store look like a million dollar businesses with clean, user-friendly and mobile-first design. We believe that with the experience of helping 70.000 Shopify store owners succeed, you will be next if you use the Kalles WordPress version theme. We are pleased to present you the best WordPress theme – Kalles.
The real WooCommerce theme for you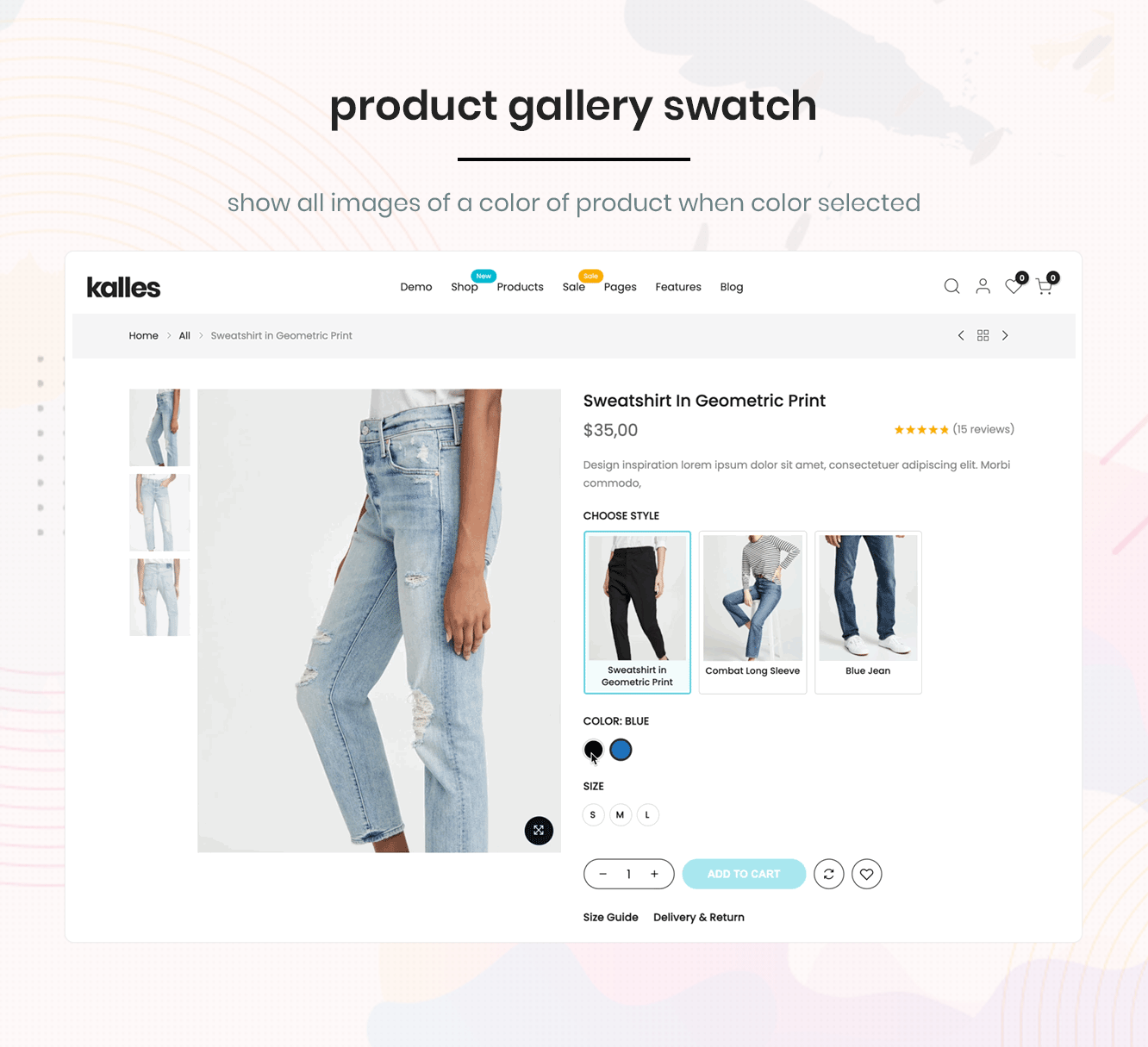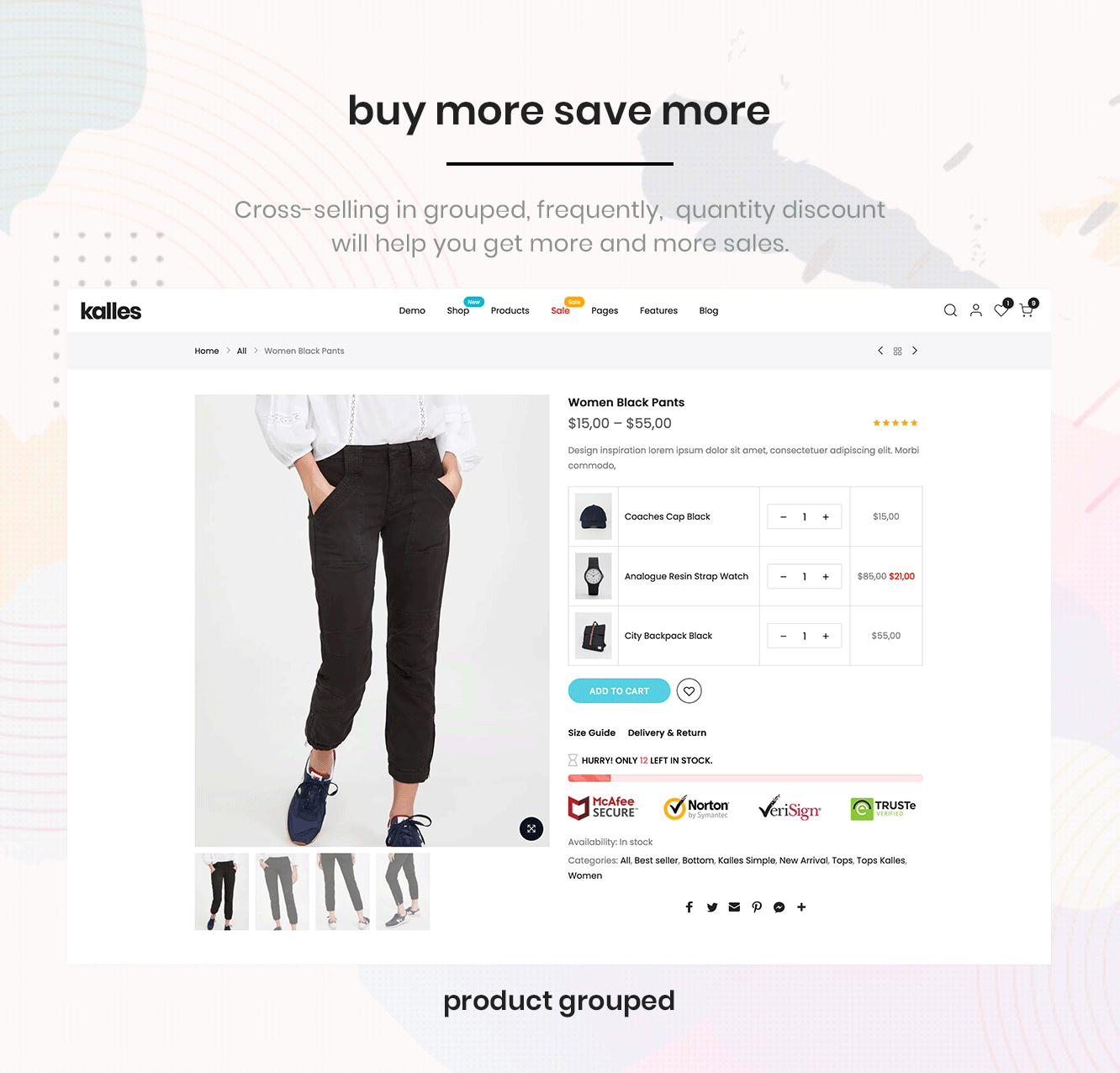 Plenty of Stunning Demos to choose from

Kalles is equipped with more than fifteen purpose-built demos that all include a range of impressive features and eye-catching designs. You can import the demo quickly thanks to our one-click install and then add your content, finally publishing it in minutes.
Elegant threshold feature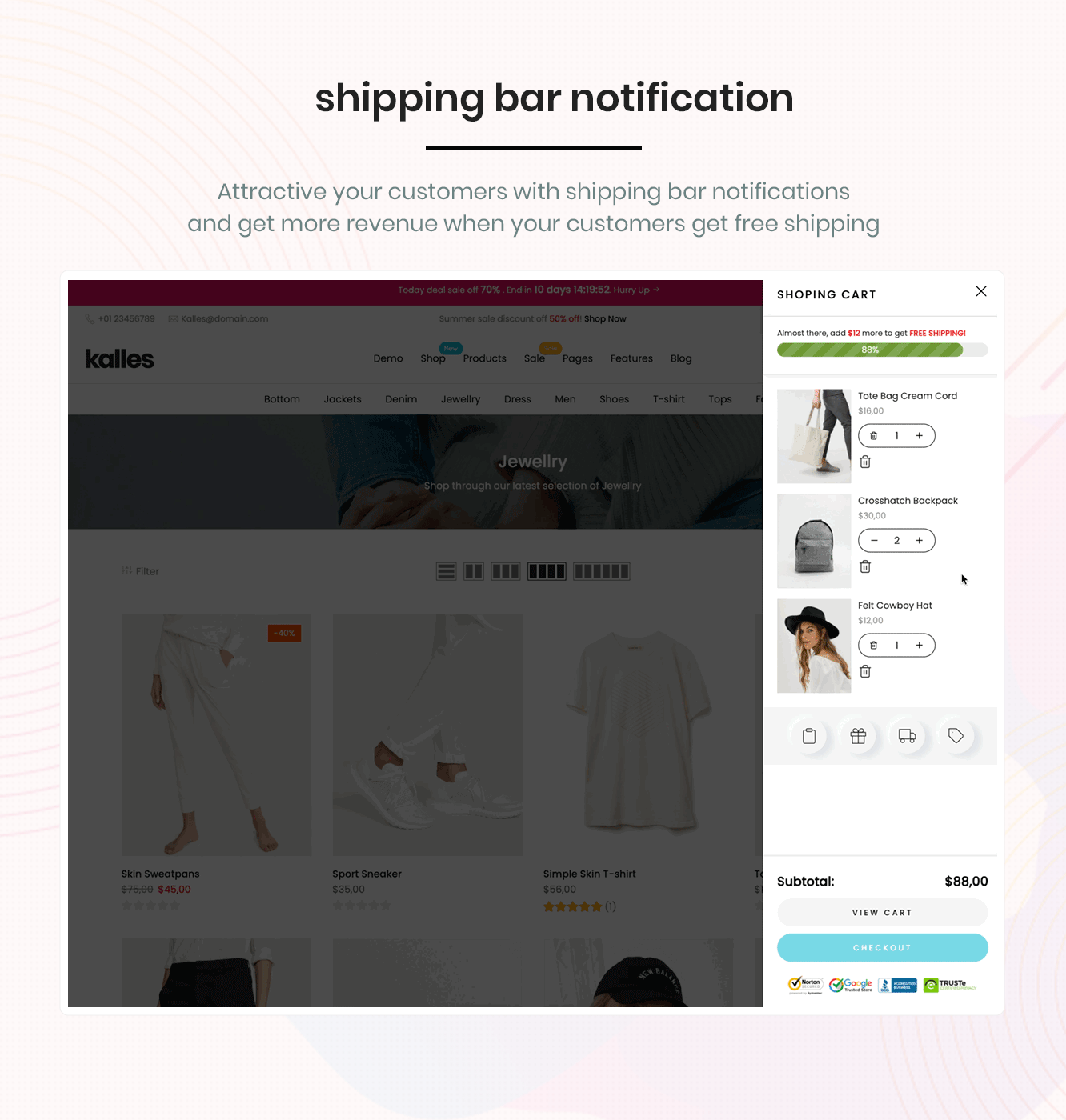 Instead of product discounts and shipping costs, everyone wants free shipping. Thus, we created a feature to assist in driving sales via free shipping and fireworks effects. We make it more than just a feature by making it interact with every small action for the ultimate experience.
Advance Product Upsells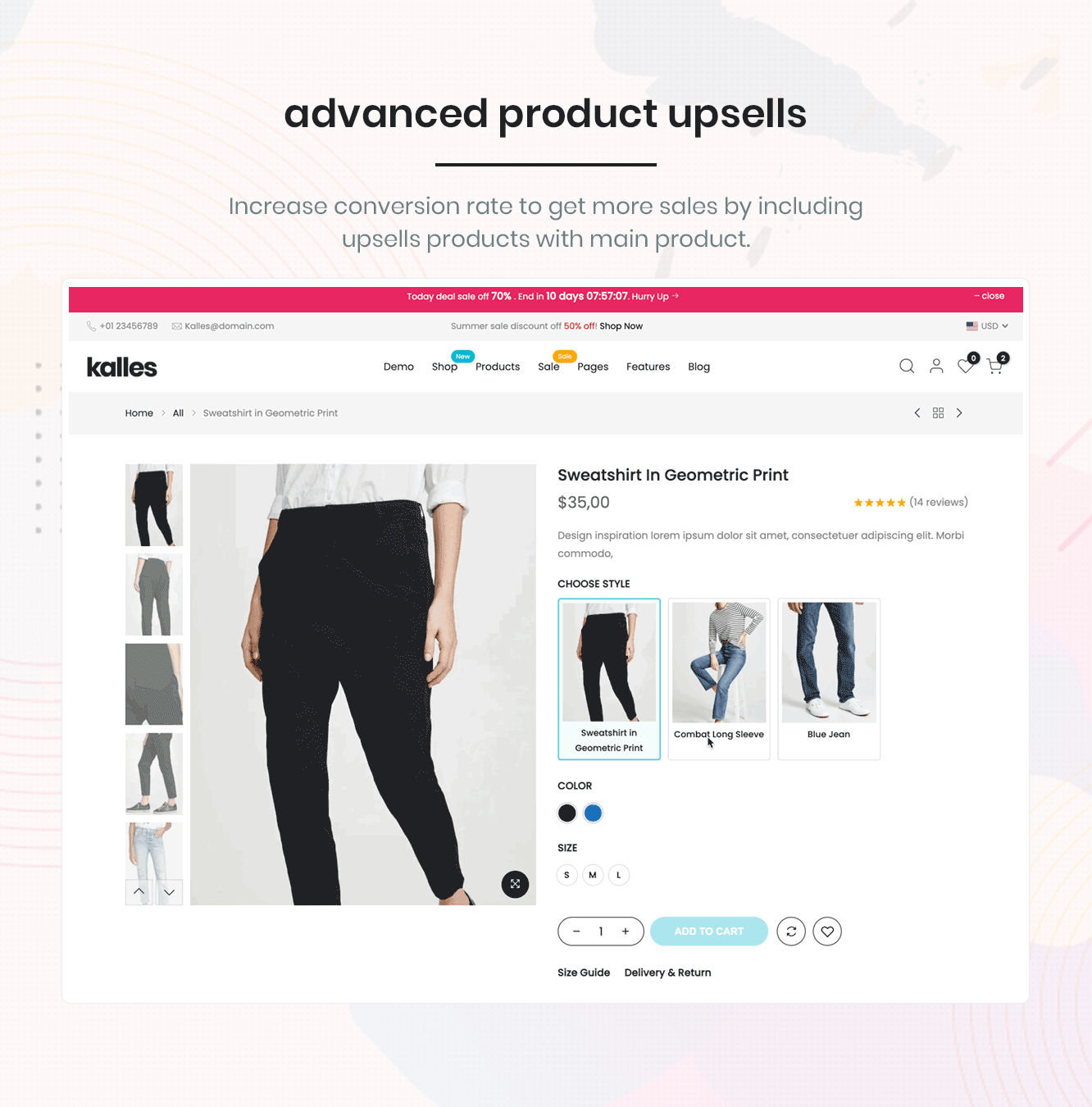 Features that are not yet available on many WooCommerce themes. Inspired by dropship T-shirt stores, it makes it easy to increase conversion rates by including related products. Related products will also show this block, which is a cross-selling feature that helps you get the highest conversion rates.
Optimized Product Pages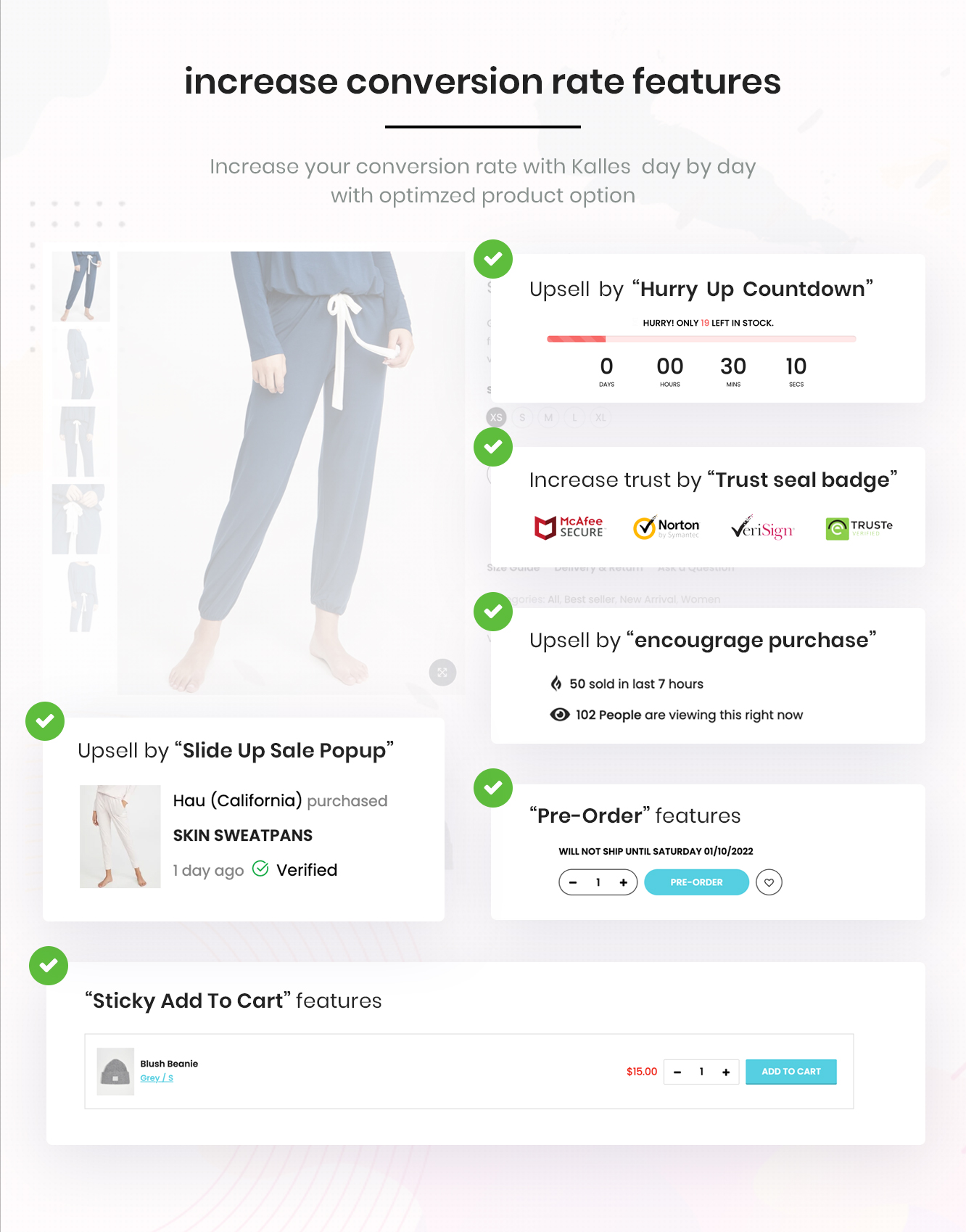 Everything on the product page is optimized and streamlined to bring the best experience to your customers. It also has numerous components that help increase conversion rates. Everything looks clean, tidy and professional.
Product Filter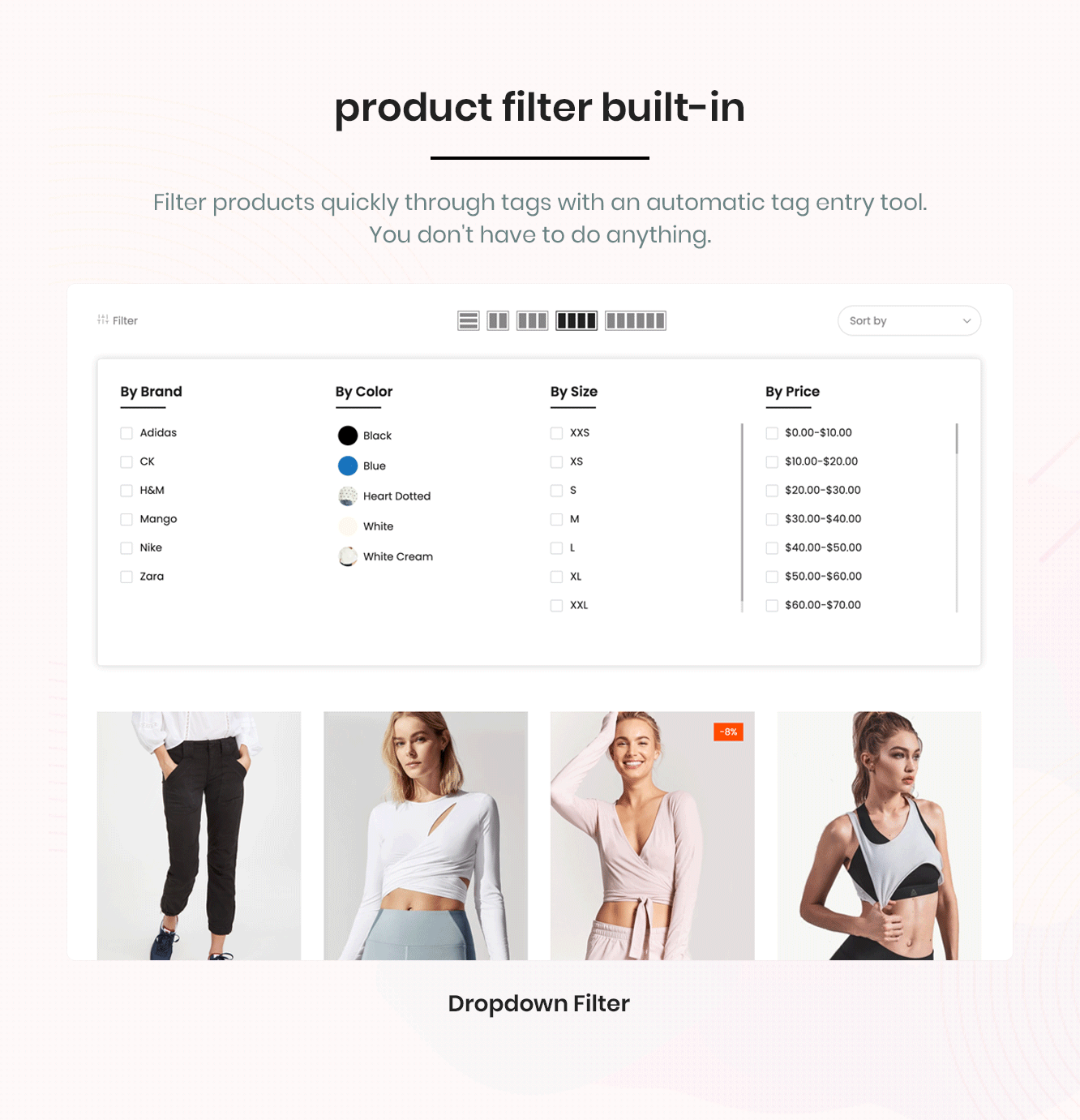 Give your visitors the most seamless experience with filters powered by Ajax. Ajax filters mean your pages won't need to refresh or reload when search parameters are changed. Customers can change multiple filter types in a few simple clicks, and once they've applied the filter, the products will update fluidly.
Megamenu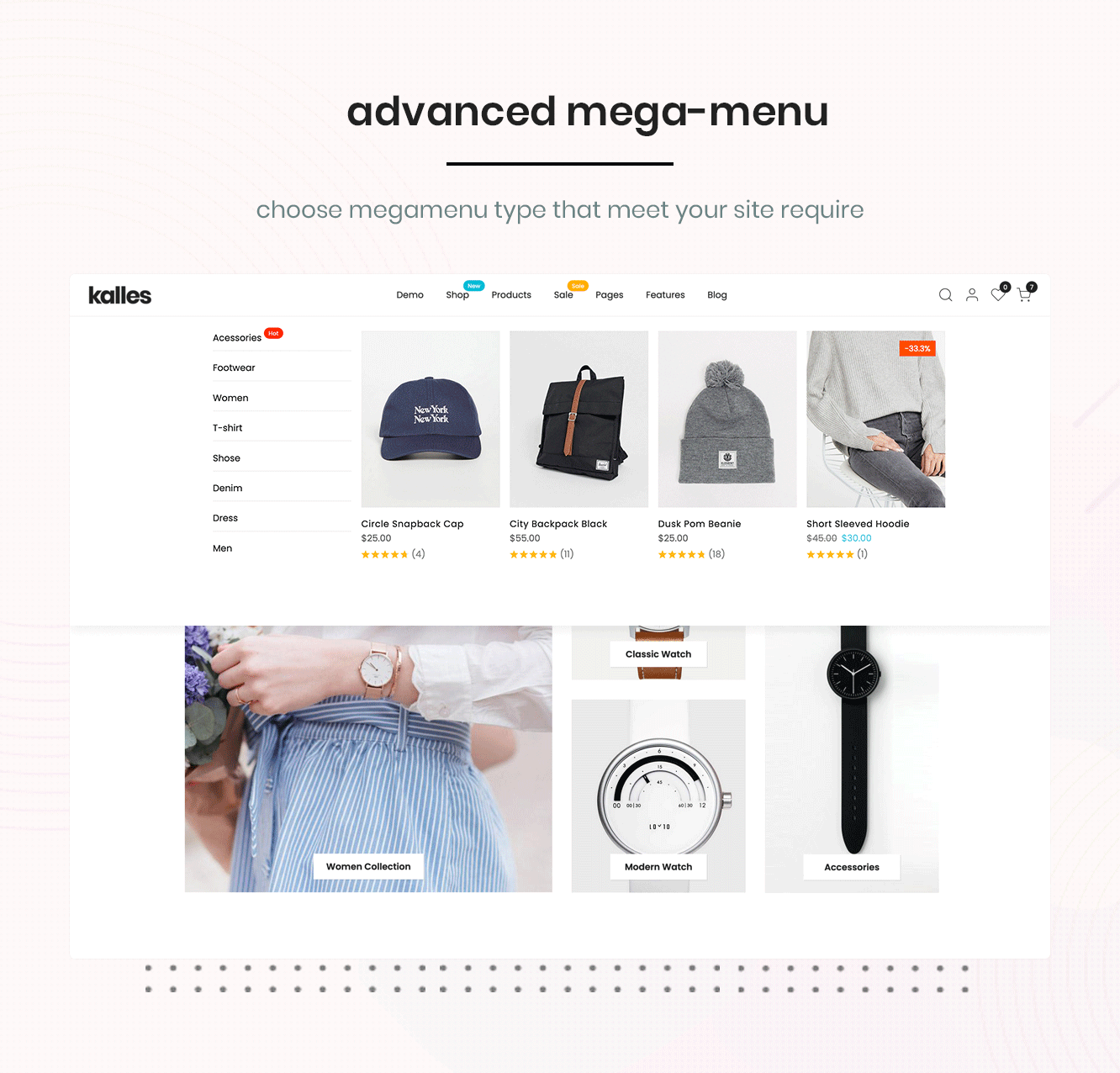 Replace that boring and simple menu with a "Mega Menu". It helps your store look more professional and shows much more information than a basic menu.
Stopping Lookbook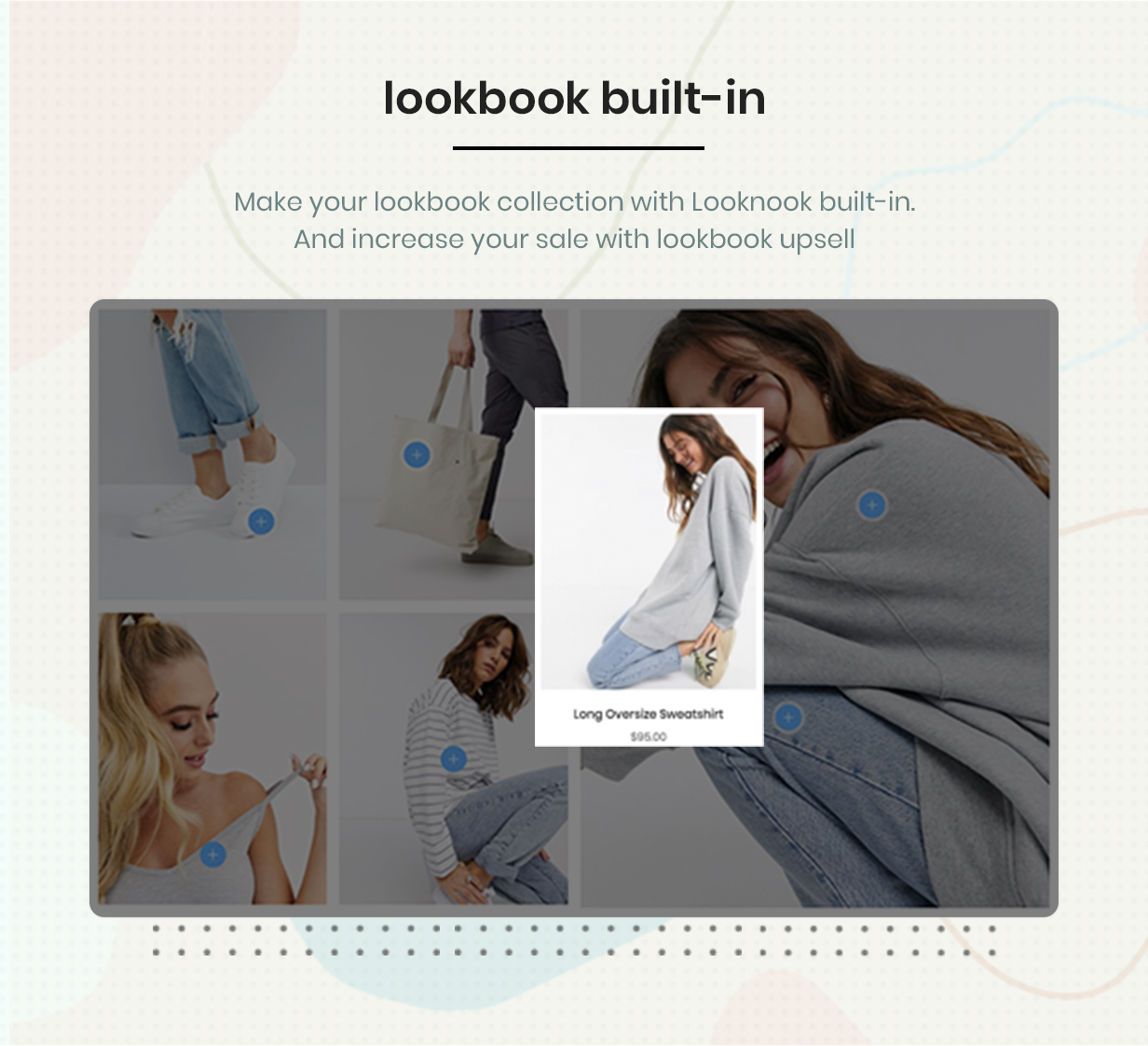 Showcase your fashion or announce new lines and collections in the most eye-catching way with Kalles's lookbook. The stunning lookbook allows you to include information on items as well as spotlight sales points for your brand's best outfits.
Multiple Color / Image Swatches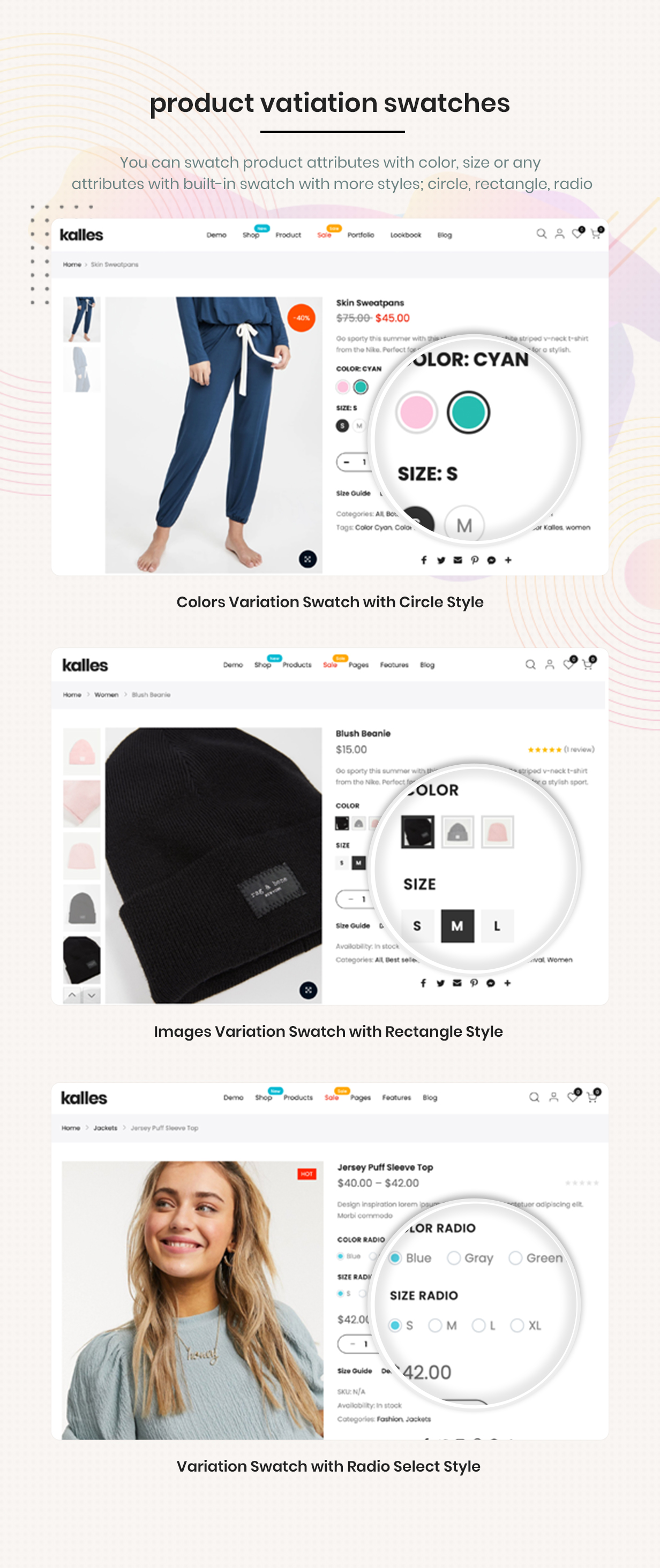 Kalles also supports a variety of product variant interfaces, allowing you to easily customize how they are displayed on product pages, collection pages, home pages, etc.
Advance Ajax Search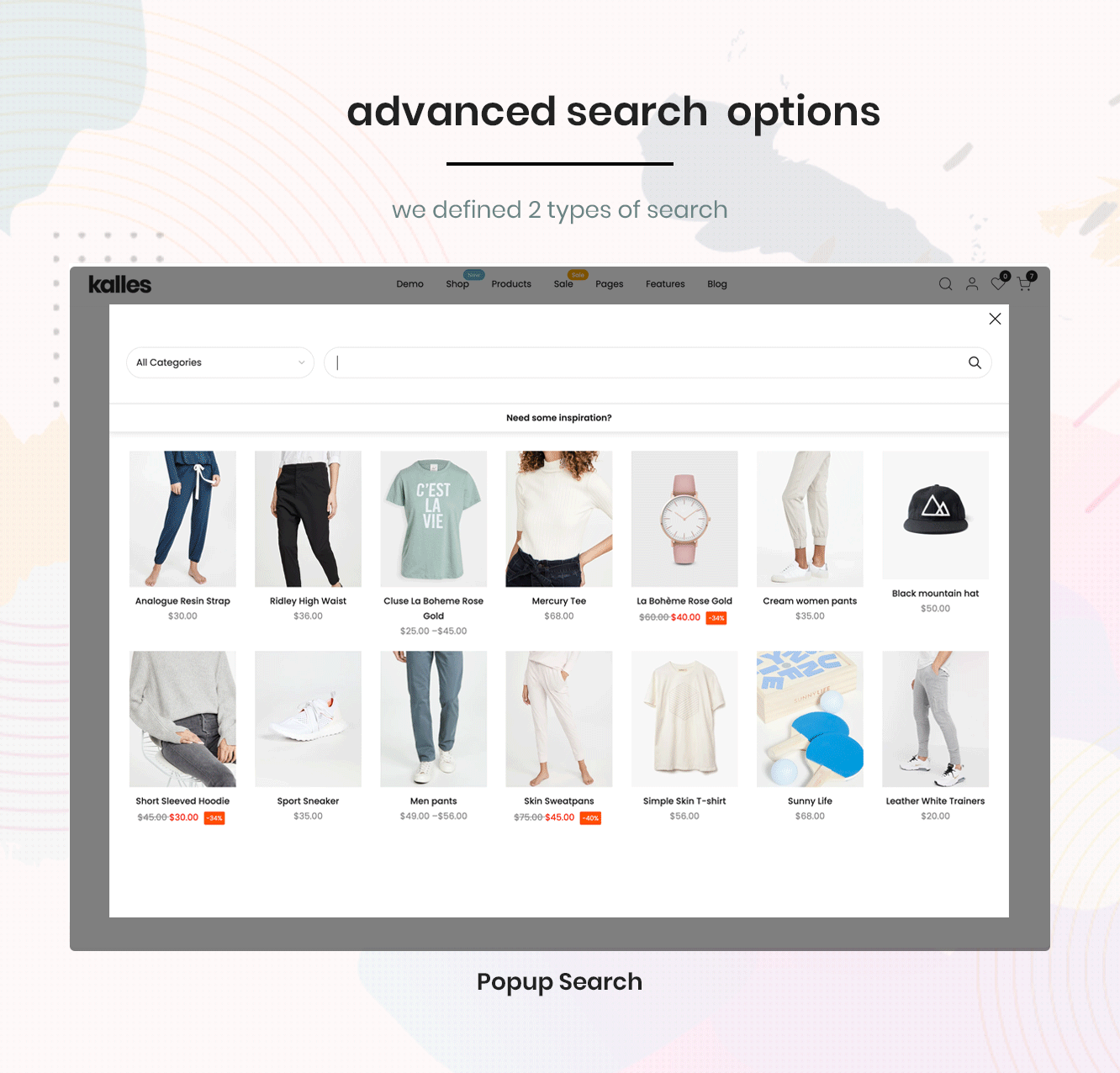 The search function has been improved and is more convenient for users. We spent a lot of time researching customer behavior and optimizing the UI/UX for search functionality on Kalles. It doesn't only simply show results via ajax, it is also optimized for ease of use with a clean UI. Moreover, it also allows you to suggest some keywords that you want to focus on.
10+ Versatile Product Layouts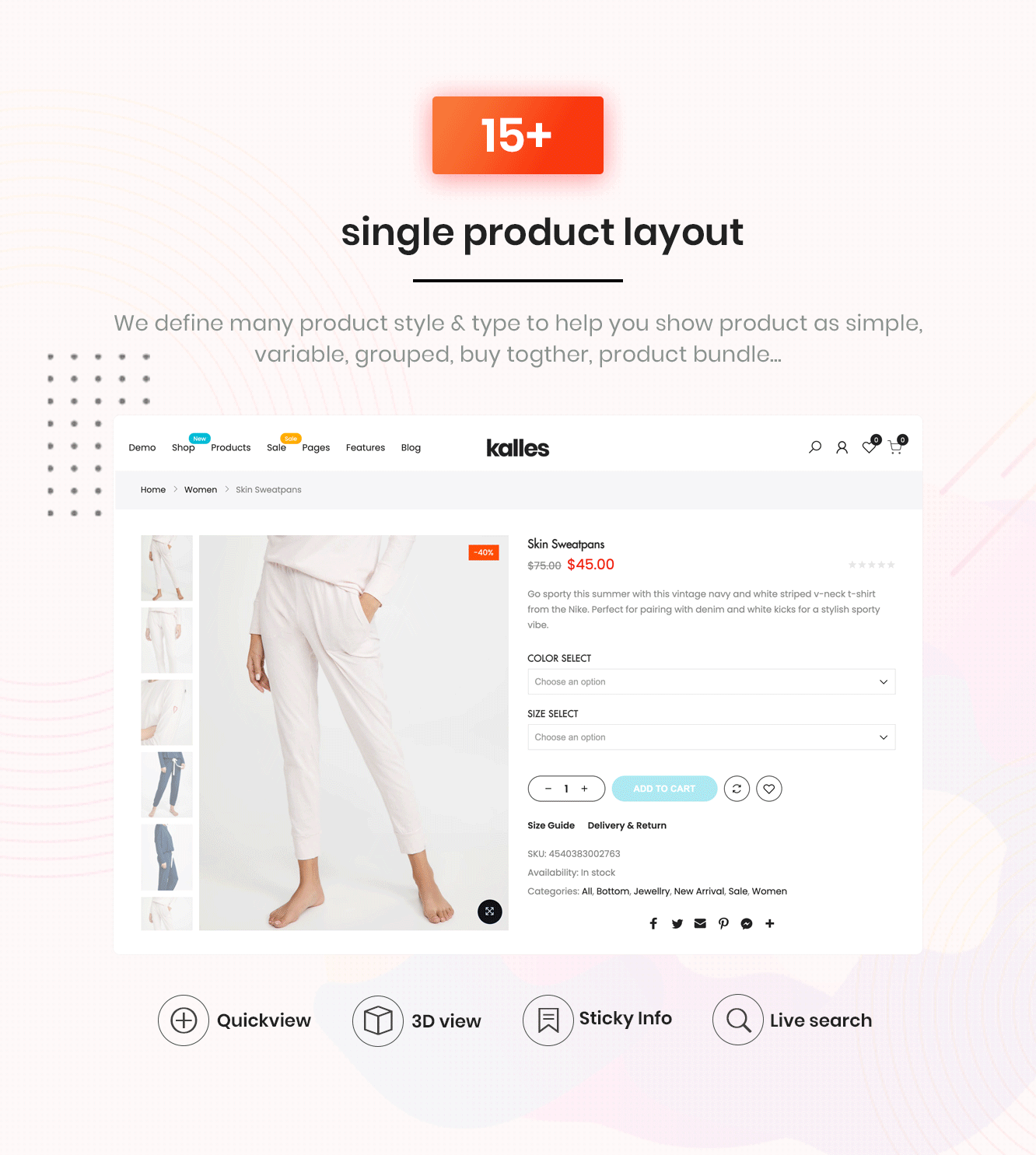 Don't limit yourself to traditional product detail layouts. Kalles features a variety of configurable choices that allow you to promote your items in the manner that works best for you. Choose whether your thumbnails appear on the left, right, or bottom of a listing, or use the Sticky function to keep your product description in place while scrolling.
10+ Shop Layouts
Give your visitors the most seamless experience with filters powered by Ajax. Ajax filters mean your pages won't need to refresh or reload when search parameters are changed. Customers can change multiple filter types in a few simple clicks, and once they've applied the filter, the products will update fluidly.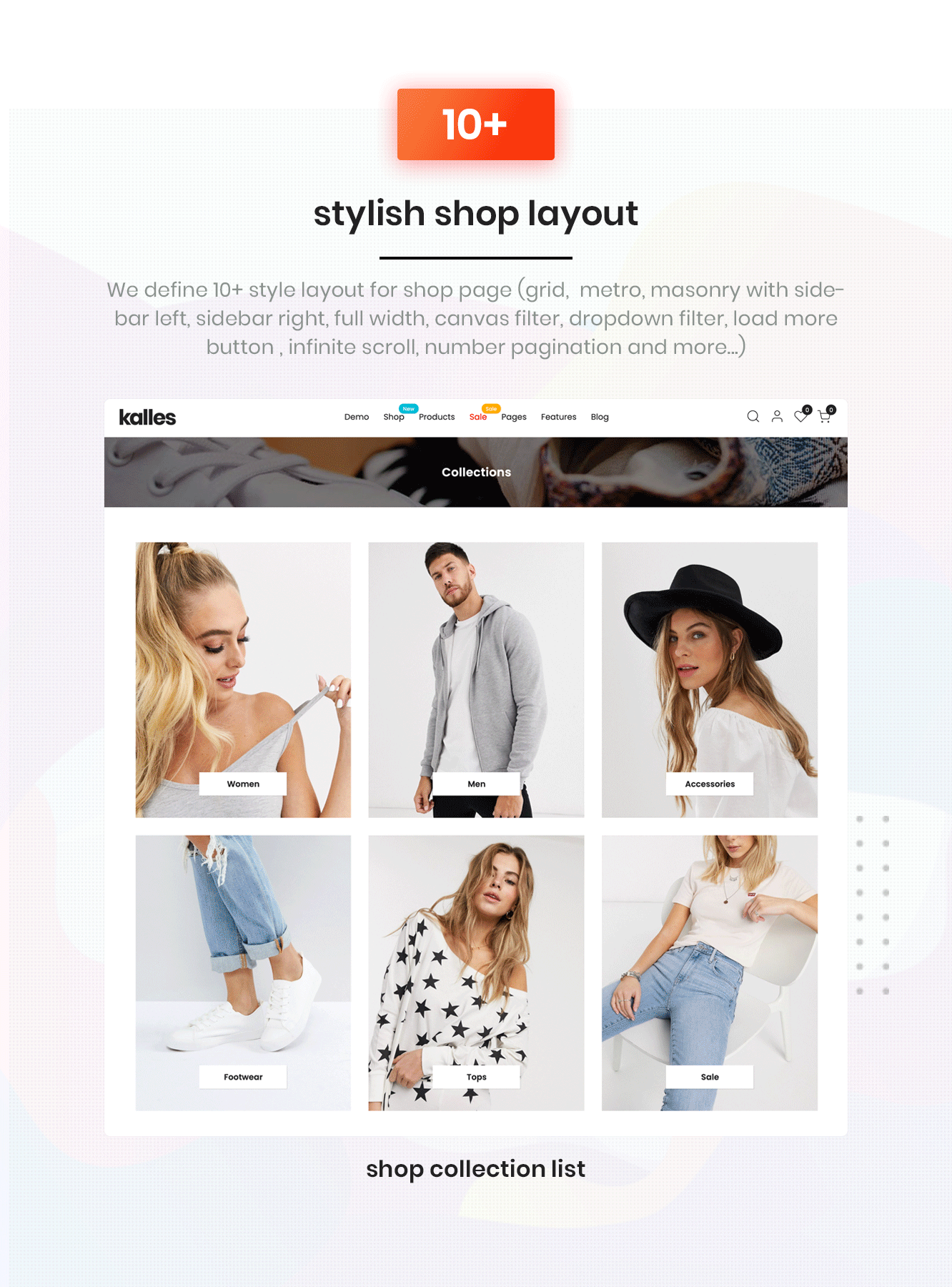 9+ Header Layouts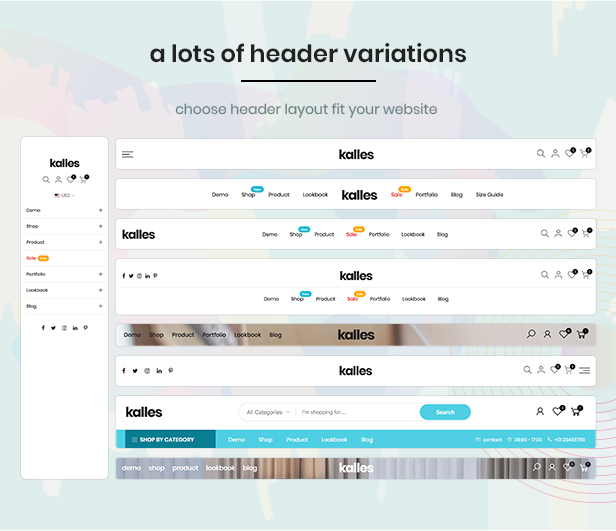 Kalles supports up to 9 Header options. Customers will feel your shop is professional from the first second of seeing the Header.
Mobile Bottom Navigation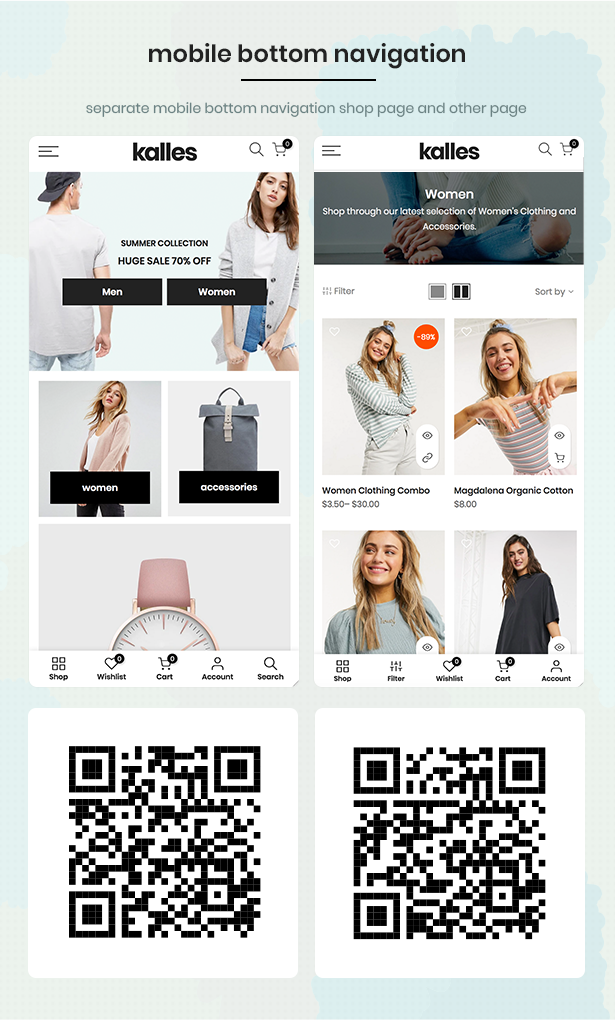 This feature helps optimize the UI/UX on mobile devices. Your store looks like a mobile application, and it is also very smooth. With Kalles, everything is taken care of pixel by pixel.
Responsive and Retina-Ready Design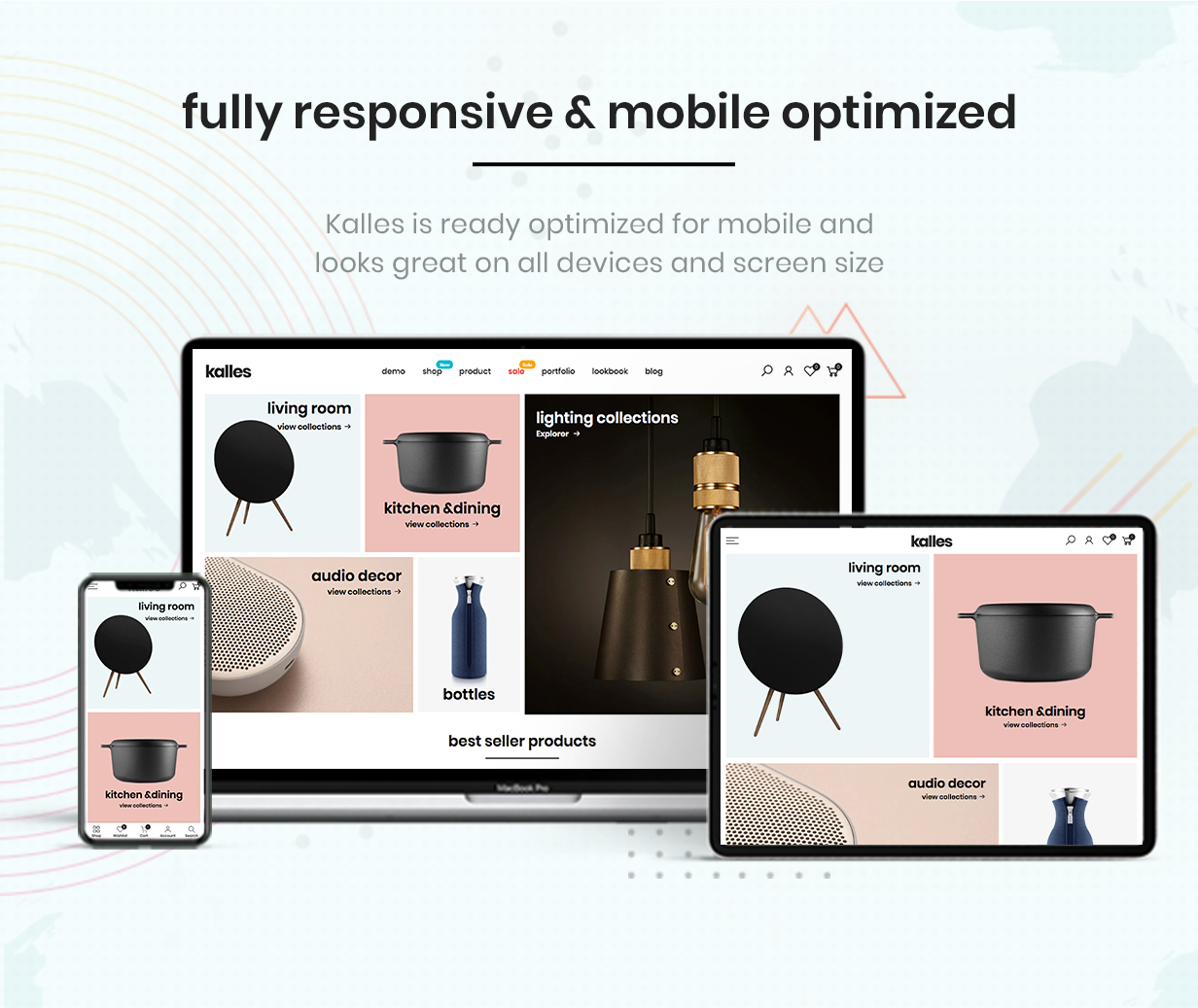 Whatever device your website is viewed on, Kalles will ensure your store looks and functions perfectly. This includes meeting the parameters and dimensions of that device without interrupting the user's experience and without needing any further input from you or your developer.
Frequently Bought Together Built-in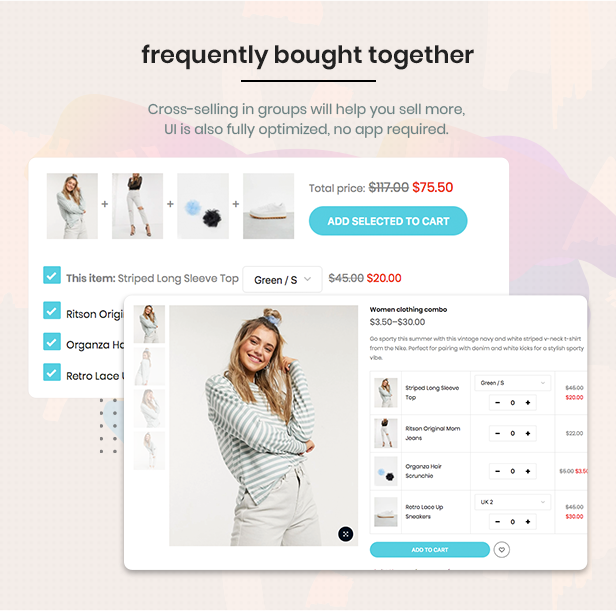 The built-in feature Frequently Bought Together integrates this clever upsell functionality into WordPress in the most convenient way: you can have it ready in your shop in 5 minutes with a simple and straightforward setup.
Super Fast Loading Speed
Did you know that page load speed affects 70% of traffic? Users will not stick around and buy if the speed is too slow. With this in mind, we have made Kalles one of our fastest themes yet.
A powerful built-in theme options panel
Kalle's built-in theme options panel includes drag-and-drop functionality, which makes it even easier for you to customize your store and access additional features and functions such as Mailchimp and Instagram Shop. You'll be able to make all the adjustments and updates you like without touching a single line of code.
A new theme will inevitably have shortcomings. We do not claim that the first version will be perfect, but we do affirm that we will listen to the suggestions and contributions of customers and improve Kalles every day, every hour to make it perfect.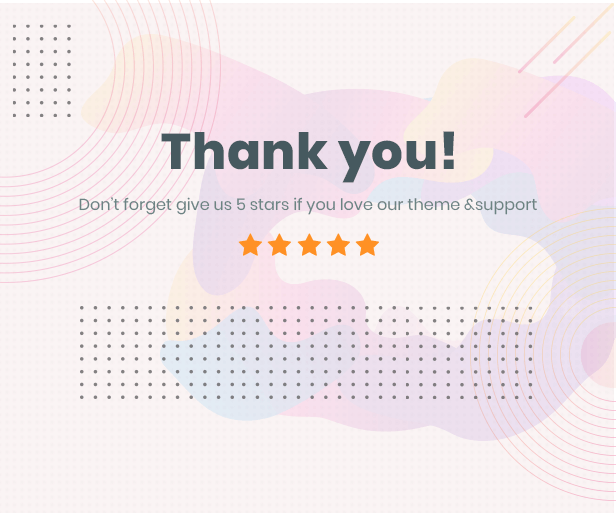 Theme feature
Kalles's countless features include:
Sections in Product Pages
Multi-Purpose Design
Ajax Mailchimp
Calculate Free Shipping Thresholds
Ajax tab
Google 's rich product snippets
Cookies laws info
Add to cart sticky
Stock Countdown
Easy to Import Demo Config
Auto currency
Product Grouped
Unlimited variant image
20+ available home page layouts
Multiple Page Styles
Social Sharing Features
Responsive Design
Unlimited Colors & Layouts
Unique Homepage Layouts: More Amazing Concepts Are Coming Soon!
Fully Responsive (Tested on Multiple Devices)
Modern & Clean Design
HTML5 and CSS3 Tableless Design
Ajax Product Filter Support
Wishlist Support
Compare Support
Quick View Support
Zoom Magnifier Support
Currency Switcher Support
Mega Menu
Sticky Menu
Powerful Theme Options
Validate HTML5 Code
Unlimited Different Headers & Footers
Elegant Animations
500+ Google Fonts with Preview Capability
Flat Design Style
Grid Or List View
Nice Rollover Effect For Products View
Images With jQuery Inner Zoom
Ajax: Add To Cart, Wishlist and Compare
Clean Block Cart Module
And much more
Creadit
Image Sources
Note: All images are just used for Preview Purpose Only. They are not part of the theme and NOT included in the final purchase files.