WordPress Themes
Thousands of WordPress themes
eCommerce Templates
Beautiful website templates
Site Templates
HTML and website templates
Products Template
Beautiful products templates
Haswell is Powerful Multipurpose One & Multi Page Template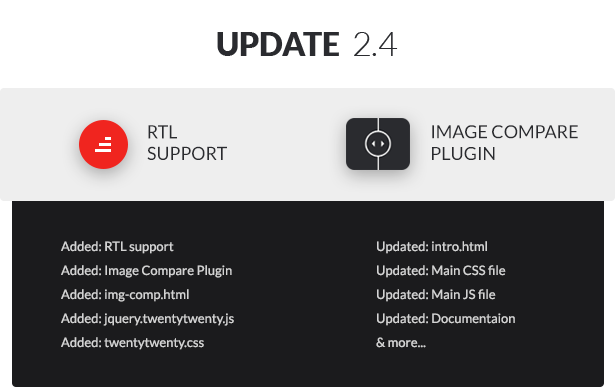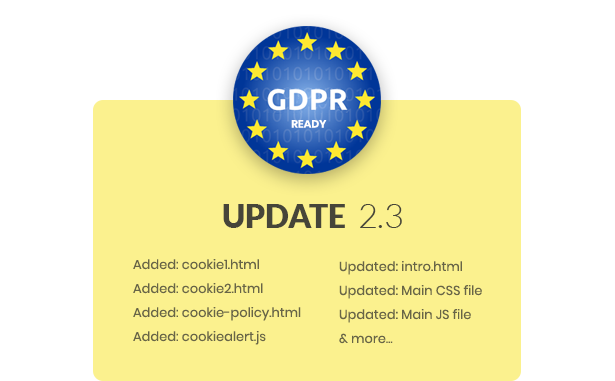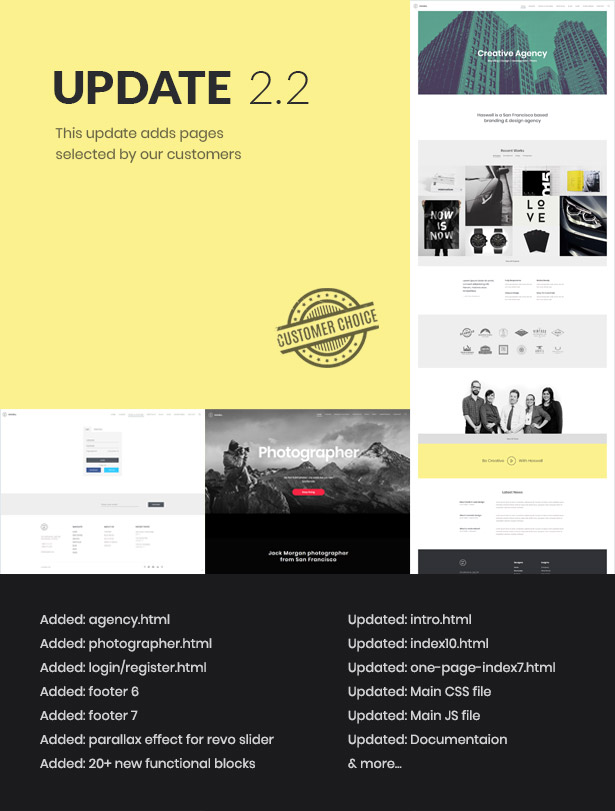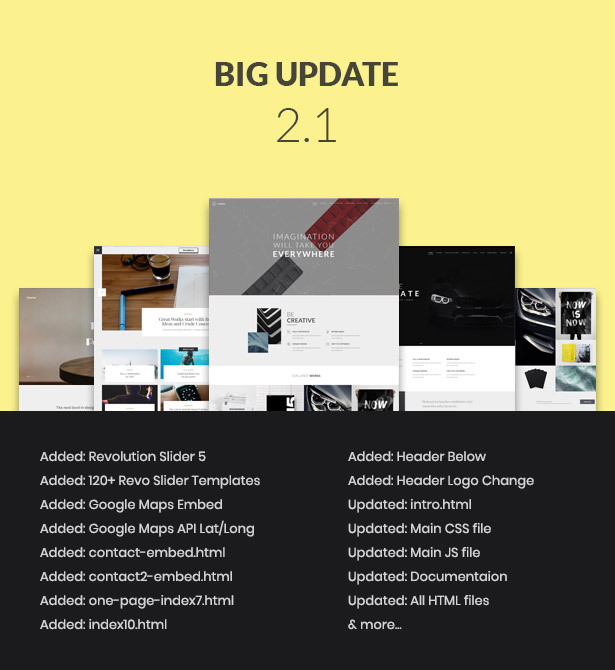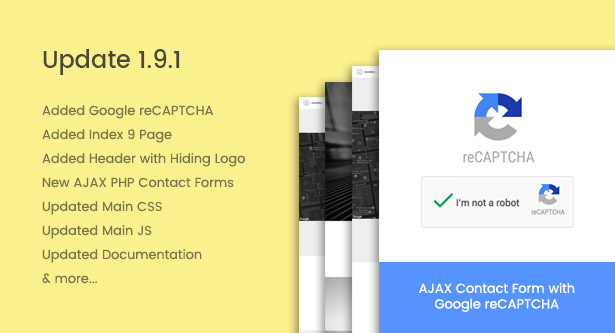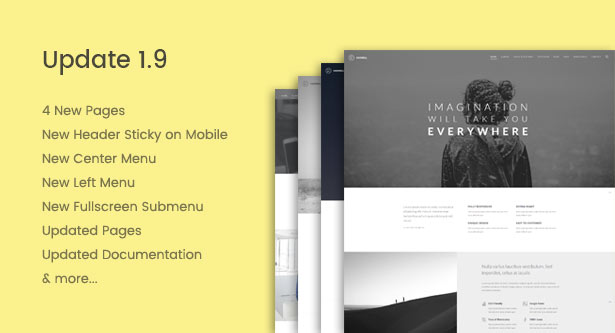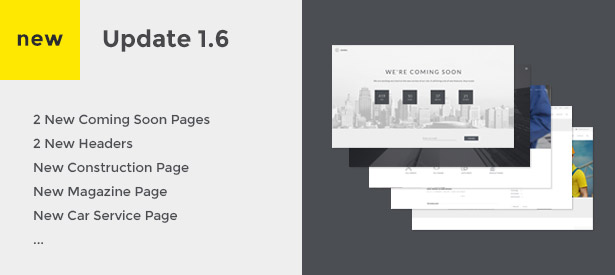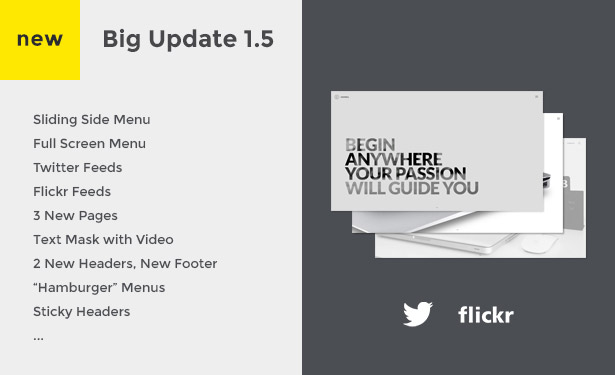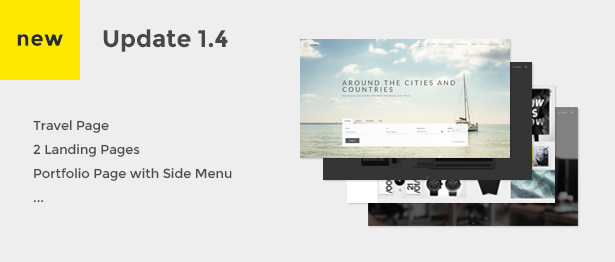 Haswell is a cross browser compatible, retina ready, responsive HTML5 /CSS3 template with touch support that features a clean and unique design that is multi-purpose template which is suitable for a wide variety of websites. Tons of Customizations are possible with this template that'll help you redefine your website's brand value.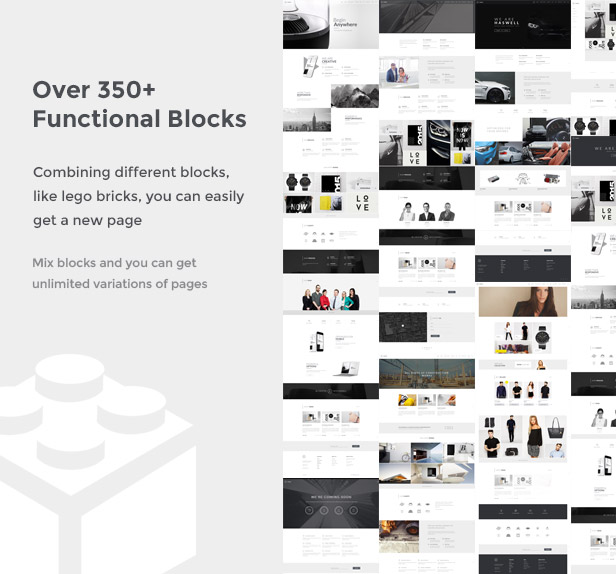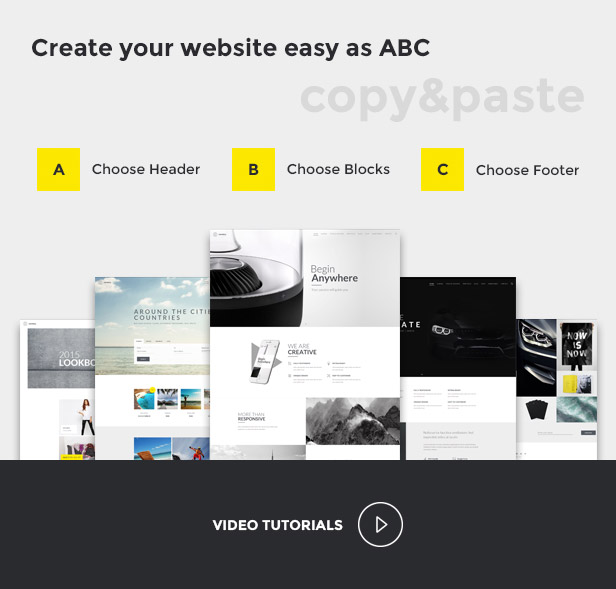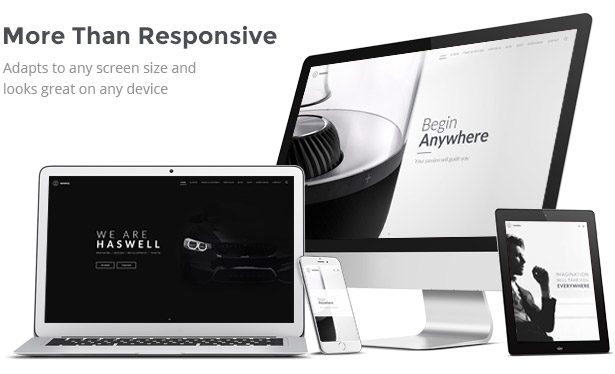 It uses Bootstrap and is 100% tablet/phone friendly. Haswell also includes Revolution slider, FlexSlider, OWL Carousel, Infinity Scroll, Mega Menu, Ajax Masonry Blog, Timeline pages, Google Web fonts, Sticky menu, Tons of Feature Sections and much more. The template includes many of reusable elements: Sliders, Tabs, Accordions, Timelines, Toggles, Alerts, Carousels, Counters, Charts, Lightboxes, Modals, Labels, Pricing Tables, Tables, Tooltips, Popovers, Highlights, Dividers, Blockquotes, Lists, Buttons, Dropcaps, Testimonials, Progress bar and other. Haswell has a clean code and good documentation.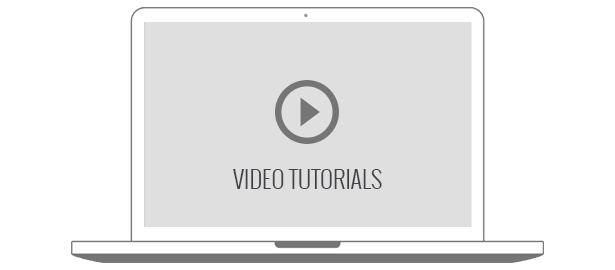 Haswell features:
Fully Responsive Design
Retina Ready
RTL support
Valid HTML
2 Premium Sliders included and Carousel sliders. You save $14
PSDs included in package (18 Layered PSD Files). You save $10
One & Multi Page Layouts
Ajax PHP Contact Form
Google reCAPTCHA
On Scroll Animations
Smooth animation
Sticky menu
Light, Dark and Transparent Menu Bars
Mixed Masonry
Mega Menu
"Hamburger" Mini Menu
Fullscreen Menu
Sliding Side menu
Tons of Shortcodes
Touch, Swipe and Tap support for all elements
Working Search
Working Newsletter
Working Twitter feeds
Working Flickr Feeds
Working Ajax PHP Contact Form with Validation
Over 1500+ icons
Fast Light version
Coming Soon Page
Maintance Page
404 Page
About us
Services
Flexible Widgets
134+ Pages
120+ Revo Slider Templates
Multiple Headers and Footers
Powered with Bootstrap
Responsive Carousels
Parallax sections
HTML5 Videos and Audios
Easy to customize: backgrounds, color schemes, content
Tons of Feature Sections
Clean coded and well documented
SEO Optimized
Responsive Filterable Portfolio
Responsive Pricing Table
Mailchimp Integration
Cross Browser compatible
Thoroughly documented
Google Fonts
Google Maps easy to setup via data attributes
jQuery powered
HTML code with comments
Free Updates
…and much more!
Has well
We are looking for a WP/Joomla/Drupal/etc. developer to work together to convert themes into WP/Joomla/Drupal/etc.. If you're interested in, please, contact for details.
Customer reviews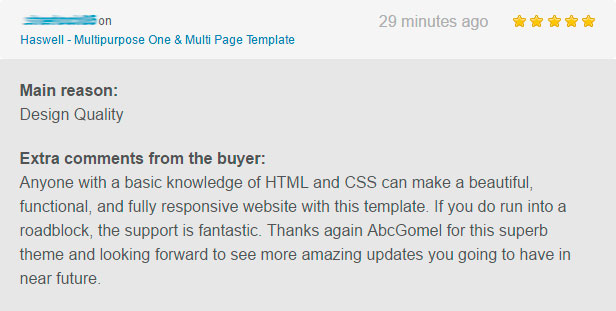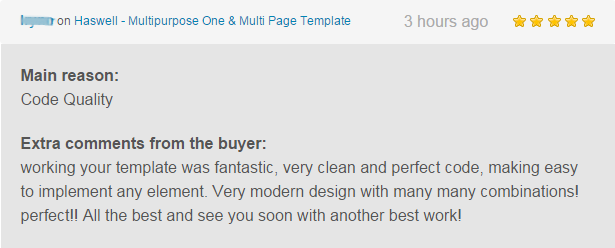 Testimonials from our users
One of the best designers on here at the moment from a style perspective. Would like to see WP versions of your templates as I like to buy both HTML and WP for seo purposes. jimmychickens
Changelog
v. 2.5 – 06.12.2020

- Updated: Main CSS file
- Updated: Main JS file
- Updated:index.html
- Updated:index-boxed.html
- Updated:index-center.html
- Updated:index-full-screen-menu.html
- Updated:index-full-screen-menu-sub.html
- Updated:index-iframe.html
- Updated:index-portfolio.html
- Updated:index-side-menu.html
- Updated:one-page-index.html
- Updated:one-page-index-portfolio.html
- Updated:one-page-index7.html
- Updated:one-page-landing2.html
- Updated:services.html
- Updated: features 2 block
- Updated: shop ad block
- Fixed: scroll jump

v. 2.4 – 09.04.2020

- Added: RTL support
- Added: RTL version of template (all html, css and other files)
- Added: Image Compare Plugin
- Added: img-comp.html
- Added: jquery.twentytwenty.js
- Added: twentytwenty.css
- Added: twentytwenty-no-compass.css
- Added: features 13 block
- Updated: intro.html
- Updated: Main CSS file
- Updated: Main JS file
- Updated: Documentaion

v. 2.3 – 01.03.2020

- Added: cookie1.html
- Added: cookie2.html
- Added: cookie-policy.html
- Added: cookiealert.js
- Updated: contact-recaptcha.html
- Updated: contact2-recaptcha.html
- Updated: Main CSS file
- Updated: Main JS file

v. 2.2 – 09.09.2019

- Added: agency.html
- Added: photographer.html
- Added: login.html
- Added: footer6
- Added: footer7
- Added: parallax effect for revo slider
- Added: 20+ new functional blocks
- Updated: intro.html
- Updated: index10.html
- Updated: one-page-index7.html
- Updated: Main CSS file
- Updated: Main JS file
- Updated: Documentaion

v. 2.1 – 18.04.2019

- Added: index10.html
- Added: Header with changeable from scrolling logo
- Added: Lightbox gallery in portfolio section
- Added: Hover effect on devices with touch screen
- Updated: index1.hmtl
- Updated: index2.hmtl
- Updated: index3.hmtl
- Updated: index5.hmtl
- Updated: index6.hmtl
- Updated: index-sticky-header-on-mobile.html
- Updated: index-boxed.html
- Updated: index-center.html
- Updated: index-full-screen-menu.html
- Updated: index-full-screen-menu-sub.html
- Updated: index-iframe.html
- Updated: index-side-menu.html
- Updated: index6.html
- Updated: one-page-index.html
- Updated: one-page-index2.html
- Updated: one-page-index3.html
- Updated: one-page-index5.html
- Updated: one-page-index6.html
- Updated: one-page-index7.html
- Updated: one-page-index-portfolio.html
- Updated: one-page-personal.html
- Updated: one-page-slider-flex.html
- Updated: one-page-slider-revo-full-width.html
- Updated: one-page-slider-revo-html5-video.html
- Updated: one-page-slider-revo-kenburns.html
- Updated: one-page-static-image.html
- Updated: one-page-static-parallax.html
- Updated: one-page-index-construction.html
- Updated: slider-flex.html
- Updated: slider-revo-full-width.html
- Updated: slider-revo-html5-video.html
- Updated: slider-revo-kenburns.html
- Updated: static-image.html
- Updated: static-image-left.html
- Updated: static-parallax.html
- Updated: index-portfolio.html
- Updated: index-shop.html
- Updated: index-construction.html
- Updated: index-construction2.html
- Updated: index-cars.html
- Updated: one-page-index-cars.html
- Updated: index-photo.html
- Updated: static-parallax2.html
- Updated:index-blog.html
- Updated:index-blog-2.html
- Updated:blog-small-image.html
- Updated:blog-right-sidebar.html
- Updated:blog-masonry-4col.html
- Updated:blog-masonry-3col.html
- Updated:blog-masonry-2col.html
- Updated:blog-left-sidebar.html
- Updated:blog-full-width.html
- Updated:index-shop.html
- Updated:portfolio-single3.html
- Updated:portfolio-single2.html
- Updated:portfolio-single1.html
- Updated:portfolio-masonry-5col.html
- Updated:portfolio-masonry-4col.html
- Updated:portfolio-masonry-3col.html
- Updated:portfolio-masonry-2col.html
- Updated:portfolio-wide-gut-3col.html
- Updated:portfolio-wide-gut-2col.html
- Updated:portfolio-wide-gut-5col.html
- Updated:portfolio-wide-5col.html
- Updated:portfolio-wide-4col.html
- Updated:portfolio-wide-gut-4col.html
- Updated:portfolio-wide-3col.html
- Updated:portfolio-wide-2col.html
- Updated:portfolio-boxed-gut-3col.html
- Updated:portfolio-boxed-gut-2col.html
- Updated:portfolio-boxed-5col.html
- Updated:portfolio-boxed-4col.html
- Updated:portfolio-boxed-gut-4col.html
- Updated:portfolio-boxed-3col.html
- Updated:portfolio-boxed-2col.html
- Updated: intro.html
- Updated: Main CSS file
- Updated: Main JS file
- Updated: Documentaion

v. 2.0 – 07.02.2019

- Added: Revolution Slider 5
- Added: 120+ Revolution Slider Templates
- Added: Google Maps Embed
- Added: Google Maps API latitude / longitude parameter
- Added: contact-embed.html
- Added: contact2-embed.html
- Added: one-page-index7.html
- Added: Header Below
- Added: Particle Effect for Revolution Slider
- Updated: intro.html
- Updated: Main CSS file
- Updated: Main JS file
- Updated: Documentaion
- Updated: All HTML files

v. 1.9.3 – 22.01.2019

- Updated: jquery.backgroundvideo.js
- Updated: autoplay video in Chrome
- Updated: index-side-menu.html
- Updated: one-page-cafe.html
- Updated: one-page-landing.html
- Updated: one-page-static-video.html
- Updated: static-video.html

v. 1.9.2 – 27.02.2018

- Added: Contact Form with Checkbox Validation
- New: contact2.html
- New: contact-form-validation.js 
- Updated: Main CSS file
- Updated: Documentaion

v. 1.9.1 – 09.01.2018

- Added: AJAX Contact Form with Google reCAPTCHA  
- Added: Page Index 9
- Added: Page Contact Recaptcha
- Added: Page Contact 2 Recaptcha
- Added: New Header with Hiding Logo
- Added: New PHP Contact Form
- Updated: Main CSS file
- Updated: Main JS file
- Updated: contact-form.php
- Updated: Documentaion

v. 1.9 – 14.09.2017

- Added: Page Index Center 
- Added: Page Index Sticky Header on Mobile
- Added: Page Index Fullscreen Menu Sub
- Added: Page Statick Image Left 
- Added: New Header Sticky on Mobile 
- Added: New Header Center
- Added: New Header Left
- Added: New Min Menu 2 Sub
- Updated: Page Portfolio Grid 
- Updated: Main CSS file
- Updated: Main JS file
- Updated: fs-menu.js 
- Updated: Documentaion
- Fixed: Iphone Ios phone links

v. 1.8.4 – 11.05.2017

- Updated: Main CSS file
- Updated: Main JS file
- Updated: fs-menu.js
- Updated: coming-soon2.html
- Updated: index-full-screen-menu.html
- Updated: index-side-menu.html
- New: Sticky Navigation Menu
- Fixed: Iphone Ios navigation sticky 

v. 1.8.3 – 29.04.2017

- Updated: Main CSS file

v. 1.8.2 – 22.01.2017

- Updated: PHP Mailer to latest version
- Updated: jquery.validate.min.js to latest version
- Updated: contact-form-validation.min.js
- Updated: Contact forms on all pages
- Updated: Main CSS file

v. 1.8.1 – 12.11.2016

- Updated: Google fonts links
- Updated: Main CSS file (Lightboxes)

v. 1.8 – 26.10.2016

 - Added: Personal Page
 - Added: Cafe Page
 - Updated: Main CSS file
 - Updated: Documentaion 

v. 1.7 – 14.05.2016

- Updated: Main CSS file
- Fixed: Firefox lightbox bug

v. 1.6 – 25.08.2015

- Added: 2 Pages Coming Soon
- Added: Construction 2 Page
- Added: Car Service Page
- Added: Magazine Page
- Added: 2 Headers
- Updated: Main Menu
- Updated: Main CSS file
- Updated: Main JS file
- Fixed: IOS Safari background bug

v. 1.5 – 14.08.2015

- Added: Page Parallax Image 2
- Added: Page Minimal Menu
- Added: Page Full-screen Menu
- Added: Minimal Side Menu
- Added: Minimal Full-screen Menu
- Added: Twitter Feeds 
- Added: Flickr Feeds
- Added: Text Mask Slide
- Added: 2 Sticky Headers
- Added: Footer 5
- Updated: Main Menu
- Updated: Main CSS file
- Updated: Main JS file
- Updated: Documentaion

v. 1.4 – 2.08.2015

- Updated: Main CSS file
- Updated: Main JS file
- Added: Page Travel 
- Added: Page Landing
- Added: Page Landing 2
- Added: Page Photo 

v. 1.3 – 20.07.2015

- Updated: Main CSS file
- Updated: Main JS file
- Added: New Preloader 
- Added: Page Title Small Grey Page 
- Added: Page Title Small White Page 
- Added: Page Title Small Dark Page 
- Added: Page Title Big Grey Page 
- Added: Page Title Big White Page 
- Added: Page Title Big Dark Page 
- Added: Page Title Big Image Page 
- Added: Page Title Large Image Page 
- Added: Page Portfolio Grid 
- Added: New Page Portfolio Single 3
- Added: New Pages Boxed
- Added: New Pages Wide
- Added: New Pages Masonry

v. 1.2 – 18.07.2015

- Added: New Preloader 
- Added: New Page Intro 
- Updated: Main CSS file
- Updated: Main JS file
- Fixed: Bug with static img section in Firefox  

Credits
Images:
Video:
Audio:
Fonts:
Scripts :
Note: images are not included in the main download