WordPress Themes
Thousands of WordPress themes
eCommerce Templates
Beautiful website templates
Site Templates
HTML and website templates
Products Template
Beautiful products templates
BoxShop is a WooCommerce WordPress theme designed for shopping online stores. We have included multiple layouts for home page, product page to give you best selections in customization. BoxShop is suitable for the eCommerce websites such as supermarket, furniture, glasses, shoes, fashion, electronics, houseware, organic … or anything you want.
BoxShop is a professional WordPress theme. It comes with a lot of features and variations: Responsive Layout, Mega Menu, Page Builder, Awesome Slider Revolution, RTL, Product Quick View, Ajax Search, Ajax Cart, Easy One Click To Install, … and so much more.
Easy to use, awesome and powerful. These are the words that we talk about BoxShop. You will be able to build your website in a snap without coding knowledge. Are you ready to get it for now?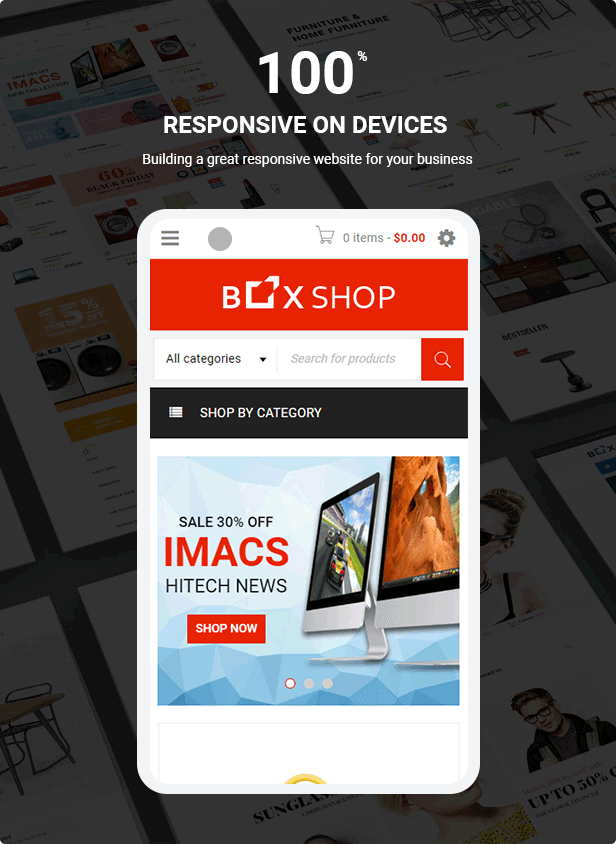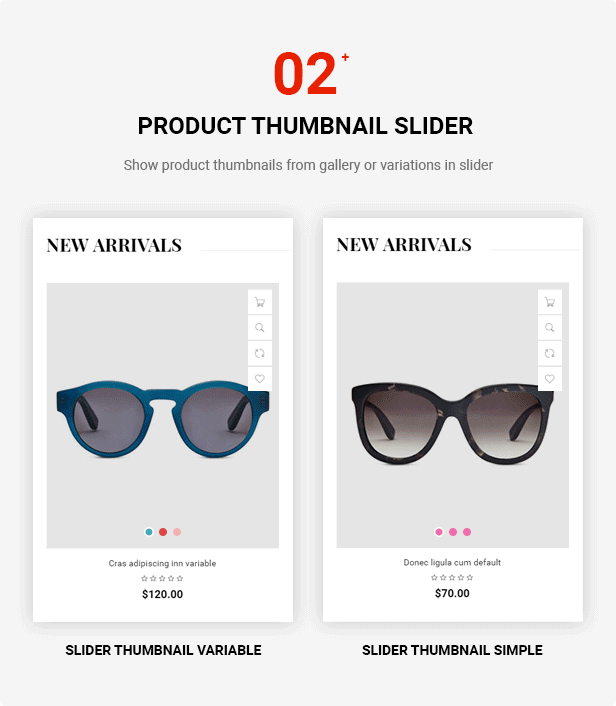 All Features
8+ Unique Homepages
100% Fully Responsive
Mega Menu Built-In
Amazing Slider Revolution(save $85)
WPBakery Page Builder Integration(save $64)
WooCommerce Compatible
Product Quickview Ready
Varied Product Layouts
Filter Product By Color
Color swatches for variable product
Slider for product thumbnail
Catalog Mode Ready
Powerful Theme Options Panel
Unlimited Sidebars
Multi Widget
Advanced Header Options
Sticky Header
Translation Ready
WPML Compatible
WooCommerce Multilingual Compatible – Multi Currency
Post formats: Standard, Gallery, Quote, Video, Audio
Blog Masonry
Unlimited Colors
Font Awesome Integration
Wishlist, Compare Support
bbPress Compatible
Dokan Compatible
Portfolio Integration
Testimonial, Feature, Team Member Integration
Price Table Integration
Flickr, Instagram, Facebook page Integration
Mailchimp Subscription Integration
Logo Slider Integration
Over 900 Google Fonts
Over 23 Shortcodes
Google Map Integration
Video – Parallax Background Integration
RTL Ready
Smooth Scroll
Ajax Search
Easy One Click To Install
Free Awesome Contact Form 7
Free Update
Free Premium Quality Support
Detailed Documentation
Changelog

Version 2.1.0 - 31 Aug 2023
- Updated: Slider Revolution 6.6.16
- Updated: WPBakery Page Builder 7.0
- Tweak: compatible with WordPress 6.3.1
- Tweak: compatible with WooCommerce 8.0.3
- Tweak: compatible with YITH WooCommerce Compare 2.30.1
- Tweak: remove Twitter timeline due to API changed

Version 2.0.9 - 12 Jul 2023
- Tweak: compatible with WooCommerce 7.8.2

Version 2.0.8 - 26 Jun 2023
- Updated: Slider Revolution 6.6.14
- Updated: WPBakery Page Builder 6.13.0
- Tweak: compatible with WordPress 6.2.2
- Tweak: compatible with WooCommerce 7.8.0

Version 2.0.7 - 08 May 2023
- Updated: Importer
- Updated: Slider Revolution 6.6.12
- Updated: WPBakery Page Builder 6.11.0
- Tweak: compatible with WordPress 6.2
- Tweak: compatible with WooCommerce 7.6.1

Version 2.0.6 - 21 Mar 2023
- Updated: Slider Revolution 6.6.11
- Tweak: compatible with WooCommerce 7.5.0

Version 2.0.5 - 10 Jan 2023
- Updated: Slider Revolution 6.6.8
- Tweak: compatible with WooCommerce 7.2.2

Version 2.0.4 - 18 Dec 2022
- Tweak: compatible with WooCommerce 7.2.0

Version 2.0.3 - 05 Dec 2022
- Updated: Slider Revolution 6.6.7
- Tweak: compatible with WP 6.1.1
- Tweak: compatible with WooCommerce 7.1.0

Version 2.0.2 - 05 Nov 2022
- Tweak: compatible with WP 6.1
- Tweak: compatible with WooCommerce 7.0.1

Version 2.0.1 - 25 Oct 2022
- Updated: Slider Revolution 6.6.5
- Updated: WPBakery Page Builder 6.10.0
- Tweak: compatible with WP 6.0.3
- Tweak: compatible with WooCommerce 7.0.0

Version 2.0.0 - 05 Sep 2022
- Updated: Importer
- Updated: Documentation
- Tweak: compatible with WP 6.0.2
- Tweak: compatible with WooCommerce 6.8.2

Version 1.6.5 - 16 Aug 2022
- Updated: Slider Revolution 6.5.31
- Tweak: compatible with WP 6.0.1
- Tweak: compatible with WooCommerce 6.8.0

Version 1.6.4 - 12 July 2022
- Updated: Slider Revolution 6.5.25
- Tweak: compatible with WooCommerce 6.6.1

Version 1.6.3 - 31 May 2022
- Updated: Importer
- Updated: Slider Revolution 6.5.24
- Tweak: compatible with WP 6.0
- Tweak: compatible with WooCommerce 6.5.1

Version 1.6.2 - 12 May 2022
- Updated: Slider Revolution 6.5.21
- Updated: WPBakery Page Builder 6.9.0
- Tweak: compatible with WooCommerce 6.4.1

Version 1.6.1 - 05 Apr 2022
- Updated: Slider Revolution 6.5.19
- Tweak: compatible with WooCommerce 6.3.1
- Fixed: Twitter on PHP 8

Version 1.6.0 - 02 Mar 2022
- Updated: Slider Revolution 6.5.17
- Updated: import content
- Tweak: optimize code
- Tweak: compatible with WP 5.9.1
- Tweak: compatible with WooCommerce 6.2.1
- Tweak: embed Google Map if API is not set

Version 1.5.9 - 12 Jan 2022
- Tweak: compatible with WooCommerce 6.1.0

Version 1.5.8 - 10 Jan 2022
- Updated: Slider Revolution 6.5.14
- Updated: WPBakery Page Builder 6.8.0
- Tweak: compatible with WP 5.8.3
- Tweak: compatible with WooCommerce 6.0.0
- Tweak: Importer

Version 1.5.7 - 04 Dec 2021
- Updated: Slider Revolution 6.5.11
- Tweak: compatible with WP 5.8.2
- Tweak: compatible with WooCommerce 5.9.0

Version 1.5.6 - 25 Oct 2021
- Updated: Importer
- Updated: Documentation
- Updated: Slider Revolution 6.5.9
- Tweak: compatible with WooCommerce 5.8.0
- Tweak: compatible with YITH WooCommerce Wishlist 3.2.0
- Tweak: compatible with YITH WooCommerce Compare 2.7.0
- Tweak: optimize code

Version 1.5.5 - 14 Sep 2021
- Updated: Documentation
- Updated: Slider Revolution 6.5.8
- Tweak: compatible with WP 5.8.1
- Tweak: Twitter Sharing Link
- Fixed: Product Stock Status (backorder)

Version 1.5.4 - 19 Aug 2021
- Updated: Slider Revolution 6.5.6
- Tweak: compatible with WooCommerce 5.6.0
- Tweak: compatible with Yith WooCommerce Wishlist 3.0.25

Version 1.5.3 - 22 July 2021
- Updated: Slider Revolution 6.5.5
- Updated: WPBakery Page Builder 6.7.0
- Tweak: compatible with WP 5.8
- Tweak: compatible with WooCommerce 5.5.1

Version 1.5.2 - 01 June 2021
- Updated: JS Library
- Updated: Slider Revolution 6.4.11
- Tweak: compatible with WooCommerce 5.3.0

Version 1.5.1 - 01 Mar 2021
- Updated: JS Library
- Updated: Slider Revolution 6.4.2
- Updated: WPBakery Page Builder 6.6.0
- Tweak: compatible with WooCommerce 5.0.0

Version 1.5.0 - 28 Jan 2021
- Updated: Slider Revolution 6.3.6
- Tweak: compatible with WooCommerce 4.9.2

Version 1.4.9 - 17 Dec 2020
- Updated: WPBakery Page Builder 6.5.0

Version 1.4.8 - 11 Dec 2020
- Updated: Slider Revolution 6.3.3
- Tweak: compatible with WordPress 5.6
- Tweak: compatible with WooCommerce 4.8.0

Version 1.4.7 - 20 Nov 2020
- Updated: Slider Revolution 6.3.0
- Updated: WPBakery Page Builder 6.4.2

Version 1.4.6 - 17 Nov 2020
- Updated: the related plugins
- Tweak: compatible with WooCommerce 4.7.0

Version 1.4.5 - 30 Sep 2020
- Updated: Slider Revolution 6.2.23
- Updated: WPBakery Page Builder 6.4.1
- Tweak: compatible with WooCommerce 4.5.2

Version 1.4.4 - 14 Sep 2020
- Updated: WPBakery Page Builder 6.4.0
- Tweak: compatible with WooCommerce 4.5.1

Version 1.4.3 - 21 Aug 2020
- Updated: Slider Revolution 6.2.22
- Updated: WPBakery Page Builder 6.3.0

Version 1.4.2 - 20 Aug 2020
- Updated: Slider Revolution 6.2.21
- Tweak: compatible with WooCommerce 4.4.1

Version 1.4.1 - 14 Aug 2020
- Updated: Slider Revolution 6.2.19
- Tweak: compatible with WooCommerce 4.3.2
- Tweak: compatible with WordPress 5.5

Version 1.4.0 - 10 Aug 2020
- Updated: Slider Revolution 6.2.17
- Tweak: compatible with WooCommerce 4.3.1
- Tweak: compatible with PHP 7.4

Version 1.3.9 - 03 Jul 2020
- Updated: Slider Revolution 6.2.15
- Updated: BoxShop Importer
- Tweak: compatible with WooCommerce 4.3.0
- Tweak: improve product lazy load

Version 1.3.8 - 09 Jun 2020
- Added: Instagram Access Token option
- Updated: Slider Revolution 6.2.12
- Tweak: compatible with WooCommerce 4.2.0
- Tweak: optimize JS
- Tweak: improve admin CSS

Version 1.3.7 - 26 May 2020
- Updated: Slider Revolution 6.2.9
- Tweak: compatible with WooCommerce 4.1.1
- Tweak: optimize JS

Version 1.3.6 - 07 May 2020
- Updated: Slider Revolution 6.2.5
- Tweak: compatible with WooCommerce 4.1.0
- Tweak: BoxShop Importer

Version 1.3.5 - 22 Apr 2020
- Updated: WPBakery Page Builder 6.2.0
- Tweak: compatible with Yith WooCommerce Compare 2.3.20

Version 1.3.4 - 11 Mar 2020
- Updated: Slider Revolution 6.2.2
- Tweak: compatible with WooCommerce 4.0.0
- Tweak: compatible with YITH WooCommerce Wishlist 3.0.9

Version 1.3.3 - 09 Feb 2020
- Updated: Slider Revolution 6.1.8
- Tweak: compatible with WooCommerce 3.9.1
- Tweak: compatible with YITH WooCommerce Wishlist 3.0.6
- Tweak: the sale label supports discount percent on variable product
- Tweak: improve Dokan table layout

Version 1.3.2 - 16 Jan 2020
- Updated: Slider Revolution 6.1.6
- Moved: blog view feature to the ThemeSky plugin
- Tweak: admin ajax request

Version 1.3.1 - 17 Dec 2019
- Tweak: Compatible with WordPress 5.3.1
- Tweak: Compatible with YITH WooCommerce Wishlist 3.0.3
- Updated: WPBakery Page Builder 6.1
- Removed: the add-to-wishlist-button.php template

Version 1.3.0 - 28 Nov 2019
- Updated: Slider Revolution 6.1.5
- Tweak: Compatible with WordPress 5.3
- Tweak: Use the login form of WordPress instead of the custom login form
- Tweak: Use CSS for background parallax instead of JS
- Tweak: Move custom fields of the Color attribute and product category to the ThemeSky plugin
- Tweak: Move product social sharing feature to the ThemeSky plugin
- Tweak: Move metaboxs to the ThemeSky plugin
- Tweak: Re-define global JS variables
- Tweak: Separate third party javascripts
- Removed: Don't override the mini-cart.php template anymore

Version 1.2.4 - 08 Nov 2019
- Tweak: compatible with WooCommerce 3.8.0
- Tweak: only load pingback when necessary
- Added: ver param to the JS/CSS files

Version 1.2.3 - 07 Oct 2019
- Updated: Slider Revolution 6.1.3
- Optimized: product tabs shortcode

Version 1.2.2 - 20 Aug 2019
- Updated: Slider Revolution 6.0.9
- Tweak: compatible with WooCommerce 3.7.0

Version 1.2.1 - 29 Jul 2019
- Updated: Slider Revolution 6.0.7
- Updated: WPBakery Page Builder 6.0.5
- Updated: list Google Fonts
- Updated: Documentation

Version 1.2.0 - 04 Jun 2019
- Updated: WPBakery Page Builder 6.0.3
- Optimized: loading css, js
- Added: action which allows to add more links to the top right header

Version 1.1.9 - 04 May 2019
- Fixed: Product Lightbox css issue
- Fixed: Thumbnail Slider with the Color attribute
- Removed: Google+

Version 1.1.8 - 19 Apr 2019
- Tweak: compatible with WooCommerce 3.6.1

Version 1.1.7 - 30 Mar 2019
- Updated: Slider Revolution 5.4.8.3
- Updated: Smooth Scroll library

Version 1.1.6 - 21 Feb 2019
- Updated: WPBakery Page Builder 5.7
- Updated: Slider Revolution 5.4.8.2
- Tweak: compatible with WooCommerce 3.5.5

Version 1.1.5 - 05 Dec 2018
- Updated: WPBakery Page Builder 5.6
- Tweak: compatible with WooCommerce 3.5.2

Version 1.1.4 - 02 Nov 2018
- Tweak: compatible with WooCommerce 3.5.1

Version 1.1.3 - 27 Oct 2018
- Tweak: compatible with WooCommerce 3.5.0
- Tweak: optimize Product Deals element

Version 1.1.2 - 13 Oct 2018
- Updated: WPBakery Page Builder 5.5.5
- Tweak: BoxShop Importer

Version 1.1.1 - 24 Sep 2018
- Tweak: don't show variation price if all prices are the same
- Tweak: CSS for the new version of YITH WooCommerce Compare

Version 1.1.0 - 09 Sep 2018
- Updated: Slider Revolution 5.4.8
- Updated: WPBakery Page Builder 5.5.4
- Improved: importing Widgets

Version 1.0.9 - 01 Jun 2018
- Tweak: Compatible with WooCommerce 3.4.1
- Tweak: Split the category and product sections on the shop/product category page
- Tweak: CSS for the new version of WooCommerce Multilingual
- Updated: Slider Revolution 5.4.7.4
- Updated: Documentation

Version 1.0.8 - 18 Mar 2018
- Updated: Slider Revolution 5.4.7.2
- Updated: WPBakery Page Builder 5.4.7
- Updated: Instagram widget
- Updated: Availability widget

Version 1.0.7 - 02 Mar 2018
- Updated: Slider Revolution 5.4.7.1
- Updated: WooCommerce's templates 3.3.3
- Updated: Instagram widget

Version 1.0.6 - 11 Feb 2018
- Updated: Slider Revolution 5.4.7
- Tweak: Compatible with WooCommerce 3.3.1
- Fixed: removing "" character in custom css code

Version 1.0.5 - 06 Dec 2017
- Updated: WPBakery Page Builder 5.4.5
- Updated: Slider Revolution 5.4.6.4
- Added: option show/hide category dropdown in search bar
- Added: option show/hide breadcrumb on the single product page
- Tweak: show/hide elements on quickshop by using the same options with single product
- Tweak: Compatible with WordPress 4.9.1
- Tweak: display Left Sidebar before products on the shop/product category page on mobile

Version 1.0.4 - 17 Oct 2017
- Updated: WPBakery Page Builder 5.4.2
- Updated: Slider Revolution 5.4.6.2
- Updated: Twitter API key
- Tweak: Compatible with WooCommerce 3.2.1
- Tweak: Compatible with WooCommerce Multilingual 4.2.4
- Fixed: some small css issues

Version 1.0.3 - 23 Aug 2017
- Added: new demo home page - Organic

Version 1.0.2 - 10 Aug 2017
- Added: new demo home page - Houseware
- Updated: Visual Composer 5.2.1
- Updated: Revolution Slider 5.4.5.2
- Added: New product shortcode

Version 1.0.1 - 27 Jul 2017
- Added: new demo home page - Electronic
- Added: Video Tutorials
- Updated: Visual Composer 5.2
- Improved: BoxShop Importer

Version 1.0.0 - 04 Jul 2017 - Initial Release